TARGET目标
Por 北京目标通道广告有限公司
Abre iTunes para comprar y descargar Apps.
Descripción
《TARGET目标》iPad杂志于每月15日更新,免费下载。在带给您绝佳的用户体验的同时,我们从奢华的角度为您提供世界各地的时尚趣闻。

《TARGET目标》杂志内容关注国内外上流社会及精英阶层的生活方式,聚焦于高端奢侈品和服务,为国内少数高收入阶层提供独家奢侈品消费指南和会员级的资讯服务。全方位向读者介绍及推荐高品质的优雅生活方式及全球享乐概念。真正成为一本小众的实用读物,大众的视野指南。

免费订阅说明:
1.《TARGET目标》提供基于苹果应用内购买的免费订阅功能,您可以选择免费订阅《TARGET目标》,这样可以定期收到新刊推送。
2. 免费订阅您无需支付费用即可订阅杂志。
3. 单刊购买确认购买之后会马上扣费。
4. 您无法取消当前已经生效的订阅。

TARGET concerns the life style of upper class and elites both in China and abroad, focuses on top-class extravagant product and service, and provides luxury consuming guide as well as upto- the-minute fashion information to the high-income minority in China. Also has several columns as High Light, Prominent People, Buyers' Guide, Hot Topic, Global Investment, Getting Around, and Last Look. It comprehensively introduces and recommends elegant life style and global concept of enjoyment to the readers.

Subscribe for free Description:
1. "TARGET" on the Apple App purchase offer a free subscription, you can choose a free subscription "TARGET", so you can receive periodic STARS push.
2. Free subscription you do not need to pay to subscribe to the magazine.
3. Single published immediately after purchase to confirm the purchase chargeback.
4. You can not cancel the current subscription is already in effect.
Novedades de la versión 1.12
更新新浪微博
Capturas de pantalla del iPad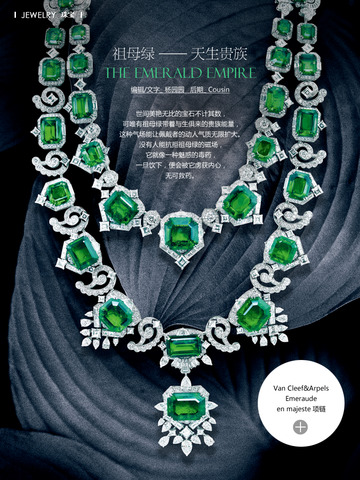 Ver en iTunes
Gratis

Categoría:

Estilo de vida

Actualizado :

10/09/2014

Versión:

1.12

Tamaño:

12.4 MB

Idioma:

Inglés

Vendedor:

BEIJING TARGET CHANNEL ADVERTISING CO.,LTD
Compatibilidad: Requiere iOS 6.0 o posterior. Compatible con iPad.