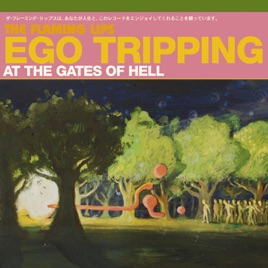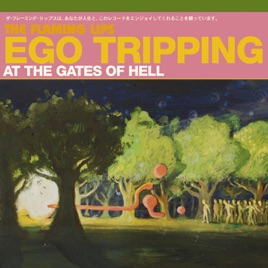 Ego Tripping at the Gates of Hell
| | TÍTULO | DURACIÓN |
| --- | --- | --- |
| | | 4:25 |
| | I'm a Fly in a Sunbeam (Following the Funeral Procession of a Stranger) | 3:13 |
| | | 4:04 |
| | Do You Realize?? (T.P.S. Remix) | 4:00 |
| | Ego Tripping at the Gates of Hell (Ego In Acceleration) [Jason Bentley Remix] | 5:34 |
| | Ego Tripping at the Gates of Hell (Self-Admiration With Blow-Up Mix) [Cilione and Camaione Blow-Up Version] | 6:34 |
| | A Change at Christmas (Say It Isn't So) | 5:21 |
| | Ego Tripping at the Gates of Hell (Utah Saints Remix) | 6:31 |
8 canciones

℗ 2003 Warner Bros. Records Inc. for the U.S. and WEA International Inc. for the world outside of the U.S.
Acerca de The Flaming Lips
The Flaming Lips empezaron en los 80 creando un estrépito anárquico y punk, pero finalmente las influencias psicodélicas que siempre habían sido un elemento clave del sonido de la banda se hicieron más predominantes. En 1994, tras cambios significativos en la alineación, el grupo de Oklahoma consiguió un álbum de éxito con Transmissions from the Satellite Heart. Al cambiar la década the Lips se había transformado en un conjunto peculiar pero accesible, mezclando hábilmente alt-rock con influencias de pop psicodélico de los años 60 y en 1999 alcanzó su punto álgido con la imponente declaración sonora The Soft Bulletin. Su siguiente álbum, Yoshimi Battles the Pink Robots, fue más allá de la estética de su predecesor y reportó a the Lips un reconocimiento aún mayor, creando una poco común historia de libertad artística acompañada de éxito, historia solamente igualada por Radiohead.
ORIGEN

Oklahoma City, OK

SE FORMÓ EN

1983
Top canciones de The Flaming Lips
Ver todo
Top álbumes de The Flaming Lips
Ver todo
Top videos musicales de The Flaming Lips
Ver todo
Otros usuarios también escucharon
Ver todo