German Dictionary & Translator +
De Ascendo Inc.
Esta app solo está disponible en App Store para dispositivos iOS.
Descripción
The #1 German Dictionary & Translator for iPhone, iPad & iPod Touch - Offline Dictionary with over 647,000 Entries - Phrase Translator - Comprehensive Phrasebook - Verb Conjugator - Vocabulary Quizzes - Flashcards - Offline Audio Pronunciation

Selected by Apple as "What's Hot" in over 40 countries.

"This app packs an undeniable allure for travelers." - iPhone App Review

"Superb Dictionary! I live and work in Germany and speak the language well, but I still need a dictionary at times. This app is constantly with me on my iPod and is a superb piece of work... Highly recommended!"

"Has replaced my dictionary! This dictionary is so extensive and fast that we went on our trip without a dictionary or phrasebook."

"Conjugations & More. This is one 'Smart' App for on the go study as well, don't leave home without it, worth every cent!"

"The Only German English Dictionary You'll Need. It's great for quick word look up and translation. But it's also a companion for learning the language."

"Brilliant App. This app is a wonderful tool for both casual tourists and students of German alike."

German Dictionary & Translator + by VidaLingua transforms your iPhone, iPad or iPod Touch into an advanced language assistant, always ready to help. German Dictionary & Translator + includes everything you need in one app and features you won't find anywhere else such as adding notes, images & audio clips to dictionary entries. Advanced features and extensive content make VidaLingua the most comprehensive German English Dictionary & Translator for iPhone, iPad and iPod Touch. Download German Dictionary & Transltor + now and start learning German or English today!

FEATURES
- German English Dictionary with over 647,000 offline entries.
- Includes translations, usage examples, parts-of-speech and gender of German nouns.
- Compiled and updated by professional linguists.
- Sentence Translator with Favorites and offline viewing.
- Online images for thousands of dictionary entries, tap icon to display.
- Phrasebook with 20 categories such as Conversation, Asking Directions and Making Friends.
- Conjugations of 6,648 German & English verbs.
- Multiple-choice vocabulary quizzes.
- Offline, text-to-speech pronunciation in German & English.
- Audio settings for speed and accent (US, UK, Australia, South Africa, Ireland).
- Single index search for fast lookups in German or English.
- Reverse lookup of words found in translations.
- Online lookup of additional information with IAP.
- Lookup History.
- Add your own phrases to the phrasebook.
- Email dictionary entries to friends.
- Numerous enhancements for iPads.
- Add notes and images to dictionary entries.
- Record yourself saying a word and compare it with in-app pronunciation.

Language is living! Only VidaLingua allows you to add notes, images, phrases and audio to create an engaging travel companion.

Comments & questions are welcome.
info@vidalingua.com
VidaLingua, bringing language apps to life! ©
http://vidalingua.com
VidaLingua is an Ascendo brand.
Novedades de la versión 7.0 (12)
- Added 5,457 dictionary headwords and thousands of translation entries.
- Implemented speach recognition dictionary lookups.
- Fixed pronunciation so text-to-speach works on all devices and fixed default speed.
- Added slider to configure pronunciation speed.
- Added South African and Irish accents to pronunciation voice in addition to US, UK and Australian.
- Added hundreds of noun plurals.
- Implemented dictionary favorites.
- Implemented Flashcards to practice vocabulary.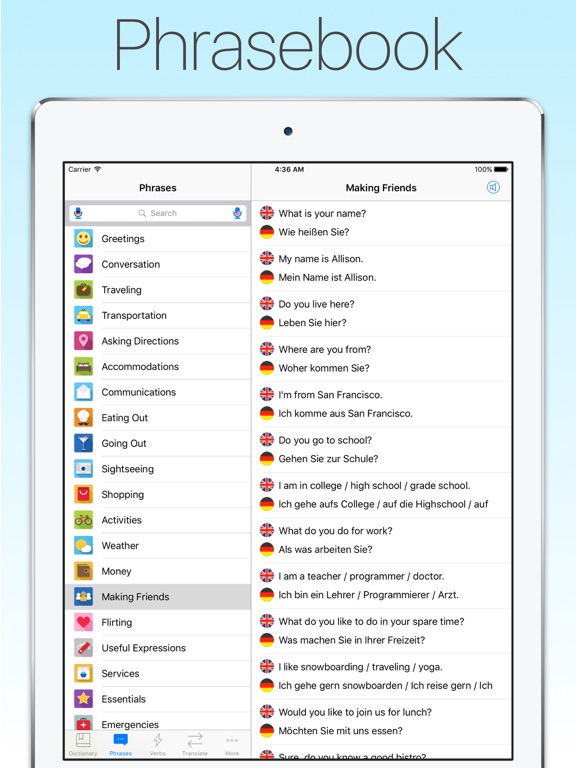 Ver en iTunes
Esta App esta diseñada para el iPhone y el iPad
Ofrece la app para Apple Watch para iPhone
USD 9.99

Categoría:

Viajes

Actualizado :

30/08/2017

Versión:

7.0 (12)

Tamaño:

37.9 MB

Apple Watch:

Sí

Idiomas:

Español, Alemán, Francés, Inglés, Italiano, Portugués

Vendedor:

Ascendo Inc.
Compatibilidad: Requiere iOS 9.0 o posterior. Compatible con iPhone, iPad y iPod touch.