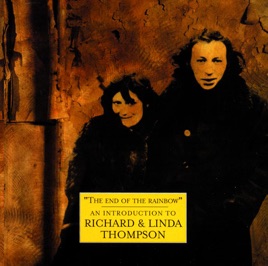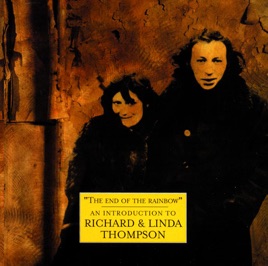 TITLE
TIME

Roll Over Vaughn Williams

Richard Thompson

Richard Thompson & Linda Thompson

Richard Thompson & Linda Thompson

I Want to See the Bright Lights Tonight

Richard Thompson & Linda Thompson

Down Where the Drunkards Roll

Richard Thompson & Linda Thompson

Richard Thompson & Linda Thompson

Richard Thompson & Linda Thompson

Richard Thompson & Linda Thompson

Richard Thompson & Linda Thompson

Richard Thompson & Linda Thompson

Richard Thompson & Linda Thompson

Richard Thompson & Linda Thompson

Dimming of the Day / Dargai

Richard Thompson & Linda Thompson
16 Songs, 1 Hour 17 Minutes
Released:

25 Jul 2000

℗ 2000 Universal Island Records Ltd. A Universal Music Company.
About Linda Thompson
Born Linda Pettifer, Linda Thompson, then known as Linda Peters, made an inauspicious debut as half of Paul & Linda in 1968. The duo, which included singer Paul McNeill, recorded two singles, the first being a cover of Bob Dylan's "You Ain't Goin' Nowhere" for MGM in the U.K. In 1972, following a couple of years of session work, singing commercial jingles, and working the folk clubs around London, she teamed with friend Sandy Denny and other assorted members of the British folk-rock scene to record Rock On, a collection of early rock & roll favorites, under the name of the Bunch. She was featured on the King-Goffin classic "The Loco-Motion" and a beautiful duet with Denny on Phil Everly's "When Will I Be Loved."

Peters met Fairport Convention guitarist and songwriter Richard Thompson in 1969, but did not work with him until 1972 when they performed together on the Rock On record and later that year on Richard's solo debut, Henry the Human Fly. That same year, Richard and Linda were married, and in 1974, with the now classic I Want to See the Bright Lights Tonight, began a musical partnership that would span nearly ten years and six critically acclaimed, yet commercially unsuccessful, albums. During this time Linda would also make her mark as one of the finest female voices in pop music. The Thompsons' musical, as well as personal, relationship came to an end just as they were gaining some long overdue recognition, especially in the U.S., with their brilliant and moving 1982 release Shoot Out the Lights. The record, recorded on a shoestring budget for tiny Hannibal Records, has been widely heralded as one of the true masterpieces of the rock & roll era and garnered Linda Thompson honors as Female Vocalist of the Year in many year-end critics polls. The year 1982 also saw the couple embark on their first and only U.S. tour.

Following the breakup, Linda performed in the English theater, touring with The Mysteries and appearing in the National Theatre's production of Don Quixote, before signing with Warner Bros. Records in 1985. The subsequent record, One Clear Moment, produced by Hugh Murphy (Gerry Rafferty), turned out to be her only post-Richard album. Hysterical dysphonia, a psychological inability to produce speech sounds that had plagued Thompson on and off throughout her career, eventually ended it. A project for CBS in the late '80s was aborted because of her vocal difficulties, although one track from those sessions, a reworking of Richard and Linda's classic "Dimming of the Day," eventually surfaced on the 1996 compilation Dreams Fly Away.

Thompson, having retired from music and running an antique jewelry shop in London, had some success as a songwriter, mostly in collaboration with Betsy Cook. Their "Telling Me Lies," recorded for the Trio LP by Dolly Parton, Linda Ronstadt, and Emmylou Harris, earned the pair a Grammy nomination for 1987's Country Song of the Year, with Thompson and Cook performing it on the broadcast. Thompson resurfaced in 2002 with Fashionably Late, her first new record in 17 years, on Rounder Records. A second Rounder release, Versatile Heart, appeared in 2007, though she appeared on recordings by other artists -- most notably her appearance on Sing Me the Songs: Celebrating the Works of Kate McGarrigle with Richard and Teddy Thompson in 2013. In October of that year, Thompson released Won't Be Long Now on Topic. ~ Brett Hartenbach
HOMETOWN

Hackney, London, England

GENRE

BORN

1948
Millions of songs.
Zero ads.
New subscribers only. Plan automatically renews after trial.