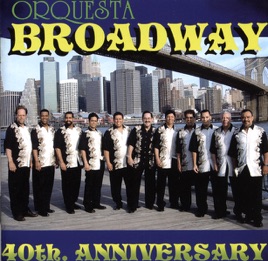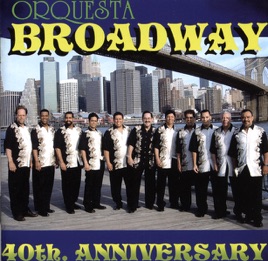 10 Songs, 50 Minutes
Released:

31 Dec 2002

℗ 2006 Flauta Records
About Orquesta Broadway
Orquesta Broadway are a charanga, a Latin band of flute, violins, rhythm section and voices. They were co-founded in 1962 by Eddy Zervigón (b. 7 July 1940, Güines, Cuba) and Roberto Torres and have proved to be one of New York's longest surviving charangas. Eddy's twin brother, Ruddy, a violinist, was a founder member and his youngest brother, Kelvin, initially played güiro (gourd scraper) and later the piano. At the age of 15 Eddy switched from piccolo to flute on the advice of Richard Egües, flautist with the great Cuban charanga, Orquesta Aragón. In 1958, Eddy and Ruddy co-led the band La Ideal. In 1960, when José Fajardo left Cuba for the USA, Eddy filled his place in his former group, renamed the Estrellas Cubanas. Eddy left Cuba in April 1962, did a four-month stint in Miami with his band, Ritmo De Estrellas, and then moved to New York, where he worked with Johnny Pacheco, Arsenio Rodríguez, Joe Valle, Lou Pérez, Félix 'Pupi' Legarreta, Alfredito Valdés and others. Eddy and Torres both lived in the same East Harlem building and they rehearsed in Eddy's apartment with accompanists drawn from neighbouring blocks. After some disagreement over a name for the charanga, they eventually settled for the suggestion of a promoter, who dubbed them 'Orquesta Broadway', because most band members lived near the avenue. Broadway made their debut with Dengue (1964) on the Gema label, which contained the hit cha cha 'Como Camina Maria'. Their series of four albums between 1965 and 1968 helped to consolidate their popularity as one of New York's top 10 bands. Charlie Palmieri later explained that they were a factor in his swing from strings and flute to brass. Broadway's 1972 album, Como Me Gusta, contained the hit 'Pa' Africa', which was inspired by their proposed trip to Africa. They visited the Ivory Coast and Paris in 1973 and Senegal in 1974. A violent robbery that almost killed his three-year-old son prompted Eddy, accompanied by four other band members, to relocate to Miami in 1974. In their absence, the charanga Típica Ideal, led by ex-Broadway pianist, Gil Suarez, helped to fill the void. Ideal released two notable albums, Vamonos Pa'Senegal Para Bailar Y Gozar (1976), featuring some fine soloing by tenor saxophonist/violinist José 'Chombo' Silva (b. Baracoa, Oriente Province, Cuba), and Fuera Del Mundo/Out Of This World (1978), produced by Luis 'Perico' Ortiz. Típica Ideal's vocalist and co-leader, Victor Velázquez (born in Fajardo, Puerto Rico), has an impressive pedigree that includes stints with Vicentico Valdés' band, Orlando Marín, Charlie Palmieri, Joe Quijano, Louie Ramírez, Machito's band and recording with the Alegre All-Stars. Ideal's flautist was ex-Eddie Palmieri's La Perfecta accompanist, George Castro.

Broadway returned to New York in 1975 because of lack of work in Miami. Signed to Coco Records, they released four albums between 1975 and 1981. Pasaporte (1976), produced by revered trombonist Barry Rogers, enhanced their popularity, and in 1977, they were the city's busiest band, playing 15 dances a week, five dances on Saturday. Their 1978 New York City Salsa added the trumpet of Cuban Roberto Rodríguez (d. 1988) to the line-up. A tantalizing glimpse of Rodríguez with Broadway at the Corso Ballroom was shown in Jeremy Marre's television film, Salsa (1979). During 1980/1, Eddy, Ruddy, Kelvin and other band members appeared on a number of albums produced by Roberto Torres for his SAR and allied Guajiro and Neon labels, including: Roberto Torres Presenta: Ritmo De Estrellas (1980), Charanga Colonial (1981) and SAR All Stars Recorded Live In Club Ochentas (two volumes, 1981). In 1982 they released Orquesta Broadway Loves New York on their own B'way Records label and were the winning band at the Festival de Orquestas in Cali, Colombia. Prior to their 1987 album, Broadway made regular radio broadcasts on Al Angeloro's WBAI show Montuno and Max Salazar's WKCR programme The Latin Musicians Show.
Millions of songs.
Zero ads.
New subscribers only. Plan automatically renews after trial.