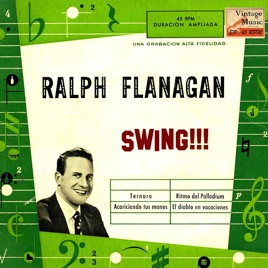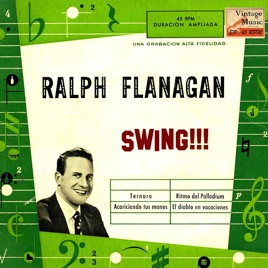 Vintage Dance Orchestras Nº 130 - EPs Collectors "Swing 2"
| | TITLE | TIME |
| --- | --- | --- |
| | | 2:30 |
| | | 3:06 |
| | | 2:06 |
| | Ralph Flanagan and His Orchestra & Buddy Victor (Vocal) | 2:24 |
4 Songs

℗ 2010 Vintage Music
About Ralph Flanagan and His Orchestra
b. 7 April 1919, Loranie, Ohio, USA. Flanagan played piano with several local bands during his teen years, eventually becoming pianist-arranger with Sammy Kaye in 1940. He was a member of the Merchant Marines during World War II and later provided arrangements for Charlie Barnet, Sammy Kaye, Gene Krupa, Blue Barron, Alvino Rey, Tony Pastor and many other bands. He also worked with a number of singers including Mindy Carson and Perry Como. He struck lucky when Herb Hendler, who worked for a minor record label, commissioned him to provide an album devoted to cover versions of Glenn Miller favourites. The resulting record sold so well that when Hendler moved to a job at RCA-Victor Records, he persuaded that company (which owned all the original Miller masters) to release further tracks by Flanagan. This time, he grafted Miller-style arrangements onto material not formerly associated with the Miller band. The ploy paid off and the records sold prolifically, encouraging Flanagan to form a full-time orchestra in early 1950 and to take it out on the road. The band was heavily influenced by Miller, and their vocal group, the Singing Winds, emulated the sounds of the Pied Pipers. Flanagan's band also boasted a good male vocalist named Harry Prime, filling the Ray Eberle role. As a result, the band quickly became one of the biggest crowd-pullers on the big-band circuit, hit records coming with 'Rag Mop', 'Nevertheless' and 'Harbour Lights' in 1950, followed by 'Slow Poke', and his own composition 'Hot Toddy'. The success of the Flanagan band sparked off a whole Miller revival, with such former Miller-men as Ray Anthony and Jerry Gray, plus many others who had never even met Miller, organizing bands that echoed the Miller sound. Most of these imitators gradually faded, although Flanagan was still an active leader/arranger in the early 60s.
Top Songs by Ralph Flanagan and His Orchestra
See All
Top Albums by Ralph Flanagan and His Orchestra
See All