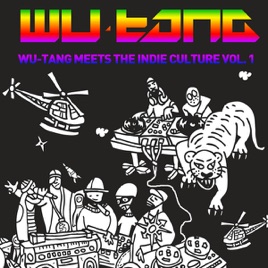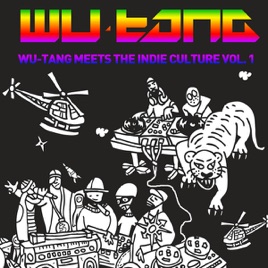 Wu-Tang Meets The Indie Culture, Vol. 1
Wu-Tang
| | TITEL | | LÄNGE |
| --- | --- | --- | --- |
| | | | |
| | | | |
| | Wu-Tang, Vast Aire, Byata, Timbo King & Prodigal Sunn | | |
| | Wu-Tang, Prodigal Sunn, U-God, Sean Price & C-Rayz Walz | | |
| | | | |
| | Wu-Tang, Casual, Tragedy Khadafi, Vordul Mega & Roc Marciano | | |
| | | | |
| | | | |
| | | | |
| | Wu-Tang & Del the Funky Homosapien | | |
| | | | |
| | Wu-Tang, Byata, Bronze Nazareth & Solomon Childs | | |
| | Wu-Tang, Littles, Khalid & Planet Asia | | |
| | | | |
| | Wu-Tang, GZA, Ras Kass, Scaramanga Shallah & LA the Darkman | | |
| | Wu-Tang, Del the Funky Homosapien & Aesop Rock | | |
| | Wu-Tang & C.C.F. Division | | |
| | Wu-Tang, J-Live & R.A. the Rugged Man | | |
| | Wu-Tang & Bronze Nazareth | | |
19 Titel, 53 Minuten
Veröffentlicht:

1. Juni 2011

℗ 2010 BG / iH2D / iHipHop Distribution
Infos zu Wu-Tang
Der Wu-Tang Clan unter Leitung von Rapper RZA (Robert Diggs, *1969) revolutionierte mit seinen minimalistischen, düsteren Funk-Beats den Hip-Hop der Neunziger, die Crew veröffentlichte zahlreiche gemeinsame Alben wie auch Soloplatten und Seitenprojekte. Unter dem einfachen Namen Wu-Tang erschienen Alben, bei denen mehrere Wu-Tang-Mitglieder dabei waren, aber nicht alle, und die teils auch aus dem stilistischen Rahmen der Clan-Veröffentlichungen fielen. 2008 erschien die Zusammenstellung Soundtracks from the Shaolin Temple, 2009 taten sich mehrere Wu-Tang-Rapper für das Album Chamber Music mit der Liveband Revelations zusammen. Legendary Weapons spann 2011 den Live-Ansatz weiter. Auf The Saga Continues von 2017 waren fast alle Wu-Tang-Mitglieder vertreten, aber das Album wurde von RZA-Schüler Mathematics betreut.
Millionen von Titeln.
Ohne Werbung.
Nur für neue Abonnenten. Abo wird nach Ablauf der Probezeit automatisch verlängert.