AeroWeather Pro
Von Lakehorn AG
Diese App steht nur im App Store für iOS-Geräte zur Verfügung.
Beschreibung
*** AeroWeather: for pilots, aviation enthusiasts, and everyone who is serious about the weather!
*** Current and precise weather conditions (METAR) and forecasts (TAF).

AeroWeather Pro provides quick and intuitive access to METAR and TAF for airports worldwide. Data can be shown in its original (raw) format or as fully decoded and easy understandable texts. AeroWeather Pro is helpful for weather preflight-briefings, but also to just get very precise weather. All weather data is cached for offline access. There are many settings for units and format of METAR/TAF available.

In addition to weather data, AeroWeather Pro integrates also airport NOTAMs (provided by US FAA), webcam images around airports (provided by webcams.travel), and US ATC delay information (provided by US FAA).

The app features a built-in airport database, which includes basic airport data like runways, sunrise/sunset, twilight times, timezones etc.

AeroWeather Pro now offers built-in groups for earthquakes, ATC delays (US only), nearby stations, today widget, and Apple Watch which can be individually enabled on the top level view. Besides creating user groups it's also possible to put stations on the same level user groups. This might be useful for your most favourite airports or home base. Depending on your needs, groups can be shown or hidden in the main list view. User groups can now be synchronized via Cloud Kit*.

METAR alert notifications* is another new and helpful feature to stay up-to-date. Define multiple alerts for each station with the following criteria: flight rule (US NOAA), wind speed, temperature, pressure, present weather, visibility, and ceiling (BKN and OVC). Notifications will be sent to your device if the criteria is met (e.g., when wind is greater/equal 10 kts, flight rule becomes IFR).

The AeroPix feature offers users the possibility to take quickly picture(s) of the weather at their current location. The pictures will be available to all other pilots (on the map or within an airport detail view) helping them to get a better idea about local conditions. AeroPix should be especially helpful when there's no or insufficient webcam coverage.

AeroWeather Pro comes with an Apple Watch app, which shows either a list of stations as defined in the Apple Watch group or all nearby stations based on the current location. METAR, TAF, and webcam images (if available and enabled in the Watch App settings on the iPhone) are displayed for each station. In addition, you can put AeroWeather as a complication in your watch face to stay up-to-date.

Please consult our web-site for a full description of all features.

* Additional functionality which needs to be unlocked (one-time purchase). In-app purchases are not transferable between Lite, Pro, and Mac.
Neue Funktionen von Version 2.1
- Added again printing/PDF sharing for groups
- Added sharing of groups thru QR codes
- Groups can be sorted by name
- Improved station sorting by name
- Runway section: AM/PM time format; removed decimals for wind components (now rounded)
- Widget: decoded format now also shows FEW/SCT: option for raw TAF
- Small layout changes/improvements
- Bug fixing (e.g. large font size, CAT indicator; duplicate METARs; widget loading/settings; stuck TAFs)
- Updated database (2017-12-04)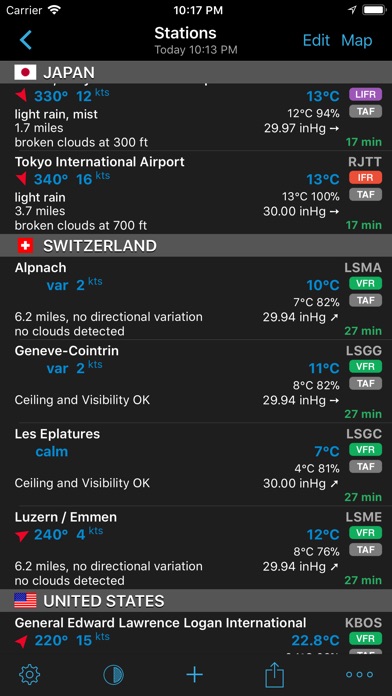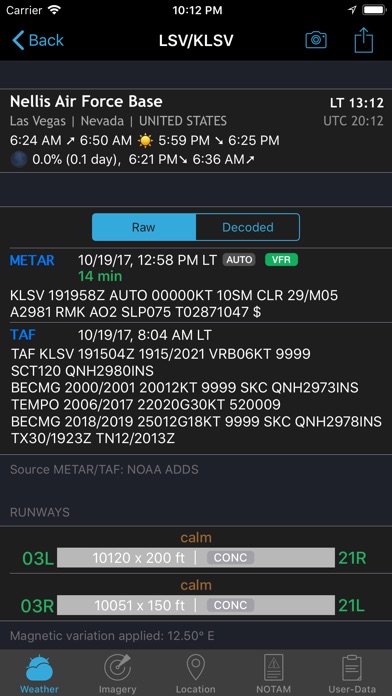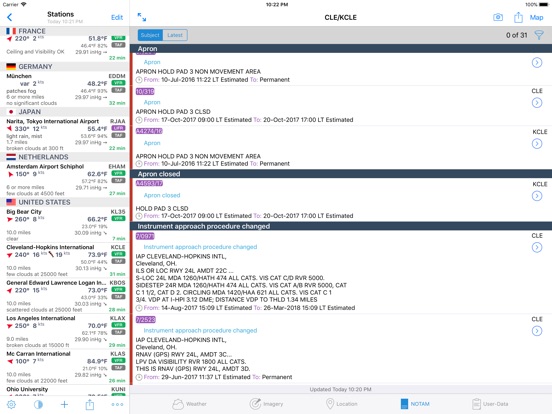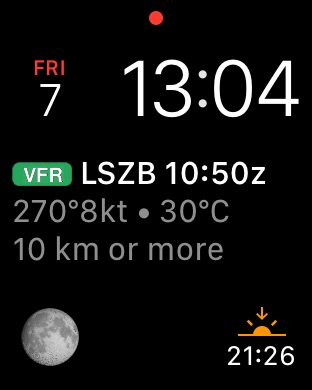 In iTunes ansehen
Diese App wurde sowohl für das iPhone als auch für das iPad konzipiert
Mit Apple Watch-App für das iPhone
4,49 €

Kategorie:

Wetter

Aktualisiert:

11.12.2017

Version:

2.1

Größe:

87.8 MB

Apple Watch:

Ja

Sprachen:

Deutsch, Dänisch, Englisch, Finnisch, Französisch, Italienisch, Japanisch, Niederländisch, Norwegisch (Bokmål), Polnisch, Portugiesisch, Russisch, Schwedisch, Spanisch, Vereinf. Chinesisch

Entwickler:

Lakehorn AG
Kompatibilität: Erfordert iOS 9.1 oder neuer. Kompatibel mit iPhone, iPad und iPod touch.
Top-In-App-Käufe
Alarme entsperren3,49 €
Cloud Abgleich entsperren2,29 €