Auria
Von WaveMachine Labs, Inc.
Öffne iTunes, um Apps zu kaufen und zu laden.
Beschreibung
Auria - the 48-track digital audio recording system for iPad.

"This is the first mobile mixing (AND recording AND post production) app that I've ever used that is truly professional. Just Wow !" - David Kahne (Grammy winning producer/engineer for Paul McCartney, Tony Bennett, Stevie Nicks, Sublime, The Bangles, Ingrid Michaelson, Regina Spektor)


The mobile DAW you've been dreaming of has finally arrived. Auria is a 48-track digital recording system designed from the ground up for the iPad. With professional-level features like AAF import/export, and optional third-party plugin support from names like PSPaudioware, Overloud, Fab Filter and Drumagog (available via In-App purchase), Auria clearly sets a new standard for mobile recording.

FEATURES:

• 48 tracks of simultaneous playback of stereo or mono files. (24 tracks on iPad 1)
• Up to 24 tracks of simultaneous recording when used with compatible USB audio interfaces (Camera Connection Kit required)
• Supports sample rates of 44.1KHz, 48KHz and 96KHz, at 24 bits (iPad 1 supports only 44.1KHz and 48KHz)
• Vintage-inspired ChannelStrip on every channel by PSPAudioware includes Expander, Multiband EQ and Compressor
• MasterStrip on all subgroup and master channels featuring PSPAudioware BussPressor, EQ and Mastering Limiter
• 64 bit double-precision floating point mixing engine
• Third party VST effect plugin support available via in-app purchase (only iOS-version plugins are supported. All plugins must be purchased through the in-app store)
• AAF import and export allows transferring complete sessions between popular DAWs like Logic, Pro Tools, Nuendo, Samplitude and others
• Convolution reverb plugin with included IR library by MoReVoX
• ClassicVerb reverb plugin included
• StereoDelay and StereoChorus plugins included
• 8 Assignable subgroups and 2 aux sends
• Powerful waveform editor with features like cut/copy/paste, crossfade, duplicate, separate, gain, normalize, dc offset, reverse, and more
• Flexible snapping tools allow snapping to events, cursor, bars, beats and more
• DropBox, SoundCloud and Audio Copy/Paste support
• Track freeze for minimizing CPU usage
• Full automation support on all controls with graphical editing
• True 100mm faders when used in Portrait Mode
• Optional video import feature allows sample accurate sync of video to an Auria project with adjustable offset times and video export capability
• Timeline ruler options include minutes:seconds, bars:beats, samples and SMPTE time
• Auto-punch mode
• WIST support for wireless syncing of other compatible music apps
• AuriaLink allows two iPads running Auria to play and record in sync, allowing for 96 tracks of playback and 48 tracks of recording
• Full delay compensation on all tracks, subgroups, and aux sends
• Adjustable metering modes, including pre or post fader, RMS and peak
• Adjustable pan laws
• Sample accurate loop function
• Automatic sample rate conversion
• Built-in metronome


Includes a demo song mixed on Auria by grammy winning producer/engineer David Kahne.


REQUIREMENTS:
iPad 2 or later recommended.
Compatible with all iPad models (iPad 1 has only 24 tracks, 44.1KHz and 48 KHz)
Requires iOS 5.0 or later
USB audio interfaces require Camera Connection Kit



Pro Tools is a registered trademark of Avid, Inc.
Logic is a registered trademark of Apple, Inc.
Nuendo is a registered trademark of Steinberg, GmBH
Samplitude is a registered trademark of MAGIX.
AudioCopy and AudioPaste are registered trademarks of Sonoma Wire Works.
WIST is a trademark and software of KORG INC.
Neue Funktionen von Version 2.11
Please see our official forum for patch notes: http://auriaapp.com/forum/viewtopic.php?f=20&t=9458
iPad Screenshots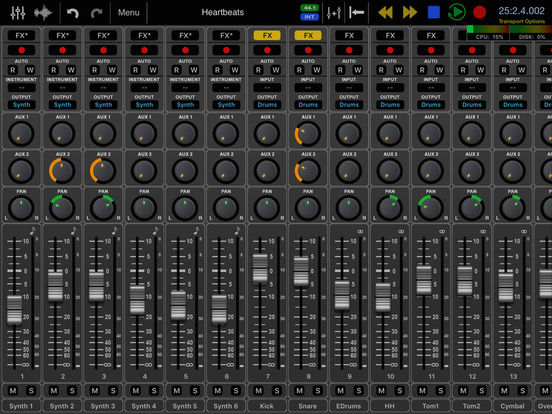 In iTunes ansehen
27,99 €

Kategorie:

Musik

Aktualisiert:

23.05.2017

Version:

2.11

Größe:

987 MB

Sprache:

Englisch

Entwickler:

WaveMachine Labs, Inc.
Kompatibilität: Erfordert iOS 6.1 oder neuer. Kompatibel mit iPad.
Top-In-App-Käufe
Upgrade to Auria Pro27,99 €
Micro Warmer Effect Plug-in21,99 €
Pro-Q Effect Plug-in32,99 €
Drumagog Add-on21,99 €
Rock Drum KitGratis
C7 Grand PianoGratis
Jazz Drum KitGratis
THM Effect Plug-in21,99 €
ReTune Effect Add-on6,99 €
Elektromorph Drum KitGratis
Weitere iPad Apps von WaveMachine Labs, Inc.