Concepts: Smarter Sketching & Design
von TopHatch
Öffnen Sie iTunes, um Apps zu kaufen und zu laden.
Beschreibung
ACCURATE, INTELLIGENT, AND FLEXIBLE DRAWING - BEST APPS OF 2013
Concepts combines the precision of technical drawing with the elegance and style of artistic sketching. Use an infinite canvas, flexible multi-touch shape guides, after-the-fact stroke adjustments, and powerful export options to bring all your ideas to life.

DESIGN WITH LINES
Precision Mode features flexible multi-touch Shape Guides for creating perfect lines, arcs, angles, ellipses, and rectangles; perfect for layout and perspective, creating structure, and anything you'd use a ruler for. Snap-to Sketching enhances your accuracy, while Scale and Measurement let you create accurate representations of anything in your head.

ADJUST IN FLOW
Pen and paper don't offer the flexibility of picking up a line and moving it, scaling it, or changing the ink weight and color. Select any stroke at any time, or select groups of strokes by dragging a finger. Add, duplicate and merge layers, and enjoy the best of both traditional and digital worlds.

SEND YOUR WORK TO THE REAL WORLD
When you're ready, export your work to dozens of professional applications for further use or send to colleagues via email, web link, or cloud backup solutions. Now supporting high-resolution (300dpi+), vector (SVG), CAD (DXF), Adobe Photoshop (PSD), and standard formats.

IT'S IN THE DETAILS
Infinite canvas with sharp zoom and rotation, real-scale paper size guides, layout guides, transparency, graph paper and isometric grids, pressure sensitive styli (Adobe, Adonit, HEX3, Pogo, and Wacom), and all pens, brushes, and paper types are free. Import multiple (manipulable) images, add text labels, use an adaptive interface inspired by game design, and get extreme flexibility with all lines and layers.

ADOBE CREATIVE CLOUD CONNECTED
If you use Adobe Creative Cloud, you'll be excited to know you can import and export PSDs, use your Adobe Ink stylus, and instantly use thousands of free images from the Adobe Creative Market.

WHAT DO I USE CONCEPTS FOR?
• Architects, Engineers, Surveyors, and Landscape Designers enjoy the easy flow and technical precision of the shape guides, snap, scaled measurement, and the 300dpi+ printable output options.
• Product Designers and Makers can easily sketch an idea, make tweaks at a stroke level, then export right to SVG or DXF for laser cutting and other forms of rapid prototyping.
• Educators and Creative Professionals brainstorm on an infinite canvas, manipulate individual pieces, then present to the classroom or audience via AirPlay.
• Import personal photos for layouts, tracing, and visual reference. Add markup and annotations to images and send them anywhere.
• Kids love exploring their ideas using Concepts' simple interface and cool tools.
• Find your own unique uses -- Concepts is as flexible as your imagination.

WHAT PEOPLE ARE SAYING
• Award Winning: Apple selected Concepts for the Best Apps of 2013: Smart Productivity in 12 countries! Tabby Awards 2013: Best Creation & Design App.
• Nancy said "I use probably 15 to 20 drawing and photo apps in an average week. This is without a doubt, one of my favorites, made by and for professionals. The options are many and are not typical, but are smart. Totally worth the purchase."
• John says "This has the potential to be the ultimate design tool - the freedom to sketch with the power of vector manipulation."
• Dave said "So much power with a simple, stylish interface. A tool for makers to design and build their dreams."
• Grim says "This is the future in design."

ABOUT TOPHATCH
TopHatch is enabling the next generation of creatives to design and build their dreams.

We're dedicated to quality, and we update often. If you experience any problems with this release or have suggestions for improvement, please contact us directly so we can quickly address them!

COPIC is the trademark of Too Corporation. Special thanks to Claudine Zafra, Ray Chen, Evan Bronstein AIA LEED GA, Taylor Lane, and Erica Christensen for cover art!
Neue Funktionen von Version 3.1.2
This is a quick followup release to address several critical iPad Air 2 bugs, and the following:

- Import directly from iCloud Drive, Dropbox, and Google Drive (iOS8+ required)
- Fix Pencil and Airbrush pressure sensitivity on supported styli.
- Fix a bug relating to offset drawing on an adjusted layer.
- Added an "SVG Filterless" option for improved reliability when exporting to Adobe Illustrator.
- Added some new double-tap actions to the precision tools. Double-tap the center crosshairs of the straight-line tool to limit the drawn stroke to between the handles, while the arc and angle tools now snap to equidistant and 90 degrees, respectively. (Double-tapping the ellipse and rectangle tools already snaps to full circle / square.)
- We added a slight delay to single-finger moving of precision mode handles so you can start drawing directly on the handle. It may take a little getting used-to, but we think it lowers the learning curve and offers you some enhanced control of your start and end points.

If you like these updates and are feeling generous, please leave a nice review! It's both helpful and motivating.

Our next update will address many of the UI issues you've sent us feedback about. If you'd like to see something change, drop an email to concepts@tophatch.com and let us know!
iPad Screenshots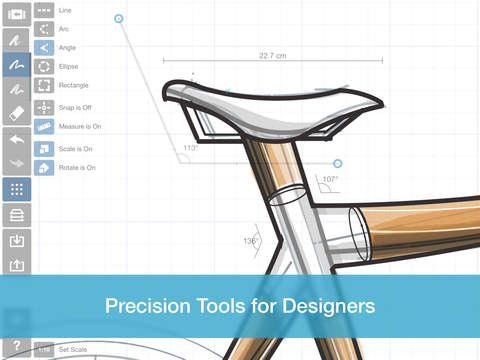 Kundenrezensionen
Gelungen.
Gute Basisversion (Free), sinnvolle In-App Käufe. Durch die Updates zeigen die Entwickler das sie wirklich etwas bieten wollen. Noch nicht ganz optimal, aber für die ständige Weiter-Entwicklung: gerne 5 Sterne.
The only way to work on a picture...
...is to buy the proversion.

No thx
In iTunes ansehen
Gratis

Kategorie:

Produktivität

Aktualisiert:

30.01.2015

Version:

3.1.2

Größe:

31.5 MB

Sprache:

Englisch

Entwickler:

TopHatch LLC
Kompatibilität: Erfordert iOS 7.0 oder neuer. Kompatibel mit iPad.
Top In-App-Käufe
Pro Pack7,99 €
Pro Pack [Legacy]7,99 €
Layers & Adjust2,99 €
Precision Toolkit1,99 €
Images & Text1,99 €
Upgrade to Pro Pack4,99 €
Sketch & Color Tools1,99 €