Knapsack
von Outer Level
Öffnen Sie den Mac App Store, um Apps zu kaufen und zu laden.
Beschreibung
Plan, journal, and relive your greatest adventures.

Plan the ultimate family vacation, your next business trip, or your dream getaway. Lay out your travel plans, destinations, activities, and even your packing lists. Fill your days with scheduled activities and keep a list of all things you hope to do. Keep a journal of your adventures and revisit your trip highlights with postcards for each pin on your world map.


RESEARCH:
Search the world for interesting places, points of interest, or even a friend's street address.

PLAN:
Create detailed multi-day itineraries with scheduled activities, todo lists, and packing lists.

ORGANIZE:
Use the built-in smart groups or create your own custom groups to keep organized.

JOURNAL:
Keep a journal of the places you see and things you experience. Add photos to your activities and journal entries.

REVISIT:
Review trip highlights with postcards for each pin on your map.


FEEDBACK
=======
We want to hear from you. Please send feedback directly to support@outerlevel.com so that we can provide you direct support and in-turn improve Knapsack.


REVIEWS
=======

4 Stars: "If you want your next holiday to go smoothly, Knapsack will give you the tools." - Macworld.co.uk

"Best Mac Software for 2011" - Techomag.com

"The Best Mac Software of 2010" - AppStorm.com

8/10: "Knapsack is clearly an excellent one-stop solution for trip planning. The sleek interface, streamlined functionality, and attractive price tag will no doubt be appealing to the majority of travelers." - AppStorm.com

"Will increase your excitement by a factor of at least a thousand." - iCreate Magazine


MORE INFO
=========
Facebook: http://facebook.com/KnapsackApp

Twitter: http://twitter.com/KnapsackApp
Neue Funktionen von Version 2.2.2
* Fixed: Freeze when trying to undo "Add New Trip".
* Fixed: Various memory leaks when changing custom groups.
Screenshots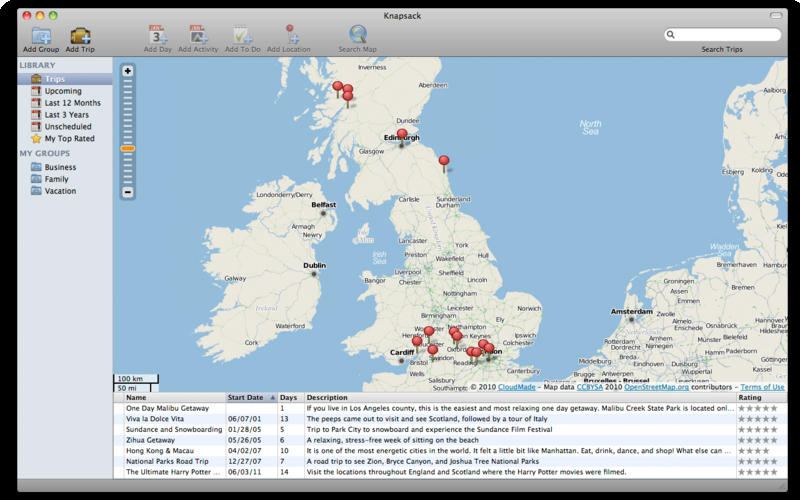 Kundenrezensionen
Would be a nice piece of software but only useful with local mac ical calendar
I purchased this relatively expensive piece of software for doing holiday preparations. I was under the impression that I could setup a planning including reminders and sync via cloud everything to my iphone and ipad flawlessly. To my dismay, I had to find out that this works for the calendar part but every time I sync it deletes the complete list of my reminders because those cannot be synced to neither google agenda nor iCloud. In order to keep the reminders I need to use the local agenda in ical which is not synced with my other devices. So I am losing a lot of functionality here. It appears to me that the programmer of this piece of software did not work on it for quite some time and the software is not updated (except for minor textual updates). I will revisit my review when the availability to sync agenda AND reminders to cloud is modified (or at least the reminders do not get deleted anymore).
Im Mac App Store anzeigen
26,99 €

Kategorie:

Reisen

Aktualisiert:

08.07.2011

Version:

2.2.2

Größe:

11.4 MB

Sprache:

Englisch

Entwickler:

Outer Level Corp.
Kompatibilität: OS X 10.6.6 oder neuer
Mehr Apps von Outer Level