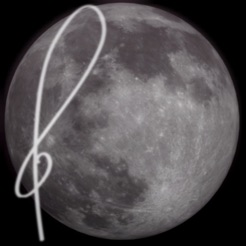 Beschreibung
Another busy day as usual... and suddenly you stop to look up into the night sky.

Are you expressing the things you really wish to say?

The moon letter lets you communicate your innermost feelings with a melody
that plays over an image of the moon in tonight's lunar phase.

See things you hadn't noticed before, and perhaps even remember
memories you thought you had forgotten - the moon letter Sound
Application brings you the opportunity to do all of this!

----------------------------------------

Step 1: Type your message in the message window
Step 2: Choose your instrument
Step 3: Select your recipient and tap "Send"

It's as simple as that! The moon letter will deliver your message, along
with a beautiful melody and an image of the moon in tonight's lunar
phase. You can check your message before sending by tapping the
"Preview" button.

The moon letter application will launch automatically when the
recipient taps the link. moon letter will play the melody while
displaying your message over an image of tonight's moon in the lunar
phase.

Note: Messages sent by moon letter can only be viewed on an iPhone or
iPod touch with the moon letter application installed. If the
application is not detected, the message link in the messate will divert to
the moon letter page of the App Store.
Minor bug fix
-A link URL revision in a send mail.
Informationen
Anbieter

Pioneer Corporation

Größe

55.2 MB

Kategorie

Kompatibilität

Erfordert iOS 3.0 oder neuer. Kompatibel mit iPhone, iPad und iPod touch.

Sprachen

Deutsch, Englisch, Französisch, Italienisch, Japanisch, Niederländisch, Spanisch

Alter

Kennzeichnung: 4+

Copyright

© 2010 Pioneer Corporation. All rights reserved.

Preis

Gratis
Support
Familienfreigabe

Wenn die Familienfreigabe aktiviert ist, können bis zu sechs Familienmitglieder diese App verwenden.