Piping DataBase - XTREME
Von Radin Alcira
Diese App steht nur im App Store für iOS-Geräte zur Verfügung.
Beschreibung
Now the largest piping database reference - free in-app purchases. One price - All in! FOR A LIMITED TIME! Download now the complete library modules.

Select the "+ Modules" tab to download your free modules. You will see the price as $ 0.00 for each in-app purchase. Tap the button to download for free, for a LIMITED TIME only.

Continuous update for the biggest piping mobile application. We never stop adding, users are assured of new modules courtesy of requests by thousands of users.

Presented in a very simple set-up – scroll to different components per category. Figures in standard piping symbols, drawn by CAD software. Dimension units are interchangeable and displayed in standard drafting practice. No need to view multiple pages, one stop per category. All relevant piping data are shown for every tap, no fancy displays, direct and easy to understand plus a guide per info page.

The best reference for piping layout, isometric drawings, shop and field drawings, detailing and material take-off! Anytime, anywhere and any situation!

We welcome suggestions to make this application the best piping reference app. If you want specific piping component to be included, please send feedback on the customer reviews and the most requested will be added ASAP!!!

COMPONENTS: (all available here)
- Fittings: 90/45 deg. Elbows, 90 deg Reducing Elbow, Straight & Reducing Tee, Straight & Reducing Cross, 180° Return, Coupling, Cap, Concentric & Eccentric Reducers, Lap Joint Stub End (BW, Socket Welding & Threaded)
- Flanges: Welding Neck, Socket Welding, Slip-On Welding, Threaded, Blind & Lapped with quantity of Bolts, Diameter and Length. All class ratings, including RF & RTJ facings. (B16.5)
- Valves: Gate, Globe, Check, Ball, Butterfly & Control Valves
(Flanged, BW, Socket Welding and Threaded connections)
- Pipe Schedule: STD, XS, XXS & all Schedules including API Specification 5L with weight of empty steel pipe or with water per foot/meter length.
- Branch Connections: Welding, Socket & Threaded Outlets and Elbolets.
- Line Blanks: Figure-8, Paddle Blanks & Paddle Spacers
- Gaskets: B16.20 and B16.21 (non-metallic flat gaskets and spiral-wound, ring type joint and jacketed)
- Suggested Pipe Support Spacing (New)
- Malleable Iron Fittings (ASME B16.3)
- Orifice Flanges (ASME B16.36)
- Pipe Spacing
- Large Diameter Flanges (ASME B16.47)
- Flange Joint Bolt Tightening Sequence (single tool)

Quick Tip:

When in inches units, display shows decimal inch. To view in fraction, tap any dimension and will reveal the inch fraction equivalent.
Neue Funktionen von Version 4.5
-updated thickness dimensions on Figure-8 line blanks separating RF dimensions.
iPhone Screenshots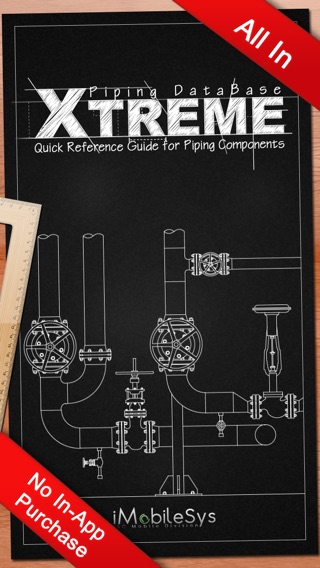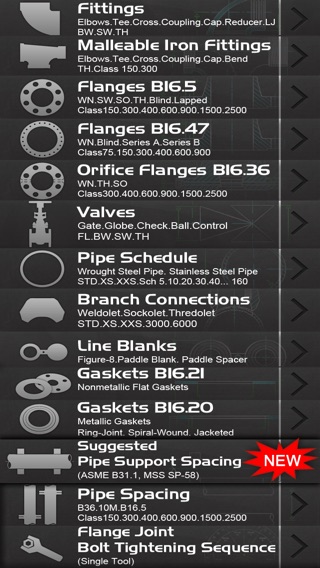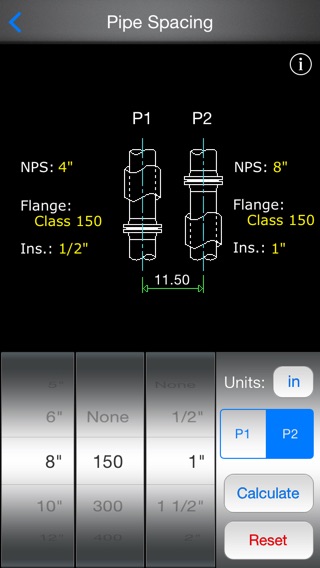 In iTunes ansehen
10,99 €

Kategorie:

Dienstprogramme

Aktualisiert:

23.04.2015

Version:

4.5

Größe:

18.1 MB

Sprachen:

Deutsch, Arabisch, Dänisch, Englisch, Finnisch, Französisch, Griechisch, Hebräisch, Indonesisch, Italienisch, Japanisch, Katalanisch, Koreanisch, Malaiisch, Niederländisch, Norwegisch (Bokmål), Polnisch, Portugiesisch, Rumänisch, Russisch, Schwedisch, Slowakisch, Spanisch, Thai, Tradit. Chinesisch, Tschechisch, Türkisch, Ungarisch, Vereinf. Chinesisch, Vietnamesisch

Entwickler:

Radin Alcira
Kompatibilität: Erfordert iOS 6.0 oder neuer. Kompatibel mit iPhone, iPad und iPod touch.
Top-In-App-Käufe
Flanges B16.47Gratis
Pipe SpacingGratis
Flange Joint Bolt Tightening SequenceGratis
Malleable Iron FittingsGratis
Orifice Flanges B16.36Gratis