Shush - Microphone Manager
By Mizage, LLC
Open the Mac App Store to buy and download apps.
Description
▶ Issues that will be fixed in the next update:
• Doesn't run on 10.6 Snow Leopard anymore.
• Mutes Boom 2. Workaround: http://d.pr/8Y2t

Voice chat is awesome, but sooner or later you'll send something you wish others hadn't heard.

Shush solves this problem by providing simple hotkey microphone management.

With Shush you'll no longer have to feel awkward about the things going on around you. Whether it's a plane flying overhead, your kids screaming, that sneeze (or something worse) you feel coming on, or just you talking to yourself, Shush makes accidental transmitting a thing of the past.

In push-to-talk mode, your microphone will be muted until you press and hold a chosen hotkey, unmuting your microphone and allowing your voice to flow freely. Release the hotkey and Shush will mute your microphone again.

In push-to-silence mode (aka "cough button"), press and hold the hotkey to immediately mute your microphone so nobody hears anything you don't want them to. Release the hotkey and Shush will unmute your microphone.

Features:
• Take control of when you are heard
• Configure your own hotkey
• Informative menu bar icon so you always know the status of your mic
• Gorgeous retina graphics and fluid animations

Hardware:
Shush works with almost any* internal and external microphone or line-in, even USB and Bluetooth.

Software:
Shush works with any software that captures audio from the above hardware. This includes:
• iChat/FaceTime
• Google Chat/Talk
• Skype
• VoIP Softphones
• GarageBand/Podcast Capture
• and more…

* For a list of known incompatible hardware visit http://d.pr/gPuw
What's New in Version 1.2.1
• Improved compatibility for OS X 10.10 Yosemite.
• Improved ability to mute some devices that were previously unmutable.
• Changed menu bar icon to be black and white.
• Fix for output audio being muted if Boom is installed.
Screenshots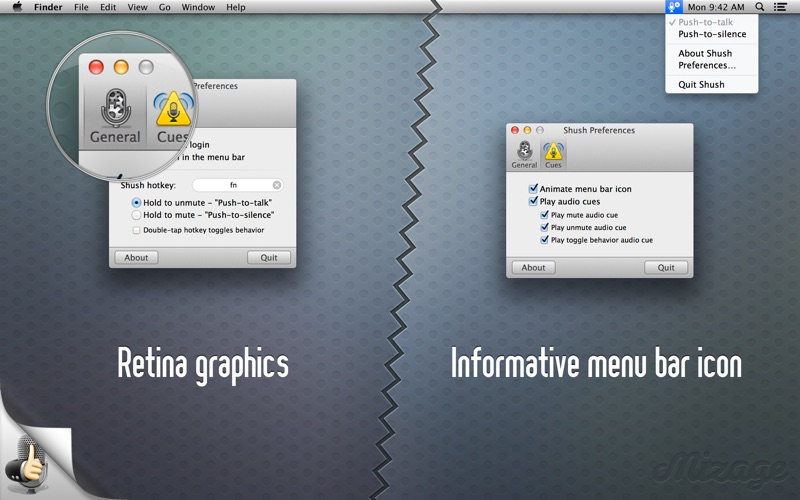 Customer Reviews
from 1 to 4 ⭐️
4 Star (2017-04-26):
CPU is fine again, there are some start-up problems and sometimes running twice, even two icons in the top bar of which on hangs. All in all almost perfect.

——

1 Star (2015-11-06):
Well OS X 10.11 on and Shush is killing my CPU, also coreaudiod prozess run up to 100% slowing my Mac. Took me some time to figure out Shush is creating the problems.

——

5 Stars (2015-05-24):
I have to say i tried almost any microfone app in the app store, but none was doing everything I wished it to do. Mizage did a great job out of the box! It even works with full-screen games (which usualy take the input but don't pass it over to the system), now I can control my TS oder Skype or whatever from in-games to.

Edit: forgot to mention the basic features:
1. Push to talk ( hooray TeamSpeak )
2. Push to silence ( omg so nice! )
3 Mic toggle ( wich is what the other 99% of apps in the app store are doing )
View in Mac App Store
5,49 €

Category:

Utilities

Updated:

29 October 2014

Version:

1.2.1

Size:

1.1 MB

Language:

English

Developer:

Mizage, LLC
Compatibility: OS X 10.6.6 or later