SimpleMind
Von ModelMaker Tools BV
Öffne den Mac App Store, um Apps zu kaufen und zu laden.
Beschreibung
Mind mapping helps you organize your thoughts, remember things and generate new ideas.
We've created a beautiful, intuitive app, so you can mind map wherever you are and whenever you want.

SimpleMind is designed to synchronize your Mind Maps across platforms. For example (as a separate purchase) for iPhone/iPad - http://www.simpleapps.eu/simplemind/download

Highlights
• Easy to use.
• Continuously fine-tuned based on customer feedback.
• Trustworthy and reliable: 8 years of updates and improvements.
• Used in a wide range of applications: business, education, legal and medical.
• Unique free layout or different auto layouts.
• Seamless synchronization using Dropbox or Google Drive.
• Add media and documents.
• Share Mind Maps.
• Change and customize the appearance.
• Tools to help you maintain overview.

• Create
○ place topics anywhere you want in the free layout
○ or use one of the different auto layouts (great for brainstorming)
○ virtually unlimited page size and number of elements
○ supports multiple Mind Maps on one page
○ start with an image at the center of the Mind Map
○ reorganize and restructure using drag, rotate, re-arrange or reconnect
○ use single select or multiple select
○ use checkboxes, auto-numbering
○ link any two topics with a crosslink
○ label relations

• Seamless synchronization using Dropbox or Google Drive
○ sync your Mind Maps with other devices using Dropbox or Google Drive as a conduit
○ avoid data loss by recovering deleted Mind Maps
○ restore previous versions of a Mind Map
○ Dropbox stores deleted files and file versions for at least 30 days

• Add media and documents
○ voice memos
○ images
○ photos
○ notes
○ icons (stock or custom)
○ links (navigation or hyperlink)

• Share your Mind Map
○ for example as PDF or Image
○ outline, can be imported in word processors
○ import/export as Freemind or opml
○ use the presentation mode to show your Mind Map to others
○ print

• Change and customize the appearance
○ apply our pre-defined style sheets
○ pick colors from the style color palette or choose custom colors
○ change the appearance of topics and lines
○ customize background color

• Maintain overview
○ collapse and expand branches
○ hide or show branches or topics
○ highlight branches by displaying branch borders
○ organize your Mind Maps in folders
○ search
Neue Funktionen von Version 1.16.1
v1.16.1
Bugs fixed
v1.16.0
New Flat Stock Icons, existing icons available on "Classic" tab
Tapered line styles added: Tapered, Reverse Tapered and Auto Tapered.
Natural + Colors style sheet uses Auto Tapered line style.
Call-out styles for labels.
Added png and tiff image export quality (Normal, Medium, High, Extra High)
Rectangular lasso selection: Command+Drag selects, Shift+Command+Drag extends selection
Auto scroll support for node well, moving elements and lasso selection.
Make topics and labels underline and strikethrough - via font style.
Rich text in topics and labels using MarkDown syntax: *bold*, _italic_ ~underline~
Word Wrap tool maintains paragraphs and lists (mark down syntax).
Option "Apply Word Wrap" controls default word wrap when adding topics and labels.
Touch bar support
Displaying "up" folder navigation item in Dropbox and Google Drive
Bug fixed: Style Sheet previews not working
Bug fixed: presets preview could cause crash
Bug fixed: Keyboard shortcut Alt+Backspace would not invoke "Delete Single Topic"
Screenshots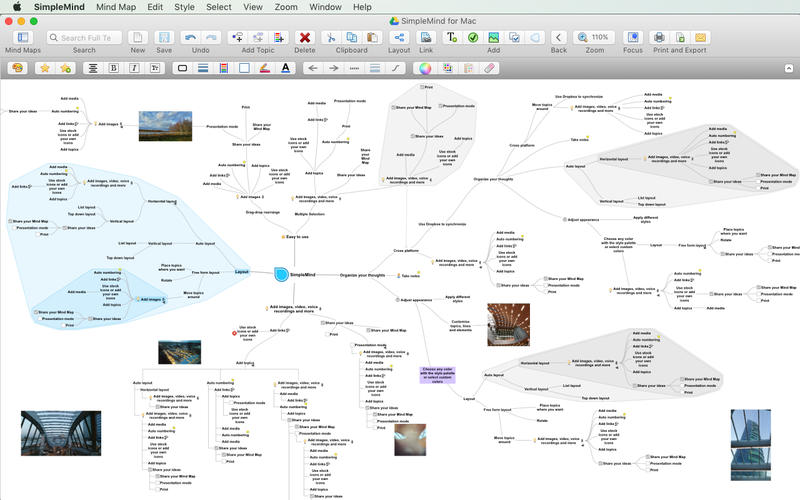 Kundenrezensionen
Weiter optimiert
Inzwischen kann man auch gut mit Kurzbefehlen schneller eine Mind-Map erstellen, gefällt mit gut.
Für die meisten Anwendungen ein gutes Tool.
Im Mac App Store anzeigen
32,99 €

Kategorie:

Produktivität

Aktualisiert:

19.04.2017

Version:

1.16.1

Größe:

4.1 MB

Sprache:

Englisch

Entwickler:

ModelMaker Tools BV
Kompatibilität: OS X 10.10 oder neuer, 64-Bit-Prozessor
Mehr Apps von ModelMaker Tools BV