Swift Playgrounds
By Apple
This app is only available on the App Store for iOS devices.
Description
Swift Playgrounds is a revolutionary app for iPad that makes it fun to learn and experiment with code.  You solve interactive puzzles in the guided "Learn to Code" lessons to master the basics of coding, while additional challenges let you explore code and create programs that are engaging and unique.

Swift Playgrounds requires no coding knowledge, so it's perfect for students just starting out, from twelve to one-hundred-and-twelve. The whole time you are learning Swift, a powerful programming language created by Apple and used by professionals to build many of today's most popular apps. And because it's built to take full advantage of iPad and the real iOS SDK, Swift Playgrounds is a first-of-its-kind learning experience. 

Lessons built-in
• Apple-created lessons guide you through the core concepts of programming by using code to solve puzzles
• See your code run in a beautiful, interactive 3D world that you can rotate with a finger and pinch to zoom
• Animations introduce each new coding concept at a high level before you dive into the puzzles
• Choose from three animated characters to carry out the steps of your code
• Glossary covers a comprehensive list of common terms, or tap a word in the instructions for additional help

Explore and create
• Challenges encourage experimentation and creativity by playing with game logic, music, and various other themes
• New challenges are released regularly to keep improving your emerging coding skills
• Interactive coding shows the results of your code instantly, either beside the text or acted out in the live view
• Step through your code to highlight each line as it is run
• Use your own photos, images, sounds, and files within a program to make it uniquely yours
• Templates are a head start to create your own programs that use graphs, graphics, touch, or a chat with the computer
• Create your own playgrounds from scratch to take your coding skills to entirely new places
• Reset any page to start over, or duplicate and rename any document to give a family member their own copy

Built for touch
• Quick Type suggestions for code are so smart you can write entire programs in just a few taps, no keyboard required
• Tap and hold to grab any command and move it around to change the order of your code
• Drag a brace with your finger to wrap a block of code inside a loop or conditional statement
• Drag and drop snippets of commonly-used code directly into your playground
• Tap a number or color in your code to display a pop-up in which to enter a new value or choose from a color picker
• Amazing new coding keyboard has all the common Swift characters, just swipe to pick the alternate symbol on any key

Real Swift and iOS code
• Learn the same powerful Swift programming language used by the pros to create thousands of apps in the App Store
• Access iOS frameworks such as SpriteKit for 2D games, SceneKit for 3D graphics, UIKit, and more
• Your code has direct control of iPad hardware such as the gyroscope, accelerometer, camera, and touch events
• Use Bluetooth APIs to write programs that control robots and other real-world devices with your iPad
• Every concept and skill you learn directly applies when writing real apps

Share
• Send your creations to friends and family using Messages, Mail, AirDrop, or other Share Sheet extensions
• Record a video of yourself coding or running your creation, complete with your own voice narration
• Broadcast a coding session live to the world using any streaming service app that supports ReplayKit
• Homework hand-in with iTunes U makes it easy to bring coding into the classroom
• Turn on iCloud Drive to enable Xcode on your Mac to edit and extend the same documents that are on your iPad

Swift Playgrounds requires a 64-bit iPad with iOS 10 or later, including iPad mini 2 or later, iPad Air or later, or iPad Pro
What's New in Version 1.6.1
Fixes an issue introduced in Swift Playgrounds 1.6 that would prevent some existing playgrounds from running. Learn to Code, the Hour of Code challenge, and most other playgrounds now work as expected. Some of the accessory playgrounds may require that you tap the New Playground button to get the latest version.

Swift Playgrounds 1.6 includes:
• New Augmented Reality challenge uses ARKit to show Byte's virtual world within the real world
• You can now access the iPad camera from your code
• Errors in your code are more clearly explained
• Your code can take advantage of Swift 4 and the iOS 11 SDK
• New languages for the app and the Learn to Code 1 lessons include: Spanish (Spain), Italian, Dutch, Chinese (traditional), Korean, Swedish, Thai, Turkish, and Portuguese (Brazil)

*ARKit features require an iPad Pro or iPad (5th generation) running iOS 11
iPad Screenshots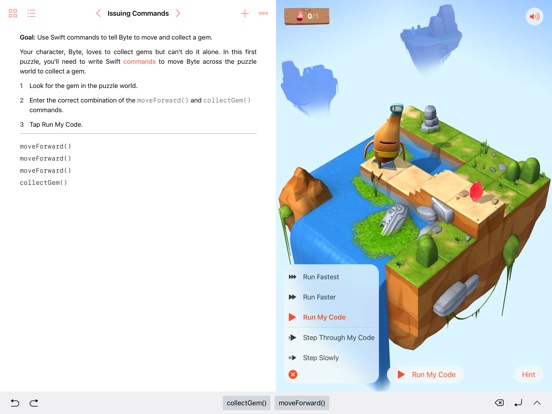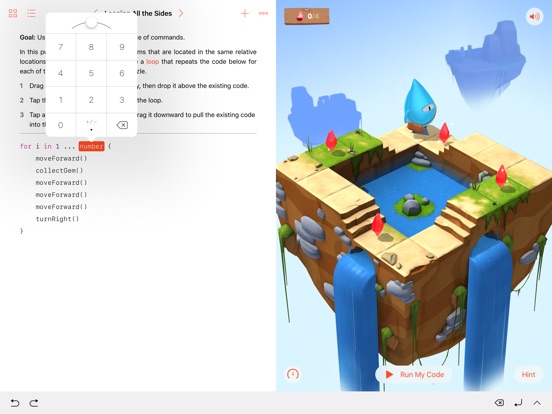 Customer Reviews
Mac Version Fehlt
Die App wäre auf dem Mac wesentlich besser geeignet. Die Bedienung auf dem iPad ist sehr hakelick und der Display zu klein für eine gute Übersicht.

Manche wollen hier sogar xCode auf dem iPad, das halte ich für eine ganz schlechte Idee.

Trotzdem 5 Sterne
Ganz große Klasse
Ich bin von dieser App einfach begeistert. Läuft auf meinem IPAD Pro mit IOS 11 reibungslos. Man lernt hier auf spielerische Weise mal eben die Programmierung mit SWIFT. Zumindestens bekommt man eine spielerische Einführung. Auch finde ich die musikalische Animation richtig toll und klingt auch noch sehr gut.
Da hat sich der App Entwickler richtig viel viel Mühe gegeben.

Würde mich freuen, wenn da noch mehr Lektionen hinzukommen und es auch für die Zukunft eine Version für die großen MAC Modelle geben würde.
Play with Swift :) and UIkit !!
Cool! Zum Swift-Lernen und Vertiefen oder kurz Austesten super.
Neuer, leerer PG und schon kann ich mit import UIkit zB JSON read/write und auch error handling probieren. Andere Frameworks gehen auch.
Unter iOS 10.3.3 ziemlich problemlos - solange Platz reicht und die PGs nicht ausufern ;-)
View in iTunes
Free

Category:

Education

Updated:

25 September 2017

Version:

1.6.1

Size:

260 MB

Languages:

English, Dutch, French, German, Italian, Japanese, Korean, Portuguese, Simplified Chinese, Spanish, Swedish, Thai, Traditional Chinese, Turkish

Developer:

Apple Distribution International
Compatibility: Requires iOS 10.3 or later. Compatible with iPad Air, iPad Air Wi-Fi + Cellular, iPad mini 2, iPad mini 2 Wi-Fi + Cellular, iPad Air 2, iPad Air 2 Wi-Fi + Cellular, iPad mini 3, iPad mini 3 Wi-Fi + Cellular, iPad mini 4, iPad mini 4 Wi-Fi + Cellular, 12.9-inch iPad Pro, 12.9-inch iPad Pro Wi-Fi + Cellular, 9.7-inch iPad Pro, 9.7-inch iPad Pro Wi-Fi + Cellular, iPad Wi-Fi (5th generation), iPad Wi-Fi + Cellular (5th generation), 12.9-inch iPad Pro (2nd generation), 12.9-inch iPad Pro Wi‑Fi + Cellular (2nd generation), 10.5-inch iPad Pro, and 10.5-inch iPad Pro Wi‑Fi + Cellular.