SYMPHONICA
von SQUARE ENIX INC
Öffnen Sie iTunes, um Apps zu kaufen und zu laden.
Beschreibung
Symphonica: Grand Maestro End of Service Notice (8/1)
----
Thank you for playing Symphonica: Grand Maestro.

As of August 1, 2016, Symphonica: Grand Maestro will be discontinuing its services. Item sales will also end as of August 1, 2016.

It will still be possible to play the game after it has ended; however, players using iOS 9 may encounter bugs.

In addition, players will not be able to redownload the application after August 2, 2016 should it be deleted.

Though the remaining time is short, we hope that you continue to enjoy playing Symphonica: Grand Maestro.


Regarding functionality on iOS9
---------
The following issue has been confirmed when running the app on iOS9:

 ・After launching the app, a white screen appears, and subsequently does not proceed to the title screen.

We are currently working to fix the issues above as quickly as possible. We apologize for the inconvenience, and appreciate your continued patience.
----------
Apple iOS 9 Beta Notice (7/3)
----------
This is an important notice for players of SQUARE ENIX games on the iOS platform.
 
Apple has officially announced the release of its iOS 9 Beta.  
However, since our apps are not compatible with the iOS 9 Beta at this time, we regret we are unable to provide customer support for any trouble arising from installation of this OS (including, but not limited to, data recovery or undelivered in-game currencies).

We hope you continue to enjoy playing SYMPHONICA.
------------------
Symphonica is an entirely new breed of music game. Its breezy controls and tightly integrated gameplay give you a taste of what it's like to be an up-and-coming conductor via a wholly unique gaming experience. Give Chapters 0 through 3 a try for absolutely free!

Featuring character design by Chinatsu Kurahana.
Supported platforms: iPhone 3GS, iPhone 4 and newer, iPod touch 3rd generation and newer

> Story
Einsatz, the city of music, founded by the legendary conductor Carlos and his companions and brought to where it is today by its citizens, the Audience. Talented musicians from around the world flock here with dreams of performing in King Hall at the top of Concerto Tower, which stands tall over the city.

Takt has come to Einsatz to pursue his own dream of becoming the world's best conductor. Little did he know that he'd be in charge of the ramshackle Fayharmonic, an orchestra on the verge of collapse. Leaning on Takt as their last hope, the Fayharmonic and their new conductor set their sights on King Hall.

Thus begins the tale of Takt and his companions in song!

> Game Highlights
1.Not Your Usual Music Game
The lack of specially designated tapping "hot spots" gives you more freedom, allowing you to feel more of what it's like to be a conductor.
Never-before-seen features like tempo shifts and real-time, control-linked volume changes put a fresh new spin on the music game genre (patent pending).

2.Tightly Integrated Gameplay and Story
Unlike games that let you pick and choose only the songs you like, Symphonica puts you in the role of a conductor honing the skills of his musicians. In this novel approach to the genre, the music game portion is organically integrated with the story, so you'll be drawn in by the gripping plot while performing stunning classical pieces.

3.Go Even Further
Perform at higher score levels to increase your orchestra's Fame and add new pieces to your repertoire.
Plus, once you've cleared a given song with a certain number of points, you can test your skill with a more challenging version of the song. It's perfect for experienced music game aficionados!

4.A Treasure Trove of Classical Masterpieces
Featuring nearly 50 instantly recognizable songs (20 full performances and approximately 30 rehearsal pieces), including Dvorak's New World Symphony and Beethoven's Fifth. You might not necessarily know a piece's name, but once you hear a few notes, you'll be humming the whole thing!
Neue Funktionen von Version 1.3.0
▼Version 1.3.0 Patch Notes▼
-The following musical pieces have been added:
Music Pack 4
-------------------------------------
-Violin Concerto : MENDELSSOHN, F.
-Brandenburg Concerto No.5 : BACH, J.S.
-Symphony No.7 l. : BEETHOVEN, L.
-"The Sorcerer's Apprentice" : DUKAS
-------------------------------------
Music Pack 5
-------------------------------------
-Symphony No.4, "Italian" : MENDELSSOHN, F.
-"In the Hall of the Mountain King" : GRIEG, E.
-"Symphonie fantastique" : BERLIOZ, H.
-Symphony No.5 IV. : BEETHOVEN, L.
iPhone Screenshot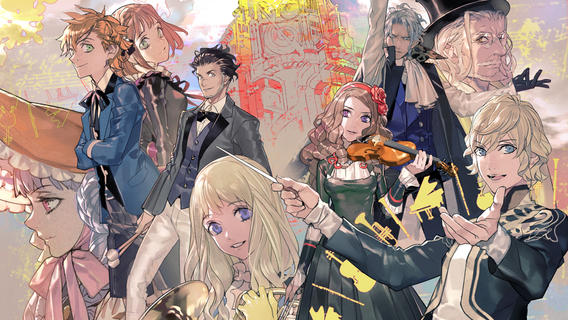 Kundenrezensionen
Ladet nicht
Ich habe das Spiel bei einer Freundin gespielt. Jetzt habe ich es mir auch gekauft, jedoch kommt bei jedem Start nur ein weißer Bildschirm.
Ultra
Super schön, gute musik...absolut geil. Also ich find es hat sich gelohnt alle episoden zu kaufen...!!
Klasse Spiel
Macht echt Spaß ist mal was anderes. Ausprobieren lohnt sich. Außerdem sind momentan alle ingame store Einkäufe im Angebot also schlagt zu wenn euch das Spiel gefällt. Angebot geht nur bis 11.11.13.
In iTunes ansehen
Gratis

Kategorie:

Spiele

Aktualisiert:

28.10.2013

Version:

1.3.0

Größe:

364 MB

Sprache:

Englisch

Entwickler:

SQUARE ENIX Co., Ltd.
Kompatibilität: Erfordert iOS 5.0 oder neuer. Kompatibel mit iPhone, iPad und iPod touch.
Top-In-App-Käufe
Episode Set14,99 €
Episode Set6,99 €
Composition Set I4,99 €
Composition Set Ⅲ4,99 €
Composition Set II4,99 €
Composition Set IV4,99 €
Episode2,99 €
Composition Set V4,99 €
Episode Set6,99 €
Episode2,99 €