Tempo - Training Log for Runners
Von Indie Computing Labs, LLC
Diese App steht nur im App Store für iOS-Geräte zur Verfügung.
Beschreibung
Tempo is an advanced training log and a beautiful visualizer for your runs to track progress, optimize recovery, and achieve your goals. With its incredible features and simplified details, Tempo is a powerful companion for the Apple Watch Workout app.

———

Here's why we think you will love Tempo,

1. BUILT FOR EVERY RUNNER

Thoughtfully built to be a simple running log with essential insights, Tempo is an effective training tool for every runner.

2. EVERY RUN IN DETAIL

Details matter. In Tempo, you can view every run with all the helpful details, see pace and heart rate on an interactive graph, and add your own notes for each run.

3. TRACK AND MAINTAIN CONSISTENCY

We run for the joy, the distance, speed, endurance, fitness; all of it requires consistency. You can track your progress with week-to-week (and month-to-month) cumulative graph and averaging trends.

4. REST AND RECOVER TO BUILD

Run, recover, and repeat - that's how we achieve longevity and build strength. Tempo's Intensity Log is perfect to monitor training strain and find your optimal stress cycles to improve.

5. BUILT FOR THE RUNNER IN YOU

There are insights, there are graphs, we can tell you about the 3D Touch, or Today's widget, but it's not about a specific feature; it's about you and your running. Tempo is designed to be your daily go-to running app. Your running visualized to delight you, motivate you, inspire you, and help you achieve your running goals.

————

FOR THE LOVE OF RUNNING

Built for runners, by a runner, Tempo started as a simple, 1-screen side-project and evolved into a powerful app to become a favorite of many runners. Read Tempo's story here - http://indie.sh/tempo/story

————

PREMIUM, PRIVATE, NO ADS.

Tempo is built with privacy as a core principle. Your data is yours; we will never claim it, sell it, or share it with anyone. Tempo is for focussing on running and recovery without ad distractions, so it only has a paid model. You can download and try it for free, but your running will significantly benefit from pro features available with Tempo Premium.

————

SUBSCRIPTION INFO

Tempo's pro features are only available with Tempo Premium subscription. If you choose to purchase Tempo Premium, subscription payment will be charged to your iTunes account. Your subscription will automatically renew unless canceled at least 24 hours before the end of the current period. Auto-renewal may be turned off at any time by going to your settings in the iTunes Store after purchase. Any unused portion of the free trial period, will be forfeited when you purchase a subscription.

Current subscription price is $6.99 USD per year, and may vary from country to country.

————

HERE FOR THE DISTANCE

This is just the beginning. It's not a single sprint; it's a marathon for us.. may be more than one :) We have a solid roadmap and we will keep building Tempo with your feedback and support.

————

TECHNICAL REQUIREMENTS

Tempo can only process runs recorded with your Apple Watch and the Workout app. All your runs should be stored in the Health app. When you save a run in the Workout app, it is also saved in the Health app. Tempo does not support running data that is stored in the Health app from other 3rd party apps. We have tried, but unfortunately, most apps' data is not fully compatible with Health app data format.

————

QUESTIONS / COMMENTS

We would love to hear from you. If you have questions or would like to share any feedback, comments, or running stories, please reach out.

Email: tempo@indie.sh
Twitter: @tempolog

————

Privacy Policy: http://indie.sh/tempo/privacy
Term of Service: https://indie.sh/tempo/terms
Neue Funktionen von Version 2.0.2
Thank you all for such an amazing response to Tempo's 2.0 launch. I really appreciate your support, feedback, and all your kind words.

This is a small update fixing following issues reported by runners,

• Fixed a bug where Trending Averages would drop hours and days for a negative trend.
• Fixed a bug where zero distance workout would display inf'nan" instead of not showing at all.
• Fixed an issue where last 7 (or 30) days bar of cumulative graph did not show current day i.e. showed only 6 (or 29) blue bars, instead of 7 (or 30) bars, representing days.
• Fixed scrolling issues with longer notes.
• Also fixed some crashes.

———

PLEASE HELP TEMPO BE DISCOVERED

Tempo is a labor of love. Love for the sport of running. I work on it diligently to share it with the running community. Reviews and ratings are important for overall ranking of an app. So if you find Tempo useful, please rate it in the App Store. It will improve Tempo's ranking in the App Store, which in turn will help more runners to discover Tempo and also let Tempo thrive as a product.

If you have a question, feedback or something doesn't look right, please e-mail me at tempo@indie.sh (or on twitter @TempoLog). I also enjoy reading race reports :)

Thank You & Keep Running!

———

WHAT'S NEW IN TEMPO 2.0:

(Since this is a minor release, keeping 2.0.1 release notes here as well.)

Tempo has been completely rebuilt with more insights, graphs, and a beautiful new design to make it more powerful, while maintaining its simplicity.

Here's a quick list of new features:

• Dashboard
The new dashboard tab shows quick running totals and intensity trend along with fast access to new reports.

• Cumulative Graph
In addition to the weekly and monthly totals, cumulative graph has been updated to show average pace and highlight days of weeks/months you run.

• Intensity Log
All new in 2.0 is the Intensity Log. It's a fantastic addition to understand training pattern and identify stress as well as improvements.

• Trending Averages
The average runs and miles per week (or month) header on Cumulative Graph screen in 1.0 was so useful that it has been expanded to provide more averages along with a quick current trend for each averaged data point.

• Notes
We have all been waiting for this one.. With 2.0 you can add your personal insights to every run. It is stored encrypted on your device and backed up to your iCloud account.

• Tags
This is another frequently asked item that you are going to love. Tags are so useful to remember a run, race, location, etc. Tags on a run also appear on your Runlog screen. You can lookup for all the runs with a given set of tags using the new Filter feature.

• Pace & Heart Rate Graphs
Yes, it's here too! Not just static, these graphs are interactive - you can scroll and pinch to zoom.

• Cadence
This is an experimental feature, but the data looks promising, so it's been added. More to come.

• New subscription model
These new pro features require Tempo premium subscription. I hope you will show your support by subscribing. It takes a lot of time and effort to build a quality app like Tempo. I love working on it; but in order for Tempo to survive and thrive as a product for all of us as runners, it requires a lot more than just being a side-project done on nights and weekends.

• Patronage
If you originally paid for Tempo in the AppStore or paid for pre-2.0 patronage, you will have access to all pro features of Tempo Premium subscription for the next 2 years. Thank you!

• A lot more behind the scenes
Tempo 2.0 has a lot of behind the scenes optimizations that will further enable next set of features on the roadmap. I look forward to keep working on them and adding more helpful insights to help us run better.
iPhone Screenshots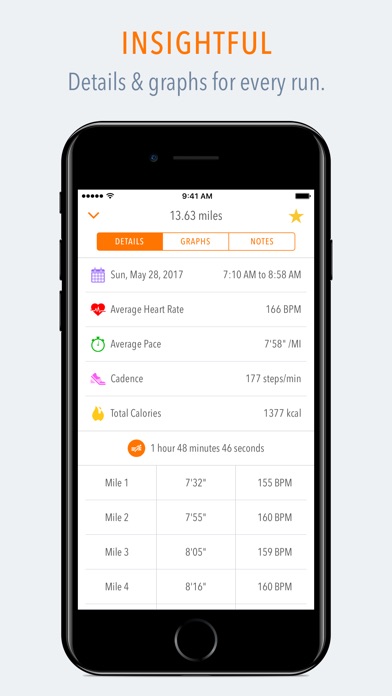 Kundenrezensionen
Das beste Lauftagebuch im App-Store
Wenn deine Laufuhr mit der Health-App ordentlich synchronisiert, zeig Tempo die Läufe wirklich übersichtlich und informativ an. Ich finde die App großartig!
In iTunes ansehen
Gratis

Kategorie:

Gesundheit und Fitness

Aktualisiert:

18.08.2017

Version:

2.0.2

Größe:

30.2 MB

Sprache:

Englisch

Entwickler:

Indie Computing Labs, LLC
Kompatibilität: Erfordert iOS 10.2 oder neuer. Kompatibel mit iPhone und iPod touch.
Top-In-App-Käufe
Tempo Premium7,49 €