Life Is Strange™
Af Feral Interactive Ltd
Editors' Choice
Åbn Mac App Store for at købe og hente apps.
Beskrivelse
What if you could rewind time?

Before you buy, expand this description to check the system requirements below.

Follow the story of Max Caulfield, a photography senior who discovers she can rewind time while saving her best friend Chloe Price.

The pair soon find themselves investigating the mysterious disappearance of fellow student Rachel Amber, uncovering a dark side to life in Arcadia Bay. Meanwhile, Max must quickly learn that changing the past can sometimes lead to a devastating future.

This is Episode 1 of Life Is Strange. Subsequent episodes can be purchased in-app.

Important information regarding Life Is Strange:

• If you require assistance, please contact our support team at support@feralinteractive.com

• Supports over 100 different models of gamepad. For a full list check the Feral support site.

• Minimum System Requirements: Processor: 1.8GHz Intel, RAM: 4.0GB, Graphics: 512MB, Free Space: 15.0GB.

• The following graphics cards are not supported: ATI X1xxx series, ATI HD2xxx series, Intel GMA series, Intel HD3000, Intel HD5300, NVIDIA 8xxx series, NVIDIA 9xxx series, NVIDIA 7xxx series, NVIDIA 320M.

• The following graphics cards require 8GB of system RAM: Intel HD4000.

• This game is not currently supported on volumes formatted as Case-sensitive.

• You can find out more about the game on the Life Is Strange mini-site at feralinteractive.com/lifeisstrange

Life Is Strange © 2015, 2016 Square Enix Ltd. All rights reserved. Originally developed by DONTNOD Entertainment SARL. SQUARE ENIX and the SQUARE ENIX logo are registered trademarks or trademarks of Square Enix Holdings Co., Ltd. LIFE IS STRANGE is a registered trademark or trademark of Square Enix Ltd. DONTNOD is a trademark of DON'T NOD Entertainment SARL. Developed for and published on Mac by Feral Interactive. Mac and the Mac logo are trademarks of Apple Inc., registered in the U.S. and other countries. Feral and the Feral logo are trademarks of Feral Interactive Ltd. All other trademarks and copyrights are the property of their respective owners.
Nyheder i version 1.0.1
• Fixes an issue where the user would occasionally lose mouse control after switching to windowed mode
• Fixes an issue where the game would occasionally crash on launch when not connected to the internet
• Directors' Commentary videos now pause when the user switches windows using Cmd + Tab
• Fixes a number of minor issues

Skærmbilleder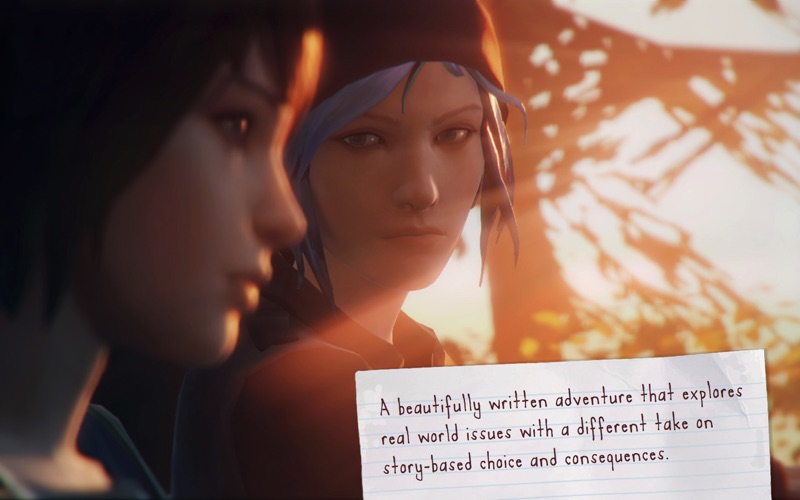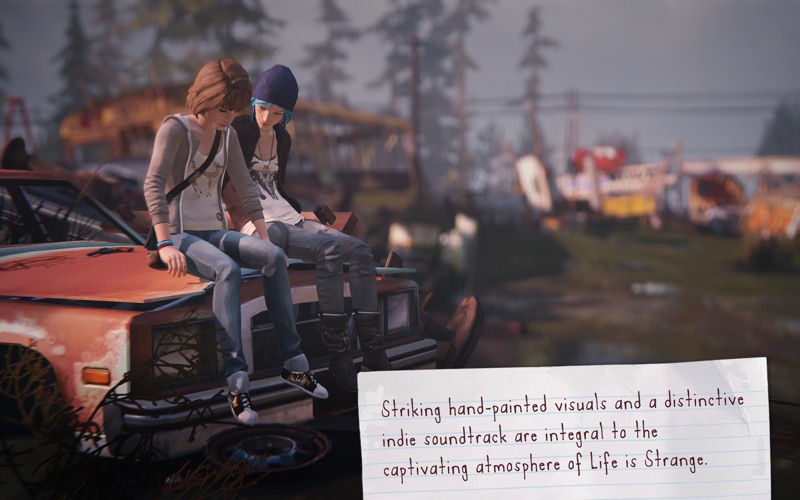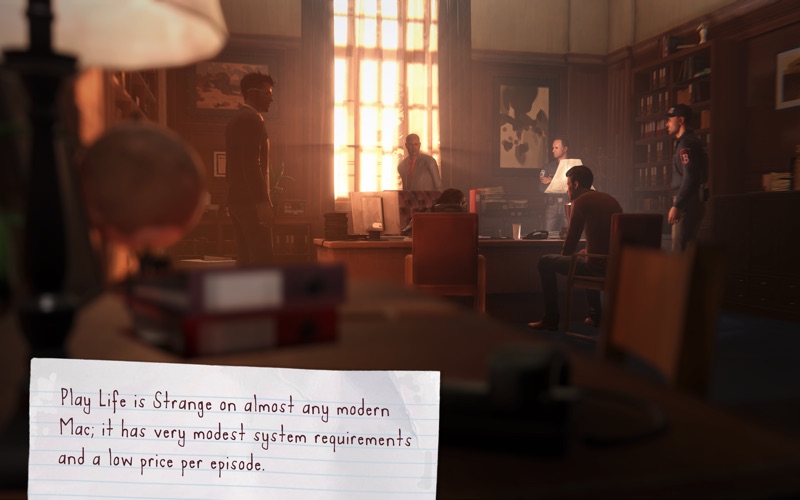 Kundeanmeldelser
Super stemningsfuldt spil og god historie
Life is strange, er et super godt spil, meget stemningsfuldt og spændene historie. Hvis du godt kan lide de lidt kliche' amerikanske ungdomsfilm (og hvem kan ikke det), så er det bestemt noget dig.
Dog mener jeg at det er lidt træls at prisen stadig er så høj for et forholdsvis gammelt spil, specielt når det kun er for den første episode man betaler i første omgang. udover det vil de så have 139 kr for de resterende episoder??
Jeg har lige købt hele spillet på steam, til Mac, for omkring 40kr og her er den første episode GRATIS, derfor føler jeg mig lidt snydt, så vil opfordre til at man tjekker steams pris inden man køber spil over AppStore.
Se i Mac App Store
45,00 kr

Kategori:

Spil

Opdateret:

28/06/2016

Version:

1.0.1

Størrelse:

13.72 GB

Sprog:

Engelsk, Fransk, Italiensk, Portugisisk, Spansk, Tysk

Udvikler:

Feral Interactive Ltd
Kompatibilitet: OS X 10.11 eller en nyere version
Mest populære køb fra app
Episodes 2–569,00 kr
Episode 2: Out of Time45,00 kr
Episodes 3–599,00 kr