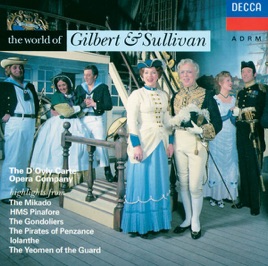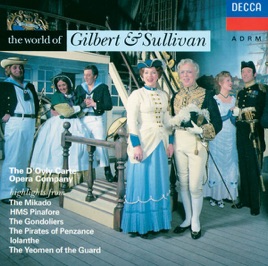 Sullivan: The World of Gilbert and Sullivan
TITLE
TIME

H.M.S. Pinafore: Now give three cheers...When I was a lad

Joyce Wright, John Reed, Jeffrey Skitch, The D'Oyly Carte Opera Company, The New Symphony Orchestra Of London & Isidore Godfrey

4:53

H.M.S. Pinafore: I'm called Little Buttercup

Gillian Knight, The D'Oyly Carte Opera Company, The New Symphony Orchestra Of London & Isidore Godfrey

1:47

H.M.S. Pinafore: Never mind the why and wherefore

Jean Hindmarsh, John Reed, Jeffrey Skitch, The D'Oyly Carte Opera Company, The New Symphony Orchestra Of London & Isidore Godfrey

2:43

The Mikado (or The Town of Titipu): 3. A wand'ring minstrel I

Colin Wright, The D'Oyly Carte Opera Chorus, Royal Philharmonic Orchestra & Royston Nash

4:40

The Mikado (or The Town of Titipu): 10. Three little maids from school are we

Valerie Masterson, Valérie Masterson, Pauline Wales, Peggy Ann Jones, The D'Oyly Carte Opera Chorus, Royal Philharmonic Orchestra & Royston Nash

1:31

The Mikado (or The Town of Titipu): 8. As someday it may happen that a victim...

John Reed, The D'Oyly Carte Opera Chorus, Royal Philharmonic Orchestra & Royston Nash

2:24

The Mikado (or The Town of Titipu): 30. The flowers that bloom in the spring, tra la

Valerie Masterson, Valérie Masterson, Peggy Ann Jones, Colin Wright, John Reed, Kenneth Sandford, Royal Philharmonic Orchestra & Royston Nash

1:41

The Mikado (or The Town of Titipu): 33. On a tree by a river a little tom tit

John Reed, Royal Philharmonic Orchestra & Royston Nash

2:27

The Yeomen of the Guard: "When our gallant Norman foes"

Gillian Knight, The D'Oyly Carte Opera Chorus, Royal Philharmonic Orchestra & Sir Malcolm Sargent

5:01

The Yeomen of the Guard: "I have a song to sing, oh!"

Elizabeth Harwood, John Reed, Royal Philharmonic Orchestra & Sir Malcolm Sargent

3:26

The Pirates of Penzance (or The Slave of Duty): 14. I am the very model of a modern Major-General

John Reed, The D'Oyly Carte Opera Chorus, The D'Oyly Carte Opera Company, Royal Philharmonic Orchestra & Isidore Godfrey

3:05

The Pirates of Penzance (or The Slave of Duty): 21. When the foeman bares his steel

Valérie Masterson, Valerie Masterson, Jean Allister, Owen Brannigan, The D'Oyly Carte Opera Chorus, Royal Philharmonic Orchestra & Isidore Godfrey

4:54

The Pirates of Penzance (or The Slave of Duty): 9. Poor wand'ring one!

Valérie Masterson, Valerie Masterson, The D'Oyly Carte Opera Chorus, Royal Philharmonic Orchestra & Isidore Godfrey

3:02

The Pirates of Penzance (or The Slave of Duty): 31. When a felon's not engaged in his employment

Owen Brannigan, The D'Oyly Carte Opera Chorus, Royal Philharmonic Orchestra & Isidore Godfrey

2:37

Iolanthe (or The Peer and The Peri): 7. Loudly let the trumpet bray

The D'Oyly Carte Opera Chorus, Band of the Grenadier Guards, The New Symphony Orchestra Of London & Isidore Godfrey

6:00

Iolanthe (or The Peer and The Peri): 23. If you go in you're sure to win

Thomas Round, John Reed, Donald Adams, The D'Oyly Carte Opera Company, The New Symphony Orchestra Of London & Isidore Godfrey

2:24

The Gondoliers (or The King of Barataria): 6. We're called gondolieri, but that's a vagary

Thomas Round, Alan Styler, The D'Oyly Carte Opera Chorus, The New Symphony Orchestra Of London & Isidore Godfrey

2:18

The Gondoliers (or The King of Barataria): 11. In enterprise of martial kind

Jennifer Toye, Gillian Knight, Jeffrey Skitch, John Reed, The New Symphony Orchestra Of London & Isidore Godfrey

1:36

The Gondoliers (or The King of Barataria): 30. Take a pair of sparkling eyes

Thomas Round, The New Symphony Orchestra Of London & Isidore Godfrey

3:16

The Gondoliers (or The King of Barataria): 33. Dance a cachucha, fandango, bolero

The D'Oyly Carte Opera Chorus, The New Symphony Orchestra Of London & Isidore Godfrey

2:05
20 Songs, 1 Hour, 1 Minute

℗ 1973 Decca Music Group Limited
About The D'Oyly Carte Opera Company
Representing the vision of British impresario, Richard D'Oyly Carte (1844-1901), the D'Oyly Carte Opera Company was launched after Carte split from the Comedy Opera Company in July 1879. In the more than one hundred and twenty years since, the group has continued to build on its standing among the greatest interpreters of operettas by W.S. Gilbert and Arthur Sullivan. Managed by Carte until his death in 1901, his widow and long-time assistant, Helen Lenoir assumed leadership until hew own passing in 1913.

Although financial difficulties caused it to close in 1982, The D'Oyly Carte Opera Company was reorganized after inheriting one million pounds, from Dame Bridget, three years later. Resuming their schedule with national-touring productions of Iolanthe and The Yeomen Of The Guard in 1988, they've remained active, presenting new productions of Gilbert and Sullivan's The Pirates Of Penzance, The Mikado, Trial By Jury, H.M.S. Pinafore and The Gondolas. Presenting their first non-Gilbert and Sullivan show in 1993, they've gone on to present Jacque Offenbach's , Orpheus In The Underworld and La Vie Parisienne, Johann Strauss's Die Fladermaus and Franz Lehar's The Count of Luxembourg.

The son of Richard Carte, a flute player and partner in the music publishing and instrument company, Rudall, Carte and Company, Carte left school, in 1861, to devote himself to music. Although he composed and published songs and instrumentals, including the opera, Dr. Ambrosias: His Secret, which premiered at St. George's Opera House in 1868, he found his greatest success behind the scenes. Launching a concert booking agency in Charing Cross, he oversaw the careers of such British artists as Carlotti Patti, Adelina Patti and Edward Lloyd.

Suggesting that the Royalty Theater present Gilbert and Sullivan's Trial By Fire, in 1875, Carte began a long affiliation with the British composers. Forming a syndicate with directors of the Comedy-Opera Company, Ltd., he presented H.M.S. Pinafore, in 1878, at the Opera Comique and national tour. After splitting with the syndicate, he began to credit the production, featuring the same cast, to Mr. D'Oyly Carte's Opera Company.

Although the directors attempted to stage a rival production, they withdrew their competition within three months. Securing the rights to Gilbert and Sullivan's work, the D'Oyly Carte Opera Company settled into the Savoy Theatre, the first London theatre with electric lighting, where they remained until 1982.

Carte's relationship with Gilbert and Sullivan made him a fortune. Upon his death, in 1901, he left nearly one quarter of a million pounds, twice what Gilbert and four times what Sullivan were worth when they died.

Based in the British Midlands for most of the 1990s, the D'oyly Carte Opera Company returned to London in 1998. They continue to serve a residency in Kennington, South London.