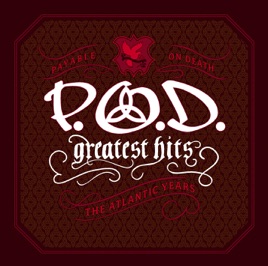 | | TÍTOL | | TEMPS |
| --- | --- | --- | --- |
| | | | 4:08 |
| | | | 3:07 |
| | | | 4:28 |
| | | | 4:43 |
| | | | 3:23 |
| | | | 4:18 |
| | | | 3:24 |
| | Rock the Party (Off the Hook) | | 3:26 |
| | | | 2:45 |
| | | | 4:33 |
| | | | 3:01 |
| | | | 3:47 |
| | Truly Amazing (From "The Passion of the Christ") | | 3:01 |
| | | | 3:31 |
| | | | 4:07 |
| | | | 3:28 |
| | | | 3:38 |
17 Cançons, 1 hores, 2 minuts
Data de llançament:

21 nov. 2006

℗ 2006 Rhino Entertainment Company, a Warner Music Group company
Informació sobre P.O.D.
A través de los '90, P-O-D. de San Diego, actuó en innumerables shows a lo largo del país y vendió más de 40.000 copias de tres EPs: Brown, Snuff the Punk,y P.O.D. Live, en su propio sello Rescue Records. Luego Atlantic los contrató en 1998. El EP The Warriors precedió su debut en un sello de primera línea, que fue con el lanzamiento de The Fundamental Elements of Southtown, en 1999. En tanto que "Southtown" y "Rock the Party (Off the Hook)" fueron portentosos singles que ayudaron a que el álbum alcanzase su disco de platino. Un segundo álbum para Atlantic vino en 2001 con Satellite, que explotaba la importancia que P.O.D. había cobrado más tarde ese mismo año. Luego aparecieron Payable on Death (2003), Testify (2006), y When Angels and Serpents Dance (2008). ~ MacKenzie Wilson
ORIGEN

San Diego, CA

GÈNERE

FORMACIÓ

1992
Milions de cançons.
Sense anuncis.
Només per a nous subscriptors. El pla es renova automàticament després del període de prova.