Delicious Library 3
De Delicious Monster Software, LLC
La recomendación del App Store
Abre Mac App Store para comprar y descargar apps.
Descripción
Cataloga tus libros, películas, música, videojuegos, electrónicos, y más. Delicious Library te ayuda en crear un inventario inteligente, compartirlo con tus amigos, y obtener recomendaciones personalizadas basadas en tu colección.

Escanear es fácil: simplemente detén el código de barras a tu webcam, y los artículos aparecerán en tus repisas digitales con un 3D asombroso. Califica tus artículos, préstalos, o simplemente disfruta de la información detallada que es descargada automáticamente.

Conoce qué tienes y descubre más cosas que amas: Delicious Library integra tu lista de deseos, calificaciones, y amigos para generar recomendaciones inteligentes. Si un amigo tiene un artículo recomendado, Delicious Library lo marcará para que puedas pedirlo prestado.

Archiva tu vida: ve tu colección física junto a tu colección de iTunes. Publica tu colección a la web con un solo click, pon artículos usados a la venta con tres clicks, y descubre si algo que tengas es muy valioso.
Lo nuevo en la versión 3.3.5
Delicious Library 3.3 has been redesigned for OS X 10.10 "Yosemite"—it's now the hootinest tootinest shootinest library program in the west! In fact, this build ONLY runs on Yosemite. (Don't fret if you have 10.8 or 10.9—it's a free upgrade to 10.10, and your machine can handle it.)

• To fit in with Yosemite, we've "flattened" out the look of the app, because people love flat. It's where it's at. The titlebar is now flat, the footer is flat, the source list is flat, even our shelves are flat. We're so flat if you lived in London you could live in our app with your mates.
• If you want slightly fancier shelves, we've added simple painted ones in all the cool Ikea colors. And, if you liked the 3D wood shelves (and who can blame you, you handsome devil) they're all still there, too.
• Our Yosemite support is a work in progress! Please give us your feedback. We have ideas on how to make our app prettier, as well, but strangely Apple wasn't willing to delay the release of Yosemite for us to do everything we wanted to. The nerve!
• In 3.3.5 we've worked around a Yosemite crasher on 2009-ish Macs with NVIDIA graphics cards. But if you have one you don't get transparent title bars. Zut alors! C'est la vie! Vois tu les castors?
• Also in 3.3.5 we made publishing shelves useful again. Useful shelves are useful!

Although the primary focus of this version was to fully support Yosemite, we fixed some other bugs:

• There was a bug when you scanned too many items without a license, where we'd prompt you to buy the app and then crash. Not really a good sales technique!
• We fixed a bug with the custom fields we added in the last release, so they work a lot better with smart shelves.
• We made it so you can drag around the details panel by clicking anywhere in it and dragging, because duh, we should have done that a long time ago.
• We also made it so you can end editing in the details editor by clicking anywhere in it that's not a field. Also duh.

Unfortunately there's a bug we didn't get a chance to fix before Yosemite came out:

• We know some items loaded from the net are drawing as an inch high when they are, like, not. We have finally figured a clever way to fix this but we didn't have time to get it into this release, since we're trying to support Yosemite as soon as possible. Don't panic! Or do. I mean, it's your life.
Capturas de pantalla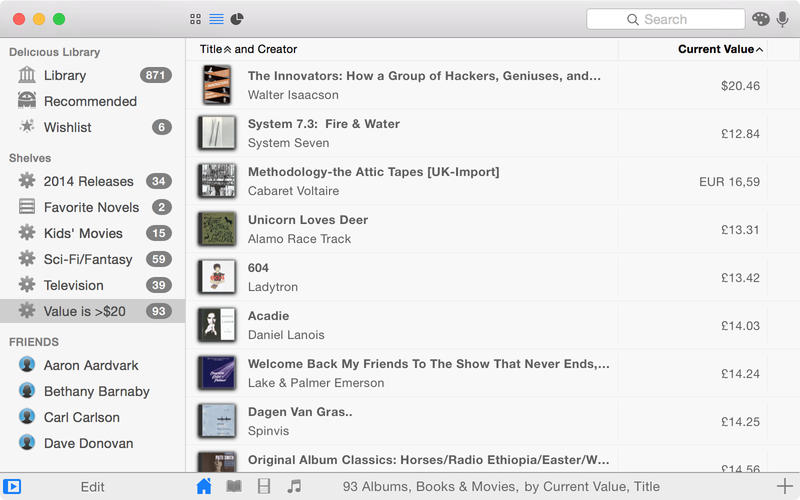 Reseñas de clientes
Decepcion
Falla en casi todo
No importa bien
Y no funciona la vista LISTA
Ni la vista GRAFICAS
Lo bueno es que en la version de pruebas que descargue de la pagina del desarrollador si funcionaban.
La del App Store NO. Porque????
Ver en el Mac App Store
24,99 €

Categoría:

Referencia

Actualizado:

07/11/2014

Versión:

3.3.5

Tamaño:

80.4 MB

Idiomas:

Español, AfriKaans, Alemán, Catalán, Danés, Francés, Inglés, Italiano, Japonés, Neerlandés, Polaco

Desarrollador:

Delicious Monster Software, LLC
Compatibilidad: OS X 10.10 o posterior, procesador de 64 bits
Más apps de Delicious Monster Software, LLC