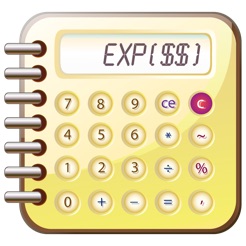 Expresso
4+
Gratis
Ofrece compras dentro de la app
Descripción
Suppose you want to calculate something quickly: a sales tax amount, a profit, a costs, etc. Just run Expresso, a handy little text editor with calculation capabilities. Type your expression, press Enter, get result and assign it to a variable if you want. Then re-use variables anywhere in text and within new expressions. All expressions are live: change one of them and all dependent expressions are calculated automatically! What could be easier, or more flexible? And besides all features of TextEdit-like editor are always at hand! See demo video: http://is.gd/expresso

Expresso allows you to:

- calculate math expressions inside Rich Text documents;
- assign results to other variables and use those results anywhere in your document or within new expressions;
- annotate calculations with text;
- place expressions anywhere in text;
- organize calculations inside tables like in spreadsheets.

Expresso has common math operators and functions available: (+, -, *, /, %, !, ^) in addition, to the following functions: sum(), count(), min(), max(), median(), stddev(), average(), random(), sqrt(), log(), exp(), ceil(), floor(), sin(), cos(), tan() and others! Please see the help page for more details.

Expresso's Simple Features & Rules:

- all dependent expressions are calculated automatically
- press Enter in any place of an expression or just after the last square bracket to calculate a value
- use square brackets [ ] for expressions. For example: [2+2].
- use variables in your expressions. For example: [10*x].
- input the name of a variable before the expression followed by ":". For example: [x:2+2], variable x will have the value 4.
- move the cursor or click on an expression to edit
- calculations can be saved in RTF format or copied to the clipboard.

Options:
- ability to calculate expression without using brackets if an expression is on separate line;
- ability to hide/show an expression and show only variable and value;
- ability to remove expressions highlight.

You can associate a value with a variable such as [x:10*5] and then use the variable in another expression such as [x/52]. When you calculate the variable "x" all dependent expressions are calculated automatically.


Watch demo video on our web site. Click "Expresso support" button on the right of this page.

If something is not working for you, please, contact us: expresso@deepitpro.com

- added an option "Don't show news panel" in Preferences

1.3
- added news panel;
- advanced features are unlocked.
Valoraciones y reseñas
Problema de [ y acentos. Genial soporte al usuario (*Actualizado)
La aplicación tiene una pinta estupenda. Sobre que no funcione el bracket [, he hablado por mail hoy por la tarde (domingo!!) con el desarrollador y después de explicarle un poco mas a fondo el problema, me ha mandado por mail la versión 1.01 donde ya funciona correctamente lo del [.
Antes no funcionaban los acentos y con la revisión nueva los duplica (Ram´ón en vez de Ramón), pero bueno… Seguro que en un par de días ya lo tiene arreglado porque la verdad es que voluntad no le falta: una tarde de domingo y mandándole a un usuario la versión nueva de la app por mail…
Aunque es cierto que le faltan esos detalles por pulir: lo del [, más que detalle era un engorro, porque era la base de la app… sólo por el soporte técnico y la atención al cliente le doy 5 estrellas.

*Actualizado:
Acaban de mandarme la versión 1.02, que supongo que ya habrán mandado a la App Store, y en esta versión todo funciona OK: brackets y acentos.
It works but it has a big bug
The program behaves as it should be but it has a big bug. To make the calculations work you need to put the expression between square brackets. However, for some reason, left square bracket cannot be typed in the application although you press it. This is very strange since this key/character works in other applications in my macbook pro. Yo need to copy from other program in order to be able to make the calculations.
No funciona con el teclado en español
No permite escribir el [ --> no se pueden crear expresiones regulares!!!
Información
Desarrollador

Igor Belyaletdinov

Tamaño

2 MB

Categoría

Compatibilidad

OS X 10.7 o posterior

Edad

Clasificada 4+

Copyright

© Deep IT Pro

Precio

Gratis
Compatibilidad
En familia

Hasta un máximo de seis miembros de tu familia podrán usar esta app si tienes En familia activado.