Pishnahad
By Nazanin Daneshvar
This app is only available on the App Store for iOS devices.
Description
پیشنهاد، یک اپلیکیشن ارائه تخفیف گروهی ایرانی است که نتیجه همکاری مشترک میان تخفیفان و ایرانسل می باشد. پیشنهاد تخفیف‌های باورنکرنی خود را در حوزه‌های مختلف ارایه ‌می‌دهد. تخفیف ‌هایی از ۵۰ تا ۹۸ درصد و در دسته بندی ‌های مختلف، از جمله رستوران، تفریحی و ورزشی، هتل و سفر، سلامتی و زیبایی و بسیاری دسته های دیگر.
اپلیکیش پیشنهاد را دانلود کرده و به سرعت به صدها تخفیف در سطح شهر و اطراف خود دسترسی پیدا کنید. از رستوران سر خیابان گرفته تا معروفترین مراکز تفریحی و خدماتی شهرتان. اگر قصد سفر دارید و یا به دنبال جدیدترین مد لباس هستید، پیشنهاد آن‌ها را با تخفیف‌های بسیار بالا خود و در فاصله چند کلیک به شما ارایه می کند.
تخفیف‌های پیشنهاد در دسته‌های مختلف اعم از رستوران و کافی‌شاپ، تفریحی و ورزشی، آموزشی، سلامتی و پزشکی، زیبایی، هتل و سفر، محصول و خدماتی ارایه می‌گردد. شما کافیست با چند کلیک خرید خود را انجام دهید و با کد تخفیفان خود به محل مراجعه و سرویس مورد نظر خود را دریافت نمایید.
همچنین می‌توانید با عضویت در خبرنامه رایگان تخفیفان، از تخفیف‌های روزانه ما برخوردار شوید.
پیشنهاد دارای قابلیت های زیر است:
- مشاهده و بررسی تمامی تخفیف ها
- امکان مشاهده کلیه پیشنهادها در دسته‌بندی‌های مختلف و با قابلیت جستجوی موضوعی
- خرید ساده در داخل اپلیکیشن
- دسترسی به کلیه کدهای تخفیفان‌ها در برنامه و ارایه آنها در محل
- مشاهده پیشنهادات در نقشه
- اطلاع‌رسانی پیشنهادات براساس موقعیت مکانی شما
- به اشتراک گذاری کلیه تخفیف‌ها با دوستانتان
- عضویت رایگان خود و دوستانتان در خبرنامه
- امکان مدیریت کامل حساب کاربری

Pishnahad offers unbeatable discounts from 50-98% off for restaurants, events, experiences, travel and products in Iran.

Download the Pishnahad app and get access to hundreds of discount deals and places near you, from the restaurant next door to the biggest events. If you are planning a holiday or buying a new outfit, Pishnahad delivers all of this directly to you, with a great discount.

Every day the number of deals grows, open the app to find out what is available today! In addition, the Pishnahad app can notify you if you are close to great places that offer an amazing discount. Go ahead and pick one, a delicious dining experience, theatre ticket, holiday trip, or a relaxing massage.

With the Pishnahad iOS app, you can:

- Buy and redeem Pishnahad deals and discounts directly from the app.
- Browse and search for hundreds of deals based on your location
- Share special offers with your friends and loved ones
- Get notified for deals nearby
- Track your purchased Pishnahad deals and redeem them
- Subscribe yourself or your friends to receive the latest offers first
- Order from our big product category from anywhere in Iran and get a great bargain

This app requires your location in order to notify you of discounts around you. Like all other apps that require such resources, please be aware of the following: Continued use of GPS running in the background can dramatically decrease battery life.
iPhone Screenshots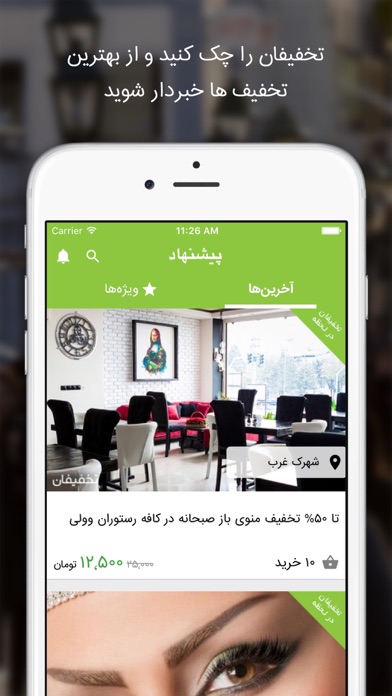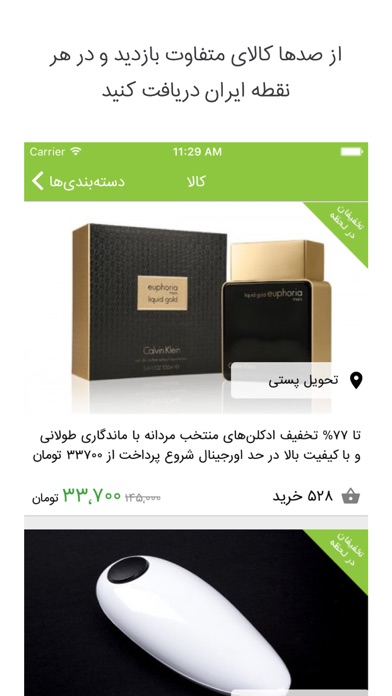 View in iTunes
Free

Category:

Lifestyle

Released:

18 February 2016

Version:

1.0

Size:

28.0 MB

Language:

English

Developer:

Nazanin Daneshvar
Compatibility: Requires iOS 8.0 or later. Compatible with iPhone, iPad and iPod touch.