StrongLifts 5x5: The Simplest, Most Effective Workout to Get Stronger, Build Muscle and Burn Fat Fast
De StrongLifts
Abre iTunes para comprar y descargar Apps.
Descripción
The simplest, most effective workout to get stronger, build muscle and burn fat. Three exercises, three times a week, 45 minutes per workout. Thousands of men and women worldwide have used this StrongLifts 5x5 workout app to get stronger, build muscle or burn fat. Apple featured the StrongLifts 5x5 app in their commercial "strength".

The StrongLifts 5x5 workout app is free to download. You can purchase optional features to save "brain" work in the gym, break through plateaus or add exercises. But the core StrongLifts 5x5 workout is free, and you can do it for weeks without spending a dime or seeing annoying ads.

= OVER 4000 5 STAR REVIEWS =
5/5 Used for 3 months! Excellent results 130kg squat !!!
5/5 Works great! I love this program! Making all kinds of gains!!
5/5 Clean, simple and intuitive Phenomenal app. It's my bro-app to do some lifting with.

= FEATURES =
- FREE DOWNLOAD
- Simple, easy and intuitive design
- Integrates the StrongLifts 5x5 workout
- Records weights, sets and reps - no more pen and paper!
- Know which exercise to do and how much to lift each workout
- Auto-alternate workout A/B, switch manually anytime from the menu
- Auto-add weight each workout, set increments/microload in settings
- Auto-deload/repeat the weight if you missed reps or hit a plateau
- Timer suggests how long to rest between sets based on last set
- Graphs to view your progresson all the lifts and for body-weight
- Calendar for weekly and monthly overviews of your workouts
- Notes for tracking assistance exercises or how workout went
- Kg/lb – set this on first use, switch anytime in settings
- Bar setting: set the weight of your barbell in settings
- Backup workouts automatically to iCloud each week
- Videos of workout and exercises
- Ad-free!

= OPTIONAL FEATURES =
- Warmup sets, reps and weights calculator for all exercises
- Arm work - extra chinups/dips assistance exercises to build bigger arms
- Plate calculator - shows how many plates and what types to put on the bar
- 3x5/3x3/1x3 – switch from 5x5 to 3x5, 3x3 and 3x3 to bust through plateaus
- Pro-backup - backup workouts to google drive/dropbox, export to csv
- Power Pack – unlocks warmups, 3x5, pro backup, 3x3, 1x3, arm work, plate calc

= ABOUT STRONGLIFTS 5x5 =
StrongLifts 5x5 is the simplest, most effecive workout to get stronger, build muscle and burn fat. 3 full body compound exercises exercises, 3x/week, 45 mins per workout. The first workout A you Squat, Bench and Barbell Row. After taking one day rest, you do the second workout B – Squat, Overhead Press and Deadlift. Start light to focus on form and build confidence under the bar, then add weight each workout.

The StrongLifts 5x5 app does the thinking for you so you can focus on lifting. But you can find more info about the StrongLifts 5x5 workout on the StrongLifts.com website at http://stronglifts.com/5x5/

= LIMITATIONS =
This app is for people doing the StrongLifts 5x5 workout. You can't customize the workout or create your own using this app. You can only follow the StrongLifts 5x5 workout, and it's the best app you'll ever find for this. If you're not doing StrongLifts 5x5, please look for another workout app.

= SUPPORT =
If you experience any issues with the StrongLifts 5x5 workout app or have suggestions to improve it, we'd love to hear from you! Just contact us from the app by going to menu - help. This way we have your phone info. -Mehdi

= LIKE STRONGLIFTS 5X5?=
If you like StrongLifts 5x5, please rate the app 5-stars on iTunes so more people find it -Mehdi
Lo nuevo en la versión 2.5.8
New in v2.5.8
* Fixed app not remembering purchases on some devices
* Plus more usability updates, improvements and stability fixes

If you like StrongLifts 5x5, please rate the app 5-stars on iTunes so more people find it -Mehdi

Note that Apple doesn't allow replies to reviews. Any issues, contact us in menu - help so we have your phone info.
Captura de pantalla del iPhone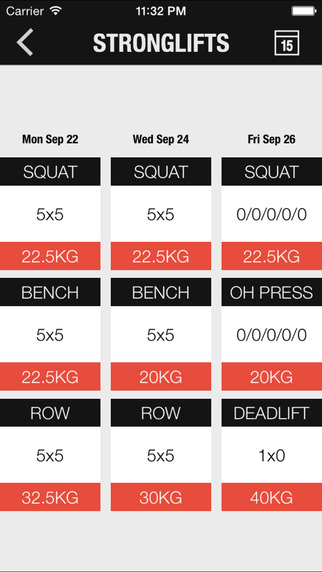 Reseñas de clientes
I. Love. This. App.
Critics say it oversimplifies compared to other routines and apps. I say: thank goodness for that!
Ver en iTunes
Gratis

Categoría:

Salud y forma física

Actualizado:

20/03/2015

Versión:

2.5.8

Tamaño:

11.3 MB

Idioma:

Inglés

Desarrollador:

Stronglifts Limited
Compatibilidad: Requiere iOS 7.0 o posterior. Compatible con iPhone, iPad y iPod touch. Esta app está optimizada para iPhone 5 y iPhone 6.
Top compras dentro de la app
StrongLifts Warmup Sets1,99 €
StrongLifts Power Pack9,99 €
StrongLifts Arm Work Assistance1,99 €
StrongLifts Power Pack9,99 €
StrongLifts Plate Calculator1,99 €
StrongLifts Pro Backup1,99 €
StrongLifts Switch 3x51,99 €