Zombies, Run!
Por Six to Start
Esta app solo está disponible en el App Store para dispositivos iOS.
Descripción
Get ready for the run of your life. Join 4 million runners on an epic adventure!

You tie your shoes, put on your headphones, take your first steps outside. You've barely covered 100 yards when you hear them. They must be close. You can hear every guttural breath, every rattling groan - they're everywhere. Zombies. There's only one thing you can do: Run!

Zombies, Run! is an ultra-immersive running game and audio adventure, co-created with award-winning novelist Naomi Alderman. Every run becomes a mission where you're the hero, with our immersive audio drama putting you at the centre of your very own zombie adventure story. While you run to the perfect mix of heart-pumping audio drama and pulse-pounding songs from your own playlist, you'll collect supplies to grow your base back home.

BBC NEWS - "The only way to save yourself is to run for real."
WIRED - "In the style of Runkeeper, with an exciting undead twist."
LIFEHACKER - "A really cool way to get outside and exercise."
CNN - "Turns exercise into a game - a terrifying, terrifying game."
TIME - "Takes all the fun of a zombie game and funnels it into a fitness app."

WHAT PLAYERS SAY:
"Evaded all zombie mobs :-) One of my best sprints ever; this app works!"
"This game will make you sweat. Perfect junction between game design and run tracker."
"Just tried @zombiesrungame and for the first time in my life I feel truly alive."

WALK, JOG, OR RUN ANYWHERE
Zombies, Run! works anywhere and at any speed. You can jog in a park, run along a beach, or walk along a trail. It even works on treadmills!

YOU ARE RUNNER 5
Hundreds of lives are counting on you. You've got to rebuild your base from a few shivering survivors into a fortified beacon of civilization by collecting critical supplies and avoiding roving zombie hordes. Can you save them and learn the truth about the zombie apocalypse?

A WORLD OF STORIES
You become the hero in an epic story of humanity's struggle for survival where your running really matters, and there's a deeper mystery to be uncovered as well. Play the first four missions for free and unlock one extra mission every week.

UPGRADE TO PRO
Unlock 260+ story missions for unlimited play, plus Interval Training and Airdrop Mode.

YOUR OWN MIX
Choose your own custom playlists: the story unfolds in between your tracks through a series of dynamic radio messages and voice recordings.

ZOMBIE CHASES
Saving the world not exciting enough? When you hear zombies on your six, it's time to speed up. Can you escape every mob or will you drop some of your hard-earned supplies to distract them?

KEEP THE SURVIVORS ALIVE
Every run, you'll automatically collect vital supplies like medicine and ammo. Use supplies to build your very own post-apocalypse community. Do you strengthen your defences against the zombies or build a new farm? Share the results with your friends and find out who can make the brightest future for humanity.

VIEW YOUR RUNS ONLINE
Register on our free ZombieLink service to view and share your runs, maps and stats!

SYNCS WITH APPLE HEALTH!

Pro Membership subscriptions for Zombies, Run! are $2.99/month or $19.99/year. Legacy Membership is $7.99/year. Subscriptions will be charged to your iTunes account after your confirmation of purchase. Your monthly subscription will automatically renew each month and be charged through your iTunes account, yearly subscriptions will automatically renew each year. Pro Membership renews at $2.99/month or $19.99/year, and Legacy Membership renews at $7.99/year, automatically unless cancelled at least 24 hours prior to the end of the current period. You can turn off auto-renew at any time from your iTunes account settings. Cancellation of the current active subscription period is not allowed.

Full terms and conditions and our privacy policy are at https://zombiesrungame.com/eula/ and https://www.zombiesrungame.com/terms respectively

Note: Continued use of GPS running in the background can dramatically decrease battery life
Lo nuevo en la versión 6.0.3
For all you Runners Five who are lucky enough to have the iPhone X, welcome to the new big-screen Zombies, Run! We've also taken the opportunity to spruce up some screens, squish some bugs, and generally make things faster (and in 6.0.3, we've fixed a bug on the Stats screen).

Enjoying Zombies, Run!? Please take the time to rate and review us on the App Store - it really helps!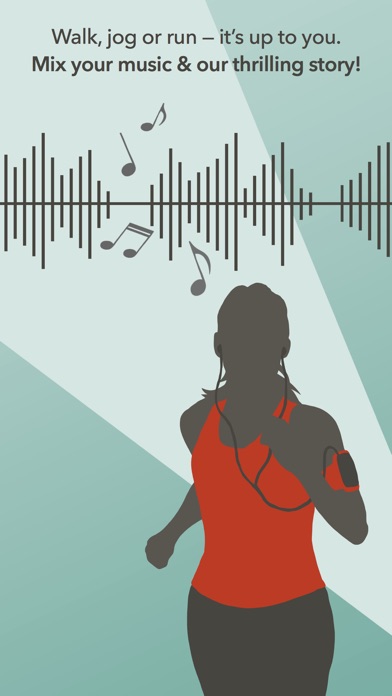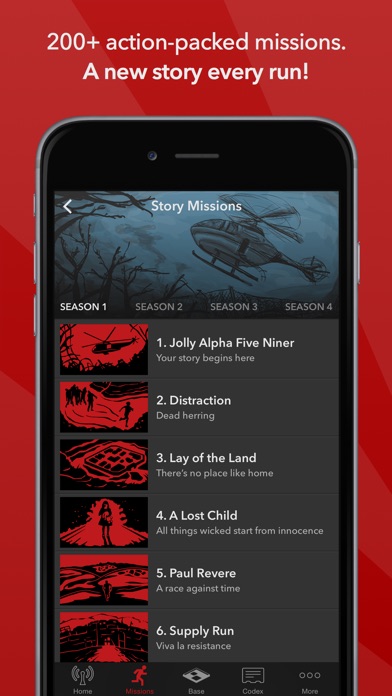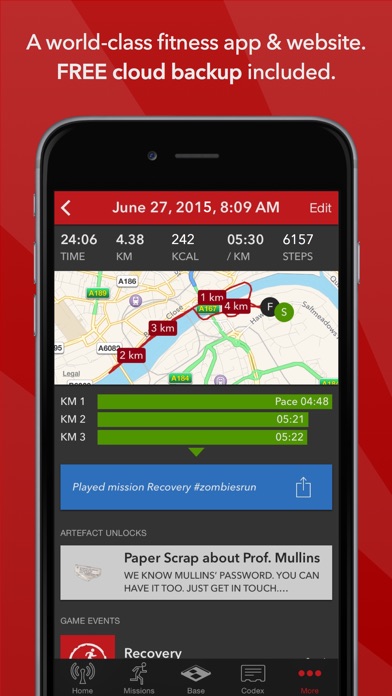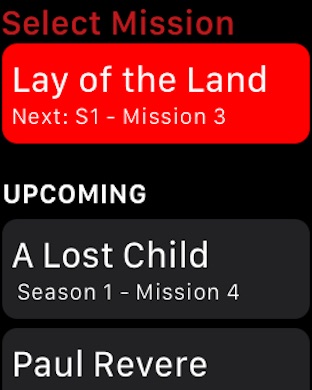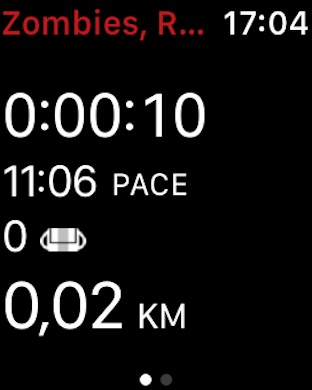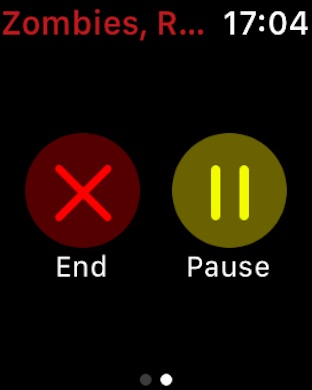 Reseñas de clientes
Awesome app
I would prob never run if not for this app
Ver en iTunes
Ofrece la app para Apple Watch para iPhone
Gratis

Categoría:

Salud y forma física

Actualizado:

14/12/2017

Versión:

6.0.3

Tamaño:

305 MB

Apple Watch:

Sí

Idioma:

Inglés

Desarrollador:

Six to Start
Compatibilidad: Requiere iOS 9.0 o posterior. Compatible con iPhone, iPad y iPod touch.
Top compras dentro de la app
Pro Membership4,49 €
Pro Membership27,49 €
Season Pass Plus6,99 €
Pro Membership7,99 €
All-Access Pass19,99 €
Race Missions pack2,29 €
Season Pass8,99 €
Season 3 Pass8,99 €
1 Month Pro Membership3,49 €
Season 3 Access Pass10,99 €