BabyCakes
Vegan, (Mostly) Gluten-Free, and (Mostly) Sugar-Free Recipes from New York's Most Talked-About Bakery
Erin McKenna
Este libro se puede descargar y leer en Apple Books en tu Mac o dispositivo iOS.
Descripción
Forget everything
you've heard about
health-conscious baking.

Simply, BabyCakes is your key to an enlightened, indulgent, sweets-filled future. This is important news not only for parents whose children have allergies, for vegans, and for others who struggle with food sensitivities, but also for all you sugar-loving traditionalists. The recipes in these pages prove that there is a healthy alternative to recklessly made desserts, one that doesn't sacrifice taste or texture.

Having experimented endlessly with alternative, health-conscious sweeteners, flours, and thickeners, Erin McKenna, the proprietress of beloved bakery BabyCakes NYC, developed these recipes–most are gluten-free, all are without refined sugar–in hopes of combating her own wheat, dairy, and sugar sensitivities. In BabyCakes, she shares detailed information about the ingredients she uses (coconut flour, xanthan gum, and agave nectar, for example) and how to substitute them properly for common ones–all the while guiding you safely through techniques she's spent years perfecting.

When BabyCakes NYC opened on Manhattan's Lower East Side in 2005, it helped propel the gluten-free and vegan baking movement into a new stratosphere. Suddenly there was a destination for those with wheat allergies and other dietary restrictions–and, soon enough, celebrities and dessert lovers of every kind–to indulge freely in delectable muffins and teacakes, brownies and cookies, pies and cobblers.

Enclosed within these pages are all the "secrets" you'll need to bring the greatness of BabyCakes NYC into your own home as well as raves and recommendations from devotees such as Natalie Portman, Jason Schwartzman, Mary-Louise Parker, Zooey Deschanel, and Pamela Anderson.

For confectionists of all kinds, delicious alternatives lie within: Red Velvet Cupcakes, Chocolate Shortbread Scones with Caramelized Bananas, Strawberry Shortcake, and BabyCakes NYC's celebrated frosting (so delicious it has fans tipping back frosting shots!), to name just a few. Finally, Erin's blissful desserts are yours for the baking!

From the Hardcover edition.
De Publishers Weekly
04/05/2009 –
Diagnosed with wheat and dairy allergies in 2004, McKenna faced a life free of cupcakes, pies and brownies. Refusing to accept such a bleak future, McKenna did her research and opened Babycakes, a vegan, gluten-free bakery that has since been warmly embraced by cupcake-crazy Manhattanites. Here she shows readers how to create vegan and gluten-free versions of favorites like apple pie, chocolate chip cookies, gingerbread and Babycakes's infamous cupcakes (named best in the city by New York magazine in 2006). Her like-for-like recipes (including Healthy Hostess cupcakes and ingenious methods for dying frostings without artificial food coloring) are sure to satisfy discerning palates, and her emphasis on the traditional (blondies, biscuits, red velvet cupcakes, etc.) make her recipes easy to incorporate into the regular rotation. A number of specialty ingredients are required (agave nectar, xanthan gum, coconut oil, etc.), which can be pricey but are fairly easy to source (online vendors are listed).; Happily, however, McKenna keeps the ingredient list to a minimum. Those new to gluten- and sugar-free baking may be intimidated, but McKenna is friendly, patient, enthusiastic and encouraging. Those with dietary restrictions, and their families, will find this cookbook a sweet revelation.
Capturas de pantalla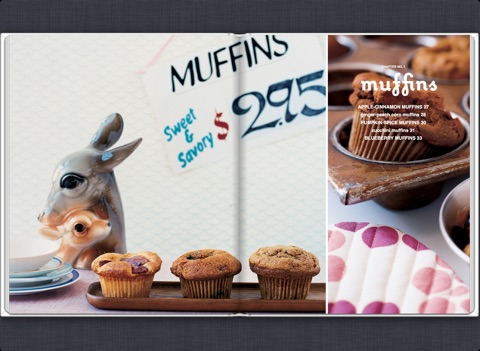 Ver en iTunes
12,99 €

Categoría: Métodos
Publicación: 05/05/2009
Editorial: Potter/Ten Speed/Harmony/Rodale
Páginas impresas: 144 páginas
Idioma: Inglés