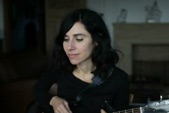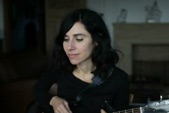 The Last Living Rose
℗ 2010 Universal Island Records Ltd. A Universal Music Company.
Acerca de PJ Harvey
De las muchas cantautoras que alcanzaron la fama a principios de los años 90, muy pocas fueron tan originales y despertaron tan unánime admiración como Polly Jean Harvey. Harvey se convirtió en una de las artistas más distintivas e influyentes de los 90, al explorar temas como el sexo, el amor y la religión con brutal honestidad, humor negro, y un retorcido sentido de la teatralidad. Al principio de su carrera, al frente del trío PJ Harvey, la artista interpretaba sus despojadas canciones con un poderoso y lacerante desenfreno punk. Luego del furioso e intransigente Rid Of Me, el trío se disolvió y Polly Harvey pasó a ser la propietaria exclusiva del nombre PJ Harvey. Su siguiente álbum, To Bring You My Love (1995) supuso la consagración ante el público mayoritario.
ORIGEN

Yeovil, England

FECHA DE NACIMIENTO

9 de oct. de 1969
Top vídeos musicales en Alternativa
Ver todo