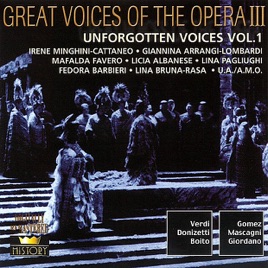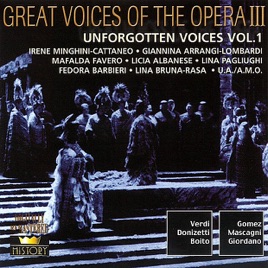 TITLE
TIME

Il Trovatore: Stride la vampa

Irene Minghini-Cattaneo

9:32

La Favorita: Pietosa al par di un Nume

Irene Minghini-Cattaneo

3:16

Lucrezia Borgia: Com'e bello, quale incanto

Giannina Arrangli-Lombardi

4:25

Mefistofele: La luna immobile

Giannina Arrangli-Lombardi

3:23

Mefistofele: Dimmi, come faro

Giannina Arrangli-Lombardi

3:32

L'Amico Fritz: Son pocchi fior

Mafalda Farevo

3:17

Lodoletta: Flammen perdonami

Mafalda Farevo

3:47

Otello: Mia madre aveva una povera ancella

7:06
7:13

La Traviata: Dell'invito…Libiamo, ne lieti calici

7:37

Sempre Libera: Sempre Libera

3:04

Il Guarany: C'era una volta

Lina Pagliughi

6:02

Un Ballo in Maschera / A Maskes Ball: L'incanto non déssi turbare, - Re dell'abisso, affrettati

Fedora Barbieri

5:57

Un Ballo in Maschera / A Maskes Ball: Che v'agita cosi?

Fedora Barbieri

1:21

Un Ballo in Maschera / A Maskes Ball: Della cittá all'occaso…consentimi, o Signore

Fedora Barbieri

3:41

Un Ballo in Maschera / A Maskes Ball: Chi voi siate, l'audace parola

Fedora Barbieri

2:25

Andrea Chenier: La mamma morta

Lina Bruna-Raza

4:42

Regina coeli, laetare: Regina coeli, laetare

Lina Bruna-Raza

6:52

L'Amico Fritz: Suzel, buon…Tutto tace

Pia Tassinari

10:20

Mefistofele: L'altra notte in fondo

Pia Tassinari

4:14

Il Trovatore: Tacea la notte placida

Maria Carena

5:26

Il Trovatore: E deggio…e posso crederlo

Maria Carena

3:52

Il Trovatore: Quale d'armi o fragor

Maria Carena

1:44

Il Trovatore: D'amor sull'ali rosee

Maria Carena

3:31

Il Trovatore: Mira, di acerbe lagrimeo

Maria Carena

5:08

Il Trovatore: Prima che d'altri vivere…lo volli tua morir

Maria Carena

3:13
26 Songs

℗ 2008 M.A.T. Music Theme Licensing Ltd.
About Licia Albanese
Albanese was one of the most beloved sopranos in the Italian repertoire, specializing in roles that suited her physical and vocal appearances of vulnerability and delicacy. She specialized in Puccini, and was associated with his Madama Butterfly more than with any other role. Her voice was smallish and not always precise in pitch, and could turn edgy under pressure, but nonetheless, her vocal and dramatic intensity and sense of apt staging made her performances riveting.

She first studied piano, but switched her energies to voice, studying with Giuseppina Baldassare-Tedeschi. She won the Italian National Singing Competition in 1933, and her opera debut, as Butterfly, was as a mid-opera last-minute substitute for an ailing colleague at the Teatro Lirico in Milan, in 1934. Her La Scala debut was in 1935 as Lauretta in Puccini's Gianni Schicchi, her Covent Garden debut as Liu in Turandot, and her Met debut was in 1940 as Butterfly, beginning an association with that house that lasted until 1966. She made the occasional forays into heavier repertoire during her career, even experimenting with the role of Elsa in Lohengrin in her early years in Italy, but rarely added such roles to her repertoire, and being careful with her performances of even such medium-weight roles as Tosca, though towards the end of her career, with little to lose, she performed heavier roles such as Aida.

After her retirement, she remained active, leading the Puccini Foundation (which she and her husband created), teaching master classes at the Juilliard School of Music and Marymount Manhattan College, and directing operatic scenes. In 1985 and 1987, she made cameo appearances in Steven Sondheim's Follies. In 2000, she received the Handel Medallion. The honor, which was bestowed upon her by Mayor Rudolph W. Giuliani, is a tribute to individuals who have enriched New York City's cultural life.
Top Songs by Licia Albanese
See All
Top Albums by Licia Albanese
See All