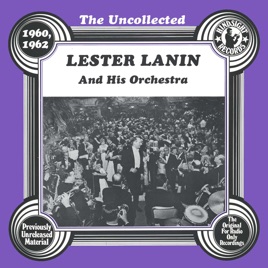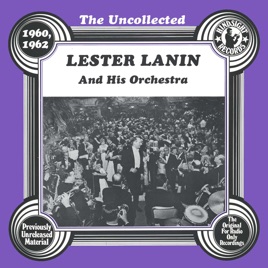 The Uncollected: Lester Lanin and His Orchestra
| | TITLE | TIME |
| --- | --- | --- |
| | | 2:00 |
| | | 2:23 |
| | | 2:32 |
| | | 2:01 |
| | | 1:35 |
| | | 2:20 |
| | | 2:13 |
| | The Best Things In Life Are Free | 2:05 |
| | | 1:57 |
| | | 2:29 |
| | | 2:32 |
| | | 1:55 |
| | If Ever I Would Leave You | 2:25 |
| | | 1:55 |
14 Songs

℗ 1984 Hindsight Records
About Lester Lanin and His Orchestra
b. Nathaniel Lester Lanin, 26 August 1907, Philadelphia, Pennsylvania, USA, d. 27 October 2004, New York City, New York, USA. Lanin was born into a large and very musical family. His grandfather was a band leader in Philadelphia as was his father, Benjamin Lanin. As many as six of his brothers also became band leaders, most famously Sam Lanin.

After starting out on piano and drums as a very small child, Lanin briefly considered a career outside music but by his early teens was playing in bands led by his brothers and was also working as a band booking agent. He led his own first band in Florida but it was in New York in 1930 that he played his first prestigious engagement as a society band leader. This was at the coming-out party of Woolworth heiress Barbara Hutton. Lanin quickly became the darling of the upper set and from then on was a 'must have' at parties, coming-out balls, and the like. Reputedly, one of the first things doting parents would do on the birth of a daughter was to book Lanin for that 20-year-hence coming-out party. At such events, Lanin's composition, 'Pink Petal Waltz', written in 1948, was almost certain to be played. He was band leader of choice for parties thrown by America's rich including the DuPonts, the Chryslers and the Mellons, as well as playing at presidential inaugural balls from Eisenhower to Clinton (excepting Carter, who apparently regarded Lanin's fee as excessive). He played at Grace Kelly's engagement party and was also hired for functions hosted by international royalty in Norway, Spain, Denmark and Sweden. The British royal family held him in such high regard that Queen Elizabeth II reportedly delayed her 60th birthday party to suit Lanin's schedule and he also played at the wedding celebrations of Prince Charles and Lady Diana Spencer (for whom he composed 'My Lady Love').

Lanin was in such demand that he contracted out his name and would have several bands on the road at any one time. By the early 90s, it was estimated that his band(s) had played at more than 30, 000 society events. A Lanin trademark, which he claimed to have invented, was that the band never stopped playing, segueing seamlessly from tune to tune, from dance step to dance step (and Lanin remained on the bandstand continuously throughout each and every engagement). Another Lanin tradition was the giving away of multicoloured cotton hats, 'beanies', to satisfied dancers. Some 50, 000 of these, each bearing his name, were handed out every year.

Stylistically, Lanin homogenized music he drew from many sources, bringing to swing and jazz and even rock a smooth and elegant but always lively patina. That liveliness was significant to Lanin, who declared in numerous interviews that he was in the 'happiness business'. Lanin continued appearing into his nineties, although by this time he had only two bands in operation. He last conducted at the age of 94. In 1993, he was inducted into the Big Band Hall of Fame in Palm Beach, Florida. Over the years, Lanin made numerous records, including more than 30 albums.
Top Songs by Lester Lanin and His Orchestra
See All
Top Albums by Lester Lanin and His Orchestra
See All