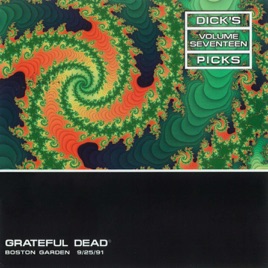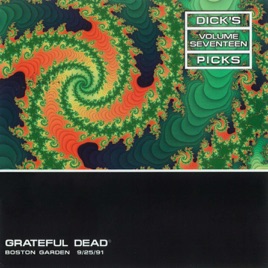 Dick's Picks Vol. 17: 9/25/91 (Boston Garden, Boston, MA)
Grateful Dead
| | TITRE | | DURÉE |
| --- | --- | --- | --- |
| | | | |
| | | | |
| | | | |
| | | | |
| | It Must Have Been the Roses (Live) | | |
| | | | |
| | Queen Jane Approximately (Live) | | |
| | | | |
| | The Music Never Stopped (Live) | | |
| | Victim or the Crime (Live) | | |
| | | | |
| | Playing In the Band (Live) | | |
| | | | |
| | | | |
| | | | |
| | | | |
| | That Would Be Something (Live) | | |
| | Playing In the Band (Live) | | |
| | | | |
| | | | |
| | | | |
| | The Mighty Quinn - Quinn the Eskimo (Live) | | |
| | Samson and Delilah (Live At Boston Garden, March 31, 1991) | | |
| | Eyes of the World (Live At Boston Garden, March 31, 1991) | | |
24 Morceaux, 3 heures 14 minutes
Sortie :

1 avr. 2000

℗ 2000 Grateful Dead Productions, Inc. Marketed by Rhino Entertainment Company, a Warner Music Group company.
À propos de : Grateful Dead
Le trip le plus long et le plus étrange du rock, the Grateful Dead sont les ambassadeurs musicaux de l'ère psychédélique les plus adulés, ils en sont aussi les rescapés les plus résistants, à diffuser leur message de paix, d'amour et d'hallucination à travers le monde pendant les meilleures années de trois décennies. Objet d'adoration d'admirateurs les plus fervents et les plus célèbres de la musique populaire -- les Deadheads, leur nombre et leur dévotion légendaire à part entière -- c'est le groupe culte ultime, développant même leur " propre " univers. Pendant la meilleure partie de leur carrière qui reste bien en marge des sentiers battus, the Dead deviennent des superstars sous leurs propres conditions exclusivement. ~ Jason Ankeny
ORIGINE

San Francisco, CA

GENRE

DATE DE FORMATION

1965
Des millions de morceaux.
Sans publicité.
Réservé uniquement aux nouveaux abonnés. Renouvellement automatique après essai.