CheckBook Pro
par Splasm Software, Inc.
Ouvrez le Mac App Store pour acheter et télécharger des apps.
Description
••• About CheckBook Pro and OS X El Capitan: http://www.splasmata.com/?p=2952 •••

More than a basic check register and reporting tool, CheckBook Pro features everything in CheckBook, our powerfully simple personal finance manager, and then some. Get a report for all of your accounts at once. Search for transactions with any combination of criteria. Group your transactions into folders. Change the details of a group of transactions in a single stroke. CheckBook Pro's simply powerful data management tools make it all just plain easy.

Precisely manage your finances
• Find transactions with simple searches or dozens of powerful search criteria
• Reconcile your accounts to the penny
• Schedule transactions that repeat periodically, like monthly bills and paychecks
• Track cash flow over time with customizable reports so you can see where your money came from and where it's going

Pro features
• Save complex searches as Smart Folders, so you can search again and again
• Group your transactions into Folders, to tidy up or begin a new year
• Quickly change the details for a group of transactions, instead of one at a time
• Report on all your accounts at the same time
• See pending scheduled transactions for all your accounts with a single reminder

Import from other personal finance apps or your bank
• Strong support for OFX, QFX, QIF, CSV and Text
• Import from Quicken® Essentials for Mac

Share and sync your data
• Sync with other users on a local network
• Sync with iCloud

And more
• Manage accounts in multiple currencies
• Transfer funds between accounts without creating two transactions (see the built-in help or contact us for help)

Learn more about CheckBook Pro
• Download & print CheckBook Pro's built-in help: http://www.splasm.com/checkbookpro
• Watch video tutorials of CheckBook Pro: http://www.splasm.com/videos
• Share with other CheckBook Pro users in our forums: http://www.splasm.com/forum

Get help
Send questions about CheckBook Pro to support@splasm.com. We're happy to help!
Nouveautés de la version 2.5.7
New features
• Keyboard shortcuts for Check, Resolved, and Tax-Deductible buttons.
• Show in Finder menu item.
• New Search Options preferences. "QuickFilter" is now "Search".
• Minor user interface adjustments.
• Skip any number of rows when importing CSV or tab-delimited text.

Fixes
• Resolves a hang when opening documents using File->Open… or the Open button when iCloud Documents & Data or iCloud Drive is enabled.
• Stores your data in a more reliable fashion and any potential issues are communicated more effectively.
• Resolves a crash when dragging expanded Split Entries to a Folder.
• Properly converts Smart Folder totals to the base Currency.
• Properly converts Entry amounts in All Accounts Account Summaries to the base Currency.
• Resolves a potential situation where 4-digit years could be displayed with leading zeroes.
• Importing dates with no component separators works again.
• Corrects a potential issue when importing 2-digit years.
• Detects when Accounts documents are moved to the Trash and helps you move them to a safer location.
• Removes the "CheckBook Legacy Document" document description.
• Clicking the Reset Unreconciled button no longer removes the last reconciled message and date.
• Document windows now resize automatically so that the Accounts drawer can fit on the screen.
• Adds support for curly double quotes in CSV imports.
• More consistent automatic check numbering.
• More reliably remembers the last date you entered when you reopen a document.
• Corrects a potential issue where text in the All Accounts Search field may spontaneously combust.
• Resolves a potential issue in All Accounts where Search and Smart Folder settings may be ignored when Entries are voided or duplicated.
• Minor automatic backup fixes.
• Minor user interface fixes.
Captures d'écran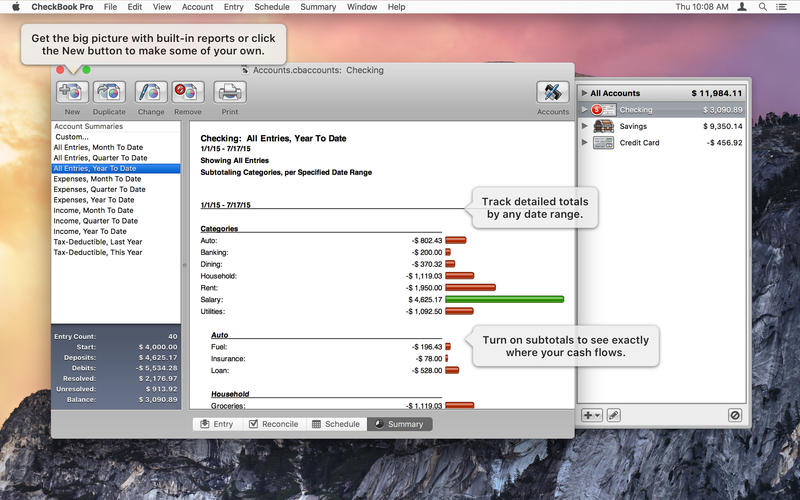 Afficher dans le Mac App Store
24,99 €

Catégorie :

Finance

Mise à jour :

22 juil. 2015

Version :

2.5.7

Taille :

23.4 Mo

Langue :

Anglais

Éditeur :

Splasm Software, Inc.
Compatibilité : OS X 10.6.6 ou une version ultérieure