Curve - All Your Cards In One
Par Curve
Cette app est uniquement disponible dans l'App Store pour les appareils iOS.
Description
Curve is for people who want to be smarter with their money. It's a secure app and contactless Mastercard that works together with the Visa and Mastercard accounts you already have. It's not a bank, credit card, top-up card or simple mobile wallet and it does more than payments. So what is it?

"EXCELLENT" - TRUSTPILOT

"Curve made my life simpler!" - Laurent, Curve user

"My wallet feels safer and lighter." - Daniel, Curve user

"Best all in one card on the market!" - Sven, Curve user

"Saved me lots of money when travelling on exchange and bank fees!! no hidden fees anymore!" - Piotr, Curve user

"it's so easy - no topping up, no extra bookkeeping, it just works." - James, Curve user

"I love the fact that it also ties in with Xero" - Col, Curve user


MISSION CONTROL FOR MONEY

With all your Visa and MasterCards added securely to the app, you just need your Curve card to spend from multiple debit and credit accounts. Why? You have only one PIN for all your accounts and the Curve card is contactless, so all of your card payments become contactless whether or not your current debit or credit card itself is contactless. Unlike mobile payments, Curve works in over 30 million locations globally and unlike mobile phones, Curve works at ATMs so you have full access to your money. If your phone is off or offline? No problem: Curve's Mastercard works even when your phone is out of action. Lose the fat wallet. Curve is all your cards in one. Try to manage all that with a regular debit card, credit card, top-up card or mobile wallet.

THE ONLY CARD YOU NEED TO PACK

When you spend abroad with Curve, we do the currency conversion instead of your bank. Because we add just 1% - compared to typical bank fees of 3% to 5% - you actually spend less when you spend abroad with Curve. You can see our current rates on our website, and the app instantly shows you the rate for your purchase. Unlike typical travel cards, Curve needs no top-ups. That means no running out of currency while abroad and no annoying leftover amount on your card at the end of your trip. Just simpler, safer, cheaper travel spend.

SMARTER BUSINESS EXPENSES

Curve's connection to Xero makes it easier than ever to automate expenses, so you're free to manage your business. It's a spending card and automated receipt app, all in one. Whether you're the accountant, bookkeeper or the business account holder, Curve cuts out the hassle of expenses to make life easier. No more searching for old receipts or forgetting to use your old receipt app. Every business purchase is automatically sent straight into Xero for quick and easy reconciliation and receipts can be sent any time from the Curve app to Xero. You can also send an automated email with purchase and attached receipt to your email account.

INTELLIGENT FRAUD PROTECTION

Security is our first priority. Your data security is ensured by industry-standard SSL encryption applied to all Curve systems. In fact, you're safer with Curve. No data about your existing Visa or Mastercard is stored on your phone, or shared with the merchant or ATM. Your card has been used? You get an instant notification on your phone. You see a fraudulent transaction? Lock the card instantly in the app and contact our 24/7 support team. If something goes wrong, with in-app chat support you can get help and order a new card within minutes.

EASIER SPEND INSIGHTS

Ever tried budgeting but given up? Budgeting apps mean manual work after each purchase and after letting a few slip your mind, you quickly lose track. Curve instantly categorises and adds each purchase to your spend timeline.
How much are your monthly groceries? Filter by category: Done.
Did you overspend on holiday? Filter by currency and date: Done.
How much have you spent on your joint account: Filter by card: Done.

Whether you're spending at home or abroad, keeping track or trying to save: Curve is where the smart money is.

Download Curve and get your card today.

www.imaginecurve.com
Nouveautés de la version 2.6.6
As you might know - if you are a curve user - one of the options to login is Magic Link.
Recently, the Link lost his Magic and stopped working.

We lost our minds. How to fix broken magic?
Easy. With magic! A simple spell that I learnt during my time at Hogwarts did the trick.

"- Reparo!"

Some users didn't like that they had to log in every time to see their position on the waitlist. That's fine! If you don't want to login to look at your position, you won't be asked to.
Captures d'écran iPhone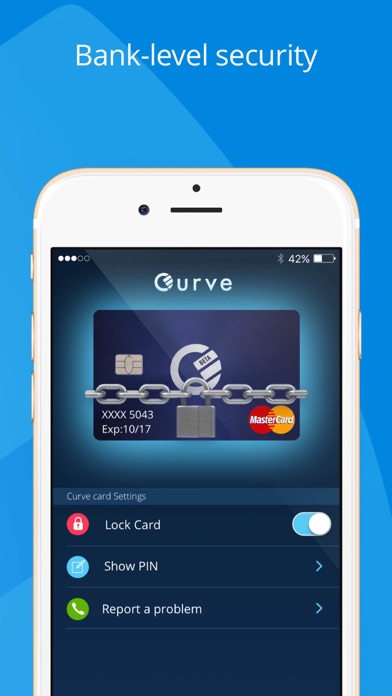 Avis des utilisateurs
Carte crédit en une seul
Enregistrer vos carte bancaire dans l'application Curve et utiliser une seul carte. Code promo : 4MP1U (5£ credité)
Afficher sur iTunes
Gratuit

Catégorie :

Finance

Mise à jour :

15 déc. 2017

Version :

2.6.6

Taille :

152 Mo

Langue :

Anglais

Éditeur :

Curve 1 Ltd.
Compatibilité : Nécessite iOS 9.0 ou une version ultérieure. Compatible avec l'iPhone, l'iPad et l'iPod touch.