Evernote – stay organized
By Evernote
Essentials
Open the Mac App Store to buy and download apps.
Description
Let Evernote change the way you organize your personal and professional projects. Dive in: take notes, create to-do lists, and save things you find online into Evernote. We'll sync everything between your phone, tablet, and computer automatically.

---

"Use Evernote as the place you put everything… Don't ask yourself which device it's on—it's in Evernote" – The New York Times

"When it comes to taking all manner of notes and getting work done, Evernote is an indispensable tool." – PC Mag

---

GET ORGANIZED
Evernote gives you the tools you need to keep your work effortlessly organized:
• Write, collect and capture ideas as searchable notes, notebooks, checklists and to-do lists
• Take notes in a variety of formats, including: text, sketches, photos, audio, video, PDFs, web clippings and more
• Use the camera to effortlessly scan, digitize, and organize your paper documents, business cards, handwritten notes and drawings
• Use Evernote as a digital notepad and easy-to-format word processor for all your thoughts as they come

SYNC ANYWHERE
Evernote gives you the ability to sync your content across devices:
• Sync everything automatically across any computer, phone or tablet
• Start your task working on one device and continue on another without ever missing a beat
• Add a passcode lock to the mobile app for more privacy

SHARE YOUR IDEAS
Evernote gives you the tools to share, discuss and collaborate productively with others:
• Create, share and discuss with the people who help get your work done, all in one app
• Search within pictures and annotate images to give quick feedback
• Develop your projects faster and let multiple participants work on different aspects

EVERNOTE IN EVERYDAY LIFE
• Make personal checklists to keep your thoughts organized
• Set reminders to keep on top of activities and write to-do lists
• Gather, capture and store every thought you need to stay productive
• Plan events such as holidays, weddings or parties

EVERNOTE IN BUSINESS
• Create agendas, write memos and craft presentations
• Annotate documents with comments and thoughts during team meetings, then share with colleagues
• Get your projects underway faster and maximise productivity by letting multiple participants access and work on different aspects alongside each other

EVERNOTE IN EDUCATION
• Keep up with lecture notes so you don't miss a vital thought
• Clip and highlight articles from the web for academic research
• Plan and collaborate for better academic group work

---

Also available from Evernote:

EVERNOTE PLUS - More space. More devices. More freedom.
• 1 GB of new uploads each month
• Unlimited number of devices
• Access your notes and notebooks offline
• Save emails to Evernote
$3.99 monthly, $34.99 annually

EVERNOTE PREMIUM - The ultimate workspace.
• 10 GB of new uploads each month
• Unlimited number of devices
• Access your notes and notebooks offline on your mobile device
• Save emails to Evernote
• Search inside Office docs and attachments
• Annotate PDFs
• Scan and digitize business cards
• Show notes as presentations, instantly
$7.99 monthly, $69.99 annually

---

Price may vary by location. Subscriptions will be charged to your credit card through your iTunes account. Your subscription will automatically renew unless canceled at least 24 hours before the end of the current period. You will not be able to cancel the subscription once activated. Manage your subscriptions in Account Settings after purchase.

---

Privacy Policy: https://evernote.com/legal/privacy.php
Terms of Service: https://evernote.com/legal/tos.php
What's New in Version 6.13.1
Fixed in 6.13.1:
A fix for an issue where reminders overlap text and omit notes on macOS 10.13.1
A fix for an issue where sync intermittently fails for some users after clipping content from the web (CDATA error seen in log)
An improvement to make it easier to detect and troubleshoot specific notes that are failing to sync - if you see an exclamation mark on a note in the note list (for snippet and card view) and a red dot in the sync status column for the list views, it's a problematic note.

-------------------
Release Notes for 6.13

6.13 and app updates going forwards will be supported on OS X El Capitan (10.11) and above.

Improved:

Sharing: consolidated share options under the "Share" button in Evernote. Share a note, choose to create a public link or modify share permissions all from one place.
Navigation and Commanding UI: we've made some adjustments to provide more space for your content using a narrower toolbar, and making some tweaks to the sidebar to improve legibility. We've also improved the Move Note dialog to make it even faster to move a note across accounts by listing all notebooks from both your business and personal accounts directly in the dialog.
Fixed:

We fixed many issues in this release, here are some of the notable issues addressed.

Fixed an issue where notebooks are sometimes duplicated on upgrade.
Fixed several crashes including intermittent issues around moving notes, app launch, and on PDF annotation.
Fixed an issue where the Evernote app window sometimes appears black when in full screen mode.
Screenshots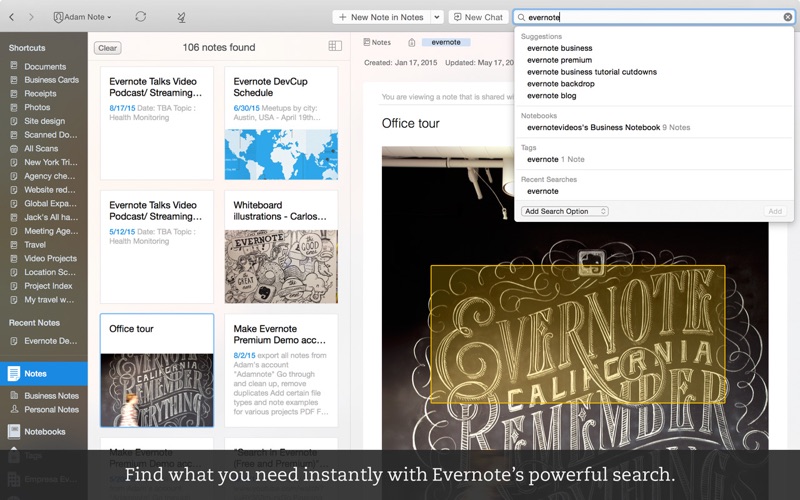 Customer Reviews
Efficace et puissant
J'utilise cette application depuis plusieurs années. Elle présente des fonctionnalités très puissantes tout en restant simple à utiliser. J'adore la possibilité de scanner des documents et de les modifier ensuite dans les notes. Plus besoin de photocopieur ou de scanner !
La prise de note rapide intégrée dans la barre du Finder est aussi très pratique et très fiable.
La nouvelle interface change beaucoup par rapport à la précédente, mais elle finalement assez pratique.
Une fonctionnalité géniale à rajouter serait la reconnaissance manuscrite comme dans Nemo.
Passez à autre chose !
Il fut un temps où j'adorais evernote. De fait, il n'existait pas grand chose d'autre dans le domaine, et rien qui ne lui arrivait à son niveau. De plus, evernote était plein de promesses ( en tout cas dans mon esprit ).
Maintenant, plusieurs années plus tard, force est de constater que d'autres concurrents se sont améliorés. Je pense à Onenote par exemple. Ou à DEVONthink.

Quant à Evernote, il n'a pratiquement pas évolué. La seule nouvelle "feature" majeure est l'intégration de Google Drive. Cette feature c'est quoi ? Juste un lien vers un fichier que vous auriez mis dans votre Gdrive. Ce que vous pouviez parfaitement faire avant ( mettre un link dans une note, on sait faire ça depuis le début ..), simplement ils ont ajouté un bouton pour faciliter la vue des fichiers dans son Gdrive depuie l'interface d'evernote.
Sur leur forum on peut lire que ce n'est que la premiere pierre à un projet plus ambitieux. En attendant, c'est tout ce qui a évolué dans evernote depuis des années !!

D'autre part, à l'heure d'ajd, tout le monde parle de chiffrement, c'est réclamé sur evernote depuis des lustres, mais ce n'est toujours pas d'actualité !! Au contraire, Evernote a migré toute son infrastructure sur les serveurs de Google et ajoute leur feature vers Gdrive. Ce qui n'est pas pour rassurer quant à la protection de nos notes.

Leur interface est tristounette, elle non plus n'a pas été améliorée depuis des années ( sauf sous windows ). Elle n'est pas non plus tres ergonomique, surtout celle de la version IOS.

Pour en rajouter une couche, ils viennent de séveremment augmenter leurs tarifs.

Bref, je suis un abonné premium/plus depuis des années, mais je viens d'annuler mon renouvellement.

EDIT 17/12/2016:
J'abaisse encore ma note. Evernote décide de mettre à jour leur private policy: Des employés d'Evernote ( soit-disant triés sur le volet, ça me fait une belle jambe) pourront accéder à mes notes. Tout ceci, j'imagine, doit etre lié à leur récente migration sur les serveurs de Google (et les outils qui vont avec). Un jour plus tard, suite au tollé général, ils changent d'avis ! Trop tard, le mal est fait, le message est passé.
Qui plus est, j'ai retrouvé une vidéo de l'ancien CEO d'Evernote qui annonçait à techCrunch que de nouvelles options de chiffrage allaient arriver. C'est une vidéo de .. 2013, et ce fut, une fois encore, des paroles en l'air.

EDIT 06/12/2017:
Utilisqteur OneNote depuis maintenant 1 an, j'analyse donc avec du recul la comparaison, et je me demande vraiment ce qui justifie qu'evernote soit payant !
View in Mac App Store
Free

Category:

Productivity

Updated:

01 December 2017

Version:

6.13.1

Size:

56.7 MB

Languages:

English, Danish, Dutch, Finnish, French, German, Indonesian, Italian, Japanese, Korean, Malay, Polish, Portuguese, Russian, Simplified Chinese, Spanish, Swedish, Thai, Traditional Chinese, Turkish, Vietnamese

Developer:

Evernote
Compatibility: OS X 10.11 or later, 64-bit processor
Top In-App Purchases
Evernote Premium4,99 €
Evernote Premium4,99 €
Evernote Premium39,99 €
Evernote Plus 3,99 €
Evernote Premium44,99 €
Evernote Plus2,99 €
Evernote Premium 6,99 €
Evernote Plus3,99 €
Evernote Premium6,99 €
Evernote Plus 29,99 €