Inspiration
Par Inspiration Software, Inc.
Ouvrez le Mac App Store pour acheter et télécharger des apps.
Description
Increase productivity and efficiency with Inspiration® - and share files with Inspiration Maps for iPad!

Do you have trouble organizing your ideas and information at the beginning of a project? Use Inspiration, the ultimate thinking and learning tool to quickly brainstorm, clarify thoughts and plan written work. Switch quickly from mapping and brainstorming to outline with one click to begin the writing process. Communicate your ideas clearly with slides and easy to use presentation tools.

Export work created in Inspiration 9.2 to Inspiration Maps for iPad (separate app available on the iOS App Store). Import Inspiration Maps documents and continue your work on the desktop using Inspiration 9.2.

Inspiration is built upon proven visual thinking and learning methodologies in which ideas, concepts and other information are associated with images and represented graphically, so you are better able to:

• Quickly and efficiently develop ideas
• Clarify thoughts and think critically
• Analyze, organize and group information
• Plan and organize written work
• Communicate knowledge clearly and effectively

For visual mapping, outlining, writing and making presentations, use Inspiration, the ultimate thinking and learning tool. Brainstorm ideas, structure your thoughts and visually communicate concepts to strengthen understanding with the Diagram and Map Views. To take notes, organize information, and structure writing for plans, papers and reports, use the integrated Outline View to focus on main and supporting ideas and to clarify thinking in written form. With Inspiration's Presentation Manager, transform your diagrams, mind maps and outlines into polished presentations that communicate ideas clearly and demonstrate understanding and knowledge.

Use visual thinking to help you focus your work and increase productivity. Build concept maps, webs, mind maps, idea maps and graphic organizers in Inspiration to:
• Brainstorm
• Plan
• Organize
• Think
• Outline
• Present

For more information visit us at http://www.inspiration.com/inspiration
Nouveautés de la version 9.2.2
Fixes problems with importing some Inspiration Maps files
Captures d'écran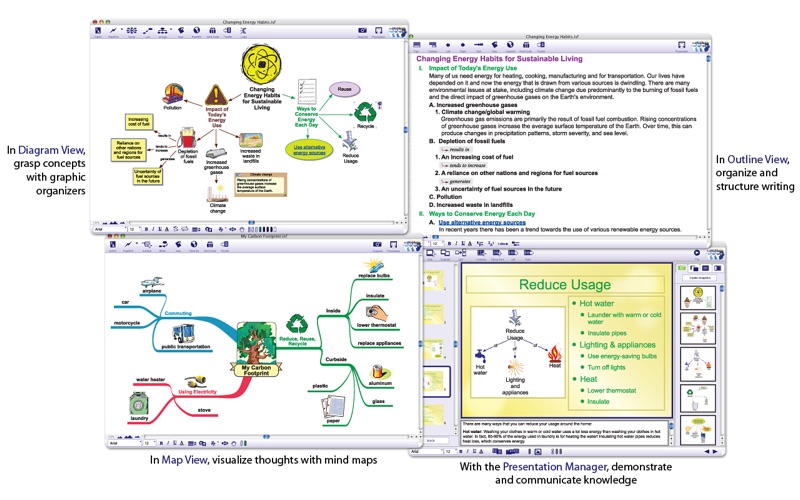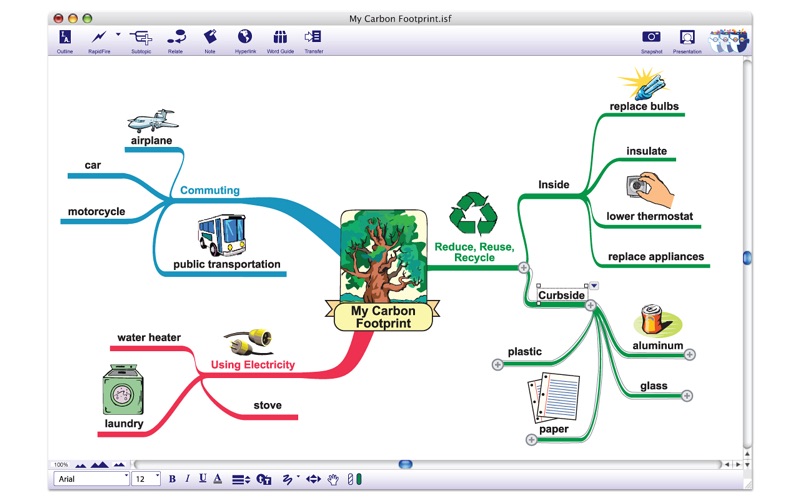 Afficher dans le Mac App Store
43,99 €

Catégorie :

Éducation

Mise à jour :

16 janv. 2014

Version :

9.2.2

Taille :

133 Mo

Langue :

Anglais

Éditeur :

Inspiration Software
Compatibilité : OS X 10.6.6 ou une version ultérieure
Apps de : Inspiration Software, Inc.