Microspot DWG Viewer
Par Microspot Ltd.
Ouvrez le Mac App Store pour acheter et télécharger des apps.
Description
With Microspot DWG Viewer, viewing, annotating, saving and printing your DWG files has never been easier, faster or more affordable. With its simplicity and power Microspot DWG Viewer is the perfect tool for those that don't need an expensive CAD application, but require a simple but effective viewing tool.

Microspot DWG Viewer is based on Microspot MacDraft Professional which enables AutoCAD DWG files produced on a PC to be opened and viewed on Apple Macintosh computers. Open files directly on your machine without size restrictions. During the opening of the DWG file you can choose the layout to be opened or open the Model from from a list of available layouts. The scale and units for the file can be specified or DWG Viewer can do it automatically.

The file's layers are then visible via the Layers palette and can be grayed or hidden to make working with them easier and faster. Alongside the existing layers is an Annotation layer that allows you to mark up your drawing with comments using elliptical markers and text. The elliptical marker has a red frame and the text has a yellow background, making the markings in your drawing obvious to the recipient.

The resulting document can be saved as a PDF file with your annotations and/or printed. The Zoom tools and the Hand tool allow you to enlarge any section of the drawing and scroll around.

DWG List of features include:

The Tool palette offers a full complement of annotation tools. You can easily navigate through your AutoCAD files with the zoom and hand tools, red mark-up can be added using the ellipse tool and annotation can be inserted using the text tool.

The user has the ability to open not just the model space but also any layouts that the file contains. You can then decide the Scale and the units you wish to use.

Advanced layer control using the new Layers palette. Once your DWG file has been opened in the DWG Viewer you will be able to see all the layers in the document via the layers palette. These layers can the be hidden or grayed giving you full control over exactly what you want to see and what you don't.

Fully customizable scales adds flexibility to the viewing of your DWG files.

A customizable toolbar with a large number of menu commands greatly increases the speed and ease of working.

No size restrictions when opening DWG files.

Supports AutoCAD 2010/2011 DWG Files, bringing your PC and your Macintosh even closer together.
Nouveautés de la version 1.7.5
In this update we have focused on key bug fixes as follows:

Bug Fixes:
-------------
• Fixed a bug where pasting annotations containing ovals to document at different scale did not paste correctly.


• Fixed a bug where duplicated annotations/ovals did not move on the same grid as the original annotations/ovals when zoomed in.

Captures d'écran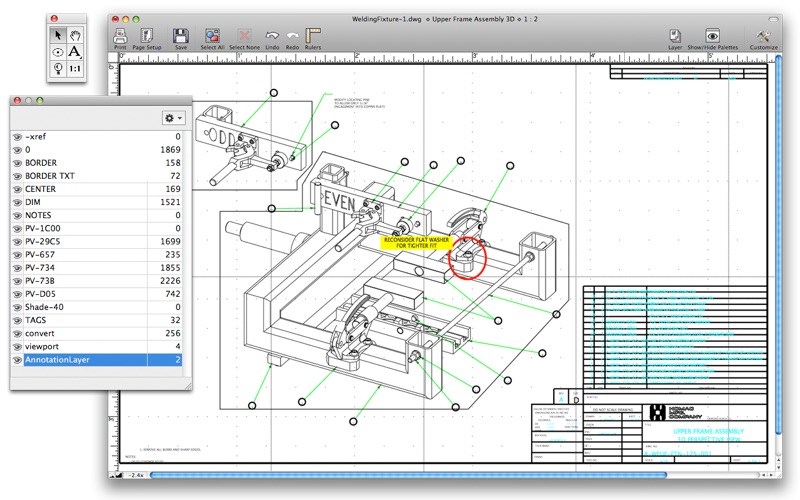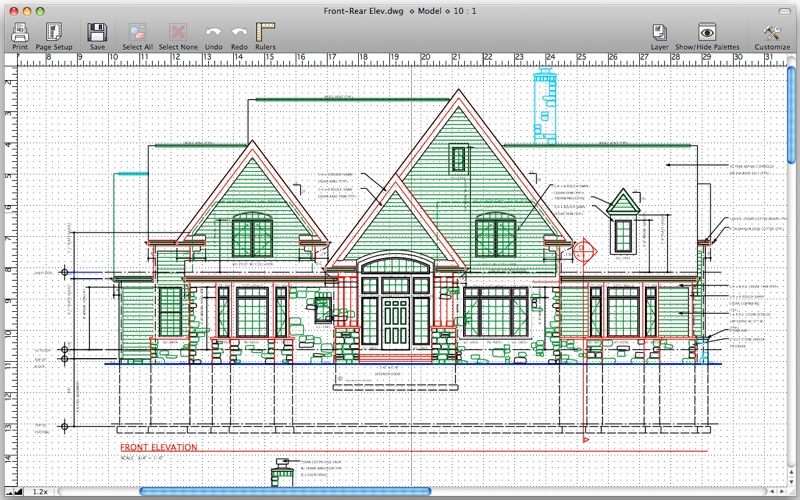 Avis des utilisateurs
Bof.
Ouvre du DWG, mais point.
interface tout sauf intuitive, si vous ne connaissez pas l' "unité imperiale" utilisée au départ, il faut recharger le document,
et refaire un essai avec une autre iuntié, une autre échelle, etc…
Dépanne, mais ne vaut pas -à mon sens- les 44,90€ demandés.
non fonctionnel
Cette application n'est pas capable d'ouvrir des DWG. Chere et inutile. Ne pas acheter.
Arnaque
Le DWG viewer demo gratuit fonctionne mais le DWG viewer à 45 € n'ouvre pas mon document.
J'ai vraiment l'impression de m'être fait volé !
Afficher dans le Mac App Store
54,99 €

Catégorie :

Graphisme et design

Mise à jour :

5 févr. 2013

Version :

1.7.5

Taille :

15.1 Mo

Langue :

Anglais

Éditeur :

Microspot Ltd
Compatibilité : OS X 10.6.6 ou une version ultérieure