NAVIGON Australia
Par Garmin Wuerzburg GmbH
Ouvrez iTunes pour acheter et télécharger des apps.
Description
With NAVIGON you can turn your iPhone or iPad into a fully functional mobile navigation system. Thanks to a faithful adaptation of the menu functions, the app fits in seamlessly with the iOS operating concept.


*** Range of functions ***

- Simple, intuitive user interface 

- Can be used in portrait and landscape format 

- Precise spoken announcements 

- Intelligent address entry 

- Lane Assistant Pro 

- Real Road Sign 

- Speed Assistant with adjustable audio-visual warning 

- NAVIGON MyRoutes 

- Day and night modes for map display (automatic switching)

- 2D and 3D map display (bird's-eye view) 

- Route planning function

- Text-to-Speech (voice playback of street names)

- Extended Pedestrian Navigation using the iPhone's internal compass

- Local Search

- Reality Scanner for POI searches with Augmented Reality

- Coordinate entry

- SOS Emergency Help


The latest NAVTEQ map material with coverage for:
Australia, New Zealand

Latest Map Guarantee:
Guarantees you the most up to date map at the time of purchase. Upon installation of the app, you will automatically have access to the latest map from the market leaders NAVTEQ.


NAVIGON FreshMaps XL:

The latest maps at all times with NAVIGON FreshMaps XL! For a single payment you will receive map updates from experts up to four times a year for a period of two years.
The app is then always up to date and contains not only changes or additions to the road network but also plenty of new POIs. Giving you extra safety, reducing stress and saving time!

NAVIGON MyMaps:

NAVIGON MyMaps allows you to carry only the country maps you currently need. Meaning you have more memory space for photos, music and other apps.

Please note the following:
Positioning your iPhone correctly in the vehicle is very important to ensure optimal GPS reception! We recommend that you use the NAVIGON Design Car Kit for the iPhone, which includes both a designer suction pad holder and a car charger, enabling you to charge your iPhone during the journey. Available from specialist retailers or from the NAVIGON shop directly at www.navigon.com!

Should you experience GPS reception problems with your iPhone, please refer to the FAQ on our website:www.navigon.com.

Allowing GPS to run in the background for extended periods can lead to a significant reduction in battery life.

Whether in the car, by bike or on foot, NAVIGON hopes you have fun navigating.

www.navigon.com/facebook
www.navigon.com/twitter
Nouveautés de la version 2.17
- Just activate VoiceCommand with a simple gesture and control essential functions with your voice. The range of functions will be expanded successively in upcoming app updates.*
- Simplified map search by automatically switching to 2D map mode when tapping
- When using the search bar, favorites, recent destinations and iPhone contacts are now taken into account as well
- Improved map display on various display resolutions, more detailed zoom levels with haptic feedback (when using iOS 10 and iPhone 7 or iPhone 7 Plus) and terrain maps in 2D (requires Panorama View 3D)
- Improved positioning under unfavorable GPS conditions
- Navigate up to 70% longer without external power connection
- Improved Arabic language support
- Various stability improvements and bug fixes

* Requires data connection, iPhone running iOS 10, iPad not supported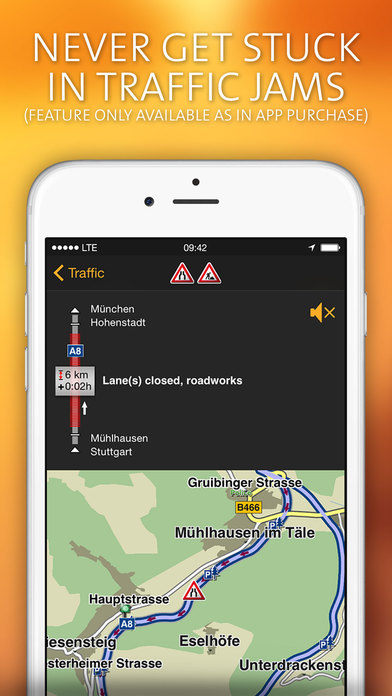 D'autres ont aussi acheté
Afficher sur iTunes
Cette app a été conçue pour iPhone et iPad.
Inclut l'app Apple Watch pour iPhone
49,99 €

Catégorie :

Navigation

Mise à jour :

15 déc. 2016

Version :

2.17

Taille :

144 Mo

Apple Watch :

Oui

Langues :

Français, Allemand, Anglais, Arabe, Croate, Danois, Espagnol, Finnois, Grec, Hongrois, Italien, Norvégien, Néerlandais, Polonais, Portugais, Roumain, Russe, Slovaque, Suédois, Tchèque, Turc

Éditeur :

Garmin Wuerzburg GmbH
Compatibilité : Nécessite iOS 9.0 ou une version ultérieure. Compatible avec l'iPhone, l'iPad et l'iPod touch.
Classement des achats intégrés
Panorama View 3D10,99 €
Urban Guidance4,49 €
Fresh Maps XL Australia30,99 €
Traffic LIVE12,99 €
Mobile Alert Live9,99 €
Cockpit5,49 €