Solar Walk - 3D Solar System Model, the Universe, trip to Space
par Vito Technology Inc.
Ouvrez le Mac App Store pour acheter et télécharger des apps.
Description
This 3D Solar System model enables you to navigate through space and time, observe all the planets in close-up, learn their trajectories, inner structure, history of their exploration, points of interest and more. Use 3D mode to get a more realistic experience! And zoom out to view and spin the entire Galaxy!

*No In-App Purchases!*

---------------------------------------
WHAT EXPERTS SAY:

Solar Walk for Mac is a full-featured 3D solar system model that allows you to move between stars and planets with your mouse, zoom into check on the planets' details and read accurate descriptions about them. You can zoom out to view the entire galaxy (well, at least through what's known of this galaxy), see a planet's inner structure and learn about its history of exploration. - Federico Viticci, MacStories

Solar Walk allows users to explore the Solar System, as well as the entire Milky Way Galaxy. Notable features include real-time trajectories of the most interesting artificial Earth's satellites, your current position marker, the biggest cities on the globe, and the points of interests on Mars, Venus, and the Moon. -Filip Truta, SoftPedia

--------------------------------------
MAIN FEATURES:

• GALAXY view - absolutely magical zoom out to view the whole galaxy option.
• SATELLITES - real-time trajectories of the most interesting artificial Earth's satellites
• LOCATIONS - the biggest cities of the Earth, as well as sights of the Moon, Mars and Venus.
• MOVIES - explain basic physical phenomena
• 3D SOLAR SYSTEM model
• INFO about all planets: general info, its name, its mass, radius, distance to the sun, internal structure with the picture and science missions.
• TIME MACHINE - slide the time scale and the sky will start moving accordingly. Tap year, month and time and change them depending on what you want to see, the display will adapt accordingly to show you how planets were aligned at that time.

--------------------------------------
ATTENTION!

Mind that to use the 3D mode you will need a pair of cyan-red 3D glasses. And, yes, we know that Pluto is no longer considered a planet, but by popular vote it has been added to the Solar System Model.
Nouveautés de la version 3.0.0
NEW CONTENT:
- Missions: Launch of Hubble, Repair of Hubble, Apollo11,17, Curiosity, Luna 17
- High Resolutions for Earth, Moon, Mars and Venus
- Bug fixes
- No In-App Purchases
Captures d'écran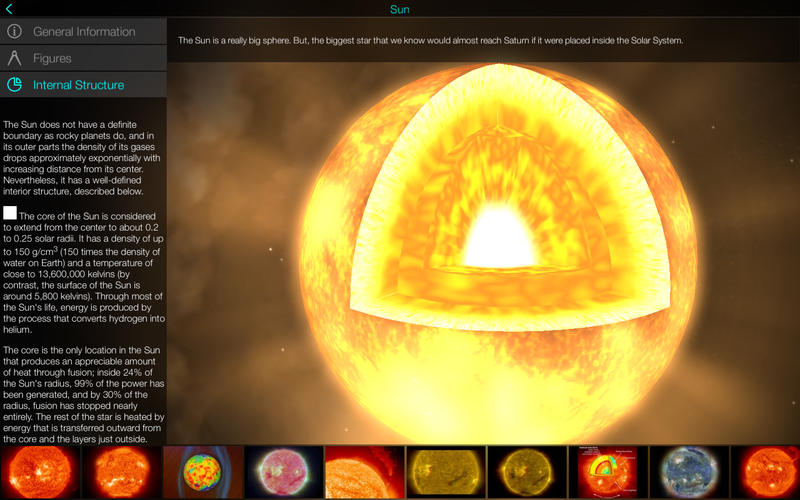 Avis des utilisateurs
Fabuleux
Fantastique, on s'y croirait. Superbes animations. À conseiller sans restriction.
Gestes multitouch
Les gestes multitouch présents dans la version 2, ont disparu dans la version 3 !
Par exemple il n'est plus possible de pincer/écarter les doigts pour zoomer ou faire une rotation à 2 doigts pour pivoter la vue.
La navigation est donc bien moins pratique, dommage.

Belle application au demeurant, principalement pour un usage éducatif.

Mais si vous cherchez une simulation du système solaire plus exacte et plus complète, je vous recommande Cosmographia (en anglais).
Afficher dans le Mac App Store
9,99 €

Catégorie :

Éducation

Mise à jour :

27 mars 2015

Version :

3.0.0

Taille :

859 Mo

Langues :

Français, Allemand, Anglais, Chinois simplifié, Chinois traditionnel, Coréen, Espagnol, Italien, Japonais, Néerlandais, Russe, Tchèque

Éditeur :

Vito Technology Inc.
Compatibilité : OS X 10.8.0 ou une version ultérieure, un processeur 64 bits