Splyce - fancy music player with automix. Pulselocker Edition!
Par InQBarna
Cette app est uniquement disponible dans l'App Store pour les appareils iOS.
Description
***Due to the DRM protection in iTunes Music tracks, it is not possible to use iTunes Music within Splyce***

Splyce aims to help you experience the magic of an actual DJ, or at least get the closer an app can get you to feel the power of music at its best. Mixing has never been so easy!

Even if you are not keen on DJing, Splyce will allow you to mix your music with no effort. Just select the music you want to play, order it with some help of the app and click play. From that moment on, Splyce will take control and its powerful music engine will adjust the tempo of the songs to mix them like an actual DJ.

Splyce will change your music experience:
◆ As your everyday music player: enjoy your favorite music in a better way
◆ Partying: take your parties to the next level with Splyce!
◆ Sports training: follow the rhythm of the music while training hard


MIX
When the next song is within a 5% BPM range with the song that is being played, you will experience the magic of mixing. Splyce will adjust the tempo of the second song and they will mix together for the time you set.


MIXING SETTINGS
+ Mix Time:
+ Song Length:
+ Mix Mode:
+ Order:
+ Color: 10 different colors available!


SAVE YOUR PLAYLISTS WITH SPLYCELISTS
Splycelists will allow you to save your enriched playlists with all your mixing settings: mix mode, mix time and length


ARRANGE YOUR PLAYLIST
User finger gestures to easily arrange your playlists:
+ Swipe left to delete
+ Swipe right to reorder a song automatically by BPMs
+ Drag and drop to reorder manually


LIGHT EFFECTS WITH PHILIPS HUE
Connect Splyce to Philips(R) Hue lights, and experience how music and light effects can work together to make your experience even greater. Intensity and color will vary depending on the song BPM's, synchronizing music & lights automagically with Splyce.


FEATURE HIGHLIGHTS:
√ All music Player features
√ Automatic mixing
√ Pulselocker streaming service integration
√ BPM calculation of tracks
√ Automatic order & music search by BPM
√ Profiles based on BPM
√ 3 mixing modes
√ 5 transition modes between songs
√ Default track duration
√ Flash torch
√ Airplay integration
√ Purchase music on iTunes

FANCIER IN-APP UPGRADE:

√ Song artwork in lock screen
√ 3 new color themes
√ Philips(R) Hue lights support (bulbs sold separately)

PRO IN-APP UPGRADE:
√ Audio FX (echo, flanger, phaser and filter)
√ 4 new transitions between songs
√ BPM ordering of your music library

PREMIUM IN-APP UPGRADE:
√ Splycelists
√ Smart length engine

FULL EXPERIENCE UPGRADE:
√ Live the Splyce experience to the max and save some money with the full pack!


------


√ iTunes Match tip:
If you want to play a song stored in iCloud, please make sure you download it first by clicking the iCloud download button placed next to the track in the Music app. You can also download entire playlists.

√ DRM Protected songs tip
Splyce supports nearly all audio files: MP3, M4A, AAC, WAV, AIF, etc. including all songs available on the iTunes Store. But if you have purchased from the iTunes Store before 2009, you may notice that those songs are protected with DRM technology and cannot be played with Splyce. If you have any of these old files, you can upgrade them to DRM free (iTunes Plus) via iTunes.


------


TIPS:

◆ When selecting songs, you can select all tracks by dragging down the screen to access the "I want it all" button
◆ Click on the Splyce button on the main screen to access all features
◆ While playing your music, swipe left to delete a song or swipe right to auto-order that track.
◆ Shake to shuffle your playlist (enable this option on settings)
◆ Follow us on Instagram, Twitter & Facebook to get useful tips about Splyce!


------


Missing a feature? We're already preparing a new version, let us know at support.splyce@inqbarna.com.

Visit us:
www.twitter.com/splyceapp
www.facebook.com/splyceapp
www.instagram.com/splyceapp
Nouveautés de la version 2.6.1
We have been working hard to bring you an improved version of Splyce. With the new version you get:
- a fixed Philips hue ligthing integration
- a much better integration with Pulselocker, our favorite streaming music service with over 20M song catalogue
- Improvements in the player
- a new tutorial
- small enhancements that will improve usability within Splyce

And, of course, we are starting to work on a new version of the app. Let us know your suggestions so we can include them in the coming versions!
Captures d'écran iPhone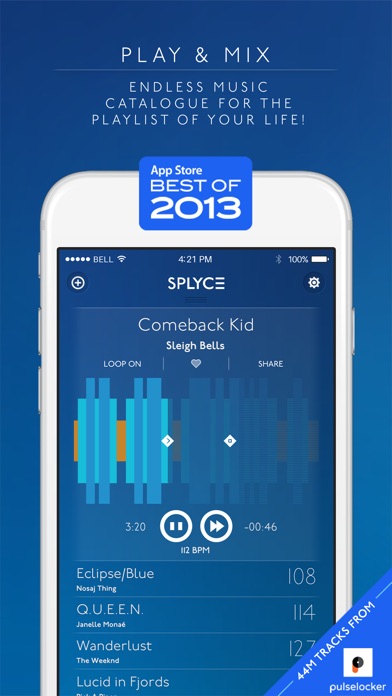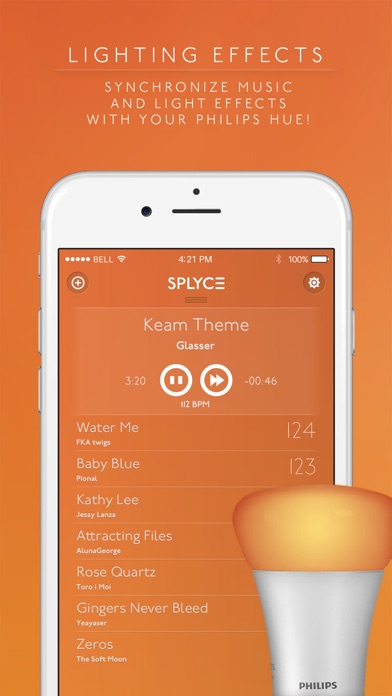 Avis des utilisateurs
Appli géniale avec Hue!
Depuis la dernière mise à jour, mes ampoules Hue fonctionnent à nouveau avec l'application (et l'option "Fancier"). Que du bonheur!
Fantastic app !!!
I essentially uses it to make my walking exercise. I use different bpm according to my energy and to the speed I want to walk to. I am fond of this app !
Afficher sur iTunes
Gratuit

Catégorie :

Musique

Mise à jour :

27 mai 2016

Version :

2.6.1

Taille :

51.4 Mo

Langues :

Français, Anglais, Catalan, Espagnol, Italien, Portugais

Éditeur :

InQBarna
Compatibilité : Nécessite iOS 8.0 ou une version ultérieure. Compatible avec l'iPhone, l'iPad et l'iPod touch.
Classement des achats intégrés
Fancier Upgrade1,99 €
Full feature set2,99 €
Pro feature set1,99 €
Premium feature set1,99 €