The Wall Street Journal - Business & Markets News
Par Dow Jones & Company, Inc., publisher of The Wall Street Journal.
Ouvrez iTunes pour acheter et télécharger des apps.
Description
Make time for the news app that's as ambitious as you are. Get the latest headlines and interactive features from the Wall Street Journal, the world-renowned news organization with more than 125 years of peerless reporting and award-winning journalism.

The WSJ app gives you instant access to breaking stories from around the world plus the latest on business and finance, politics and technology, as well as expert commentary and analysis and up-to-the-minute updates on global stock markets and company news.

Whether you prefer browsing the contents of our daily edition or the latest updates from our real-time news team, the WSJ app delivers exceptional writing and captivating visual journalism to your iPhone, iPad or Apple Watch. Every section features videos, photo slideshows, data and interactive graphics and cutting-edge experiences like virtual reality and 360-degree videos.

The WSJ app also offers a wide range of special sections like the WSJ. Magazine and customizable stock quote watchlists and saved article sections, as well as coverage of lifestyle topics and features on media, marketing, arts, health, personal technology, social media and real estate.

With the WSJ app you can find the news you need wherever and whenever you need it.

Key Features:
- Global headlines and breaking news with embedded multimedia, full-screen video and interactive graphics.
- Notifications sent to you instantly as important news breaks so you will be the first to know what is happening around the world.
- Fast load time and downloading of new content, rapid and reliable updates and improved stability.
- Enhanced iPad versions of the Journal's U.S., Europe and Asia newspaper editions.
- Informed opinions on finance, business, politics, personal investments and careers.
- Articles on arts, film, television, fashion, food, design and travel.
- Market data integrated seamlessly into stories, displaying stock and shares performance for companies.
- Special investigative projects and in-depth series on global and financial news.
- Full access to WSJ. Magazine
- Virtual reality video and innovative technology such as WSJ news on your Apple Watch.

Download now for a free trial to access coverage of breaking global news, business, finance and politics, corporate shares information and everything else that makes the Wall Street Journal essential daily reading for world leaders and daily readers alike.

Key Features for Apple Watch:
- The breaking news stories you need to know immediately, instantly available on your watch screen, with the ability to save and read later on your iPhone or iPad.

You can now get the WSJ's award-winning journalism for $32.99 per month and receive unlimited digital access on your iPad, iPhone and WSJ Online.

Your subscription will renew automatically each month and payment will be charged to your iTunes Account within 24-hours prior to the end of the current period. You can turn off auto-renewal by going to your Account Settings after purchase. All cancellations will take effect at the end of the current period.

For more information visit: http://www.wsj.com
Follow us on: https://www.youtube.com/user/WSJDigitalNetwork?hl=en-GB&gl=GB
https://www.facebook.com/wsj
https://twitter.com/WSJ
https://plus.google.com/+wsj/posts
Nouveautés de la version 8.2.1
Thank you for updating your app. In our 8.2.1 release, we have fixed a few bugs in the Saved Articles section and improved the way the app updates with new content.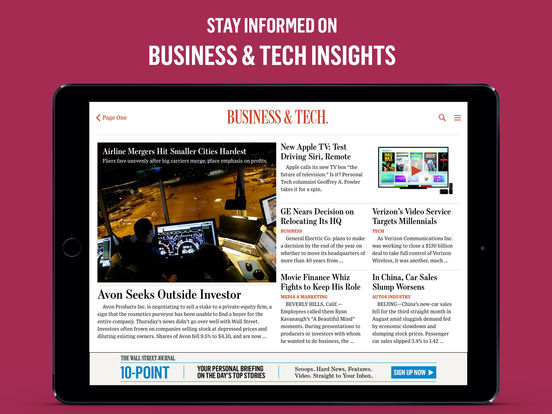 Avis des utilisateurs
Couldn't do without !
Best News App that I know
Afficher sur iTunes
Cette app a été conçue pour iPhone et iPad.
Inclut l'app Apple Watch pour iPhone
Gratuit

Catégorie:

Actualités

Mise à jour :

16 nov. 2016

Version :

8.2.1

Taille :

83.0 Mo

Apple Watch :

Oui

Langue :

Anglais

Éditeur :

Dow Jones & Company, Inc., publisher of The Wall Street Journal.
Compatibilité : Nécessite iOS 8.0 ou une version ultérieure. Compatible avec l'iPhone, l'iPad et l'iPod touch.
Classement des achats intégrés
The Wall Street Journal Europe22,99 €
The Wall Street Journal22,99 €
The Wall Street Journal32,99 €
The Wall Street Journal32,99 €
The Wall Street Journal Asia22,99 €
The Wall Street Journal32,99 €
The Wall Street Journal Mobile12,99 €
The Wall Street Journal 日本22,99 €
Apps de : Dow Jones & Company, Inc., publisher of The Wall Street Journal.