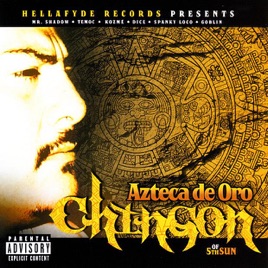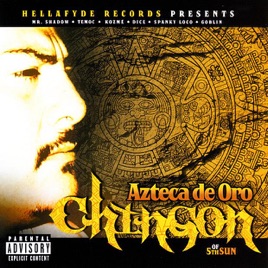 | | TITLE | TIME |
| --- | --- | --- |
| | | 1:22 |
| | | 4:05 |
| | | 3:45 |
| | Chingon & Kozme | 3:38 |
| | Chingon & Spanky Loco | 4:05 |
| | | 4:02 |
| | | 3:57 |
| | Chingon, Dice & Mr. Shadow | 4:13 |
| | Chingon & Temoc | 4:20 |
| | Chingon & Temoc | 4:01 |
| | Chingon & Temoc | 4:03 |
| | | 3:53 |
| | | 3:48 |
| | Chingon & Temoc | 3:59 |
| | | 4:09 |
| | Chingon & Goblin | 4:06 |
| | | 4:01 |
17 Songs

℗ 2006 Aries Music Entertainment Inc
About Chingon
Chingón is the musical collective created by film director and composer Robert Rodriguez as he sought to cinematically fuse the imagery of Mexican culture and its music with the evocative sounds and visions of the iconic Italian spaghetti westerns. Using electric mariachi sounds, surf music, and stripped-down, gritty garage rock, he created a band to score his films.

Rodriguez assembled an all-star musical cast for Chingón, which includes drummer Rafael Gayol (Charlie Sexton Sextet, Bob Schneider) and guitarists Rick and Mark Del Castillo from the Austin band Del Castillo. Occasional members and featured guests in the unit include Tito Larriva (Plugz, Cruzados, Tito & the Tarantulas), Brian Ramos of the electro-cumbia act Master Blaster Sound System, vocalist Patricia Vonne, and even actress/vocalist Salma Hayek. Rodriguez composes and arranges the material, sings, and co-produces with Carl Thiel.

Chingón's debut release was the digital-only Mexican Spaghetti Western in 2010. The band also provided music for the soundtracks for Rodriguez's films, 2011's Machete and 2013's Machete Kills. In 2013, Mexican Spaghetti Western was re-released digitally and included four bonus tracks from Machete. It marked the beginning of a new chapter in Rodriguez's D.I.Y. aesthetic that eschewed the traditional record label system. It was the inaugural release from his Rocket Racing Rebels Publishing LP Company, the exclusive home of future Chingón releases and his film soundtracks.
ORIGIN

Austin, Texas

FORMED

2010