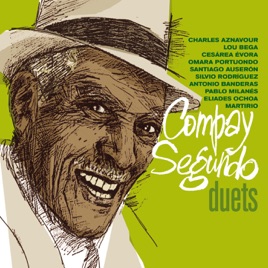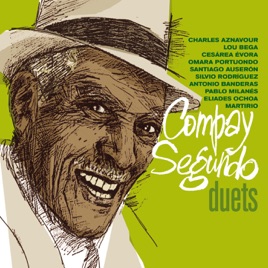 TITLE
TIME

Saludo a Chango (con Cheb Khaled)

Fidelidad (con Silvío Rodriguez)

Lágrimas Negras (con Cesarea Evora)

Víejos Soñés de Santiago (Popurrí) (con Duo Evocación)

Vírgen del Pino (con Santiago Auseron)

La Juma de Ayer (con Pio Leyva)

Baby Keep Smiling (con Lou Bega)

Frutas del Caney (con Felix Valoy)

Morir de Amor (Mourir D'aimer) (con Charles Aznavour)

Linda Graciela (con Basílío Repilado)

La Pluma (con Omara Portuondo)

Juliancito Tu Novía Te Boto (con Martirío y Raimundo Amador)

Beautiful María of My Soul (Bella María de Mi Alma) (Mambo All-Stars Featuring Antonio Banderas & Compay Segundo) (LP Versión)

Mambo All-Stars featuring Antonio Banderas & Compay Segundo

Tente en Pie (con los Compadres)
16 Songs, 1 Hour 1 Minute
Released:

22 Jan 2002

℗ 2002 Dro East West, S.A.
About Compay Segundo
Legendary Cuban guitarist Compay Segundo was born in 1907; collaborating with the likes of Sindo Garay, Miguel Matamoros and Benny Moré, he emerged as one of the most respected musicians of the pre-revolution era, and in the late '20s invented the armónico, a guitar customized with a double third string to fuse the tonal qualities of the traditional Cuban tres guitar and its Spanish counterpart. Following Fidel Castro's rise to power, Segundo worked as a cigar roller before returning to music during the late '80s; in his early nineties he attracted worldwide attention in 1998 for his contributions to Ry Cooder's wildly successful Buena Vista Social Club album, issuing the solo Calle Salud the following year. Buena Vista Connection was issued in fall 2000. Flores de la Vida followed later that same year; Trova Cubana surfaced in early 2001. The torrent of releases, both new and reissues of classic pre-fame Segundo sessions, continued throughout 2001 with Yo Vengo Aqui, Que Lio Compay Andres and into 2002 with Yo Soy del Monte and Dos Leyendas de Cuba. On July 13 of the following year Compay Segundo died of kidney failure at his home in Havana. ~ Jason Ankeny
HOMETOWN

Siboney, Cuba

GENRE

BORN

1907
Millions of songs.
Zero ads.
New subscribers only. Plan automatically renews after trial.