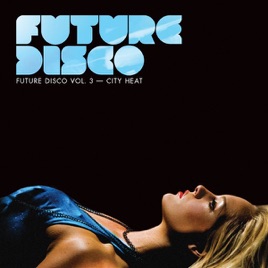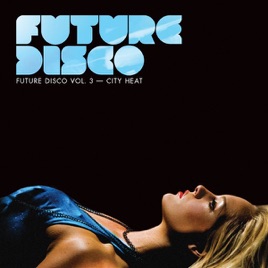 Future Disco, Vol. 3 - City Heat
Various Artists
TITLE
TIME

Macaque

Drop Out Orchestra

7:17

Baby Can't Stop

Lindstrom & Christabelle

6:06

The Deep End (Holy Ghost! Day School Dub)

Curses!

8:17

Just Be Good to Me (Ron Basejam Remix) [feat. Danielle Moore]

The Revenge

6:39

Call Me Tonight (Greg Wilson Version)

Ilija Rudman

8:16

Never Gonna Reach Me (Hot Toddy Remix)

Crazy P

9:09

The Fear (Beg to Differ Remix) [feat. Kathy Diamond]

Nick Chacona

7:03
5:45

Feverish (The Revenge Remix)

Chamboché

7:14

Jam Hot (Tensnake Remix)

Johnny Dynell

7:52

Throw Up (Brontosaurus Remix)

Moscow

10:29

Carlos the Jackal

Bonar Bradberry

6:00

Sat Jam (Ray Mang Remix)

Sean Brosnan

7:52

Look Into My Eyes

Ray Mang

7:47
3:17

Mandass Morran Blus

Magnus International

4:43

Future Disco, Vol. 3 - City Heat (Continuous Mix)

1:13:07
17 Songs, 3 Hours, 6 Minutes

℗ 2010 Needwant
Ratings and Reviews
City Heat Vol. 3
This new album from the future disco saga has yet again pushed the boundaries to funky beats and addictive base lines. The mix of old and new styles and sounds prove justifying to any music head. City Heat defiantly ignores the trend to be just the same and so makes anyone want to get up and dance. This is my album of the summer, a pure genius production of rough and smooth classics to see me through the hot nights.
Groovy tunes
Love this album! Yet again Future Disco has released a selection of perfect tunes for groovin on the dancefloor.
the perfect hat trick
the last two compilations probably get more repeat plays on my ipod than any other dance comps i've bought in the last year or so - rockin enough to get the party started, but still managing to be chilled and classy enough to have on in the background when you've got guest round - so when i heard the third one was coming out, relatively soon after the 2nd one, my concern was the quality control might have dipped a bit. any concerns went out the window after the first two tracks. more of what you've come to expect, but somehow a bit deeper and more satisfying - i can see this one turning into my favourite of the three. a bit housier than the first two on the whole, but the disco vibes are still strong. perfect summer tunes for rocking the barbie. thanks future disco, looking forward to volume 4.