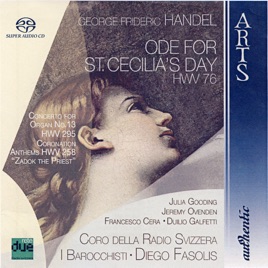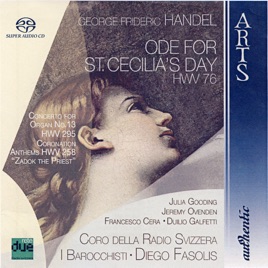 TITLE
TIME

Ode for St. Cecilia's Day HWV 76: Overture

Diego Fasolis, I Barocchisti, Jeremy Ovenden & Julia Gooding

Ode for St. Cecilia's Day HWV 76: I. from Harmony, Recitativo

Diego Fasolis, I Barocchisti, Jeremy Ovenden & Julia Gooding

Ode for St. Cecilia's Day HWV 76: II. from Harmony,

Diego Fasolis, I Barocchisti, Jeremy Ovenden & Julia Gooding

Ode for St. Cecilia's Day HWV 76: III. What Passion Cannot Music Raise

Diego Fasolis, I Barocchisti, Jeremy Ovenden & Julia Gooding

Ode for St. Cecilia's Day HWV 76: IV. the Trumpet's Loud Clangour

Diego Fasolis, I Barocchisti, Jeremy Ovenden & Julia Gooding

Ode for St. Cecilia's Day HWV 76: V. March

Diego Fasolis, I Barocchisti, Jeremy Ovenden & Julia Gooding

Ode for St. Cecilia's Day HWV 76: VI. the Soft Complaining Flute

Diego Fasolis, I Barocchisti, Jeremy Ovenden & Julia Gooding

Ode for St. Cecilia's Day HWV 76: VII. Sharp Violins Proclaim

Diego Fasolis, I Barocchisti, Jeremy Ovenden & Julia Gooding

Ode for St. Cecilia's Day HWV 76: VIII. But Oh! What Art Can Teach

Diego Fasolis, I Barocchisti, Jeremy Ovenden & Julia Gooding

Ode for St. Cecilia's Day HWV 76: IX. Orpheus Could Lead the Savage Race

Diego Fasolis, I Barocchisti, Jeremy Ovenden & Julia Gooding

Ode for St. Cecilia's Day HWV 76: X. Buty Bright Cecilia

Diego Fasolis, I Barocchisti, Jeremy Ovenden & Julia Gooding

Ode for St. Cecilia's Day HWV 76: XI. As from the Power of Sacred Lays

Diego Fasolis, I Barocchisti, Jeremy Ovenden & Julia Gooding

Concerto for Organ No. 13 HWV 295: Larghetto

Diego Fasolis, I Barocchisti & Francesco Cera

Concerto for Organ No. 13 HWV 295: Allegro

Diego Fasolis, I Barocchisti & Francesco Cera

Concerto for Organ No. 13 HWV 295: Larghetto

Diego Fasolis, I Barocchisti & Francesco Cera

Concerto for Organ No. 13 HWV 295: Allegro

Diego Fasolis, I Barocchisti & Francesco Cera

Coronation Anthems HWV 258 "Zadok the Priest"

Gooding/Ovenden/Cara/Galfetti, Diego Fasolis & I Barocchisti
17 Songs, 1 Hour 1 Minute
Released:

1 Sep 2008

℗ 2008 Arts Music
About Julia Gooding
Julia Gooding is a British soprano with an established international reputation, particularly in the field of Baroque and Classical opera. She studied with Johanna Peters at the Guildhall School of Music and Drama in London. Since school, she has traveled extensively throughout Britain and Europe, and appeared in Canada, the U.S., Mexico, and Japan.

She is best known as a concert and oratorio singer. As such, she has appeared in such locations and festivals as London (including Wigmore Hall and the South Bank Festival), Aldeburgh, Belfast, the National Arts Centre in Ottawa, Frankfurt, the Innsbruck Festival, Paris, Istanbul, Prague, Warsaw, Amsterdam, New York, San Francisco, Glasgow, La Monnaie in Brussels, and Metz.

Gooding's concert repertory includes Handel's Jephtha, the Monteverdi Vespers, cantatas of Alessandro Scarlatti, Bach's St. Matthew Passion, Purcell's King Arthur and The Tempest, Mozart's "Coronation" Mass, Handel's Judas Maccabaeus, Mozart's Requiem, Purcell's Odes for Queen Mary, Haydn's "Nelson" Mass, Handel's Theodora, Bononcini's La gara delle quattro stagioni, Bach's Magnificat, Vivaldi's Dixit Dominus, cantatas of William Boyce, John Taverner's Sappho, and Handel and Bach cantatas. She is known for a special interest in the music of Linley, and has recorded two discs of his works.

Gooding does not confine herself to Baroque and Classical repertory: she has been acclaimed for programs of French medieval music and recorded a set of Songs for Shakespeare's Company on the Hyperion label, and sang in concert Brahms' German Requiem, Ralph Vaughan Williams' Hugh the Drover, and Richard Strauss' Four Last Songs.

She is also active in early opera performance. Roles include Romilda in Handel's Xerxes, Cupid in Blow's Venus and Adonis, Salome in Stradella's San Giovanni Battista, the title role in Handel's Atalanta, Poppea in Monteverdi's L'incoronazione di Poppea, the parts of Minerve, Giunone, and Amore in Monteverdi's Il ritorno d'Ulisse in patria, Dido in Purcell's Dido and Aeneas, Agilea in Handel's Teseo.

Artists and organizations with which Gooding has worked include the Opéra-Comique of Paris, Opernhaus Halle, Jean-Claude Malgoire, Trevor Pinnock, Gustav Leonhardt, the RIAS-Kammerchor, Charles Mackerras and the English Chamber Orchestra, Florilegium, the Waynflete Singers, London Baroque, the Netherlands Bach Society, the Parley of Instruments, the Gabrieli Consort, Nicholas McGegan and the Philharmonia Baroque, the Orchestra of the Age of Enlightenment, and the Academy of Ancient Music.

She has recorded for Erato, Virgin Classics, L'oiseau-Lyre, Harmonia Mundi, Deutsche Grammophon, and Hyperion.
Millions of songs.
Zero ads.
New subscribers only. Plan automatically renews after trial.