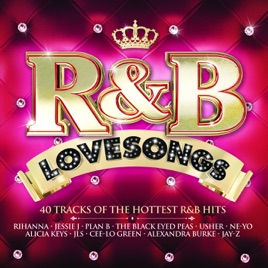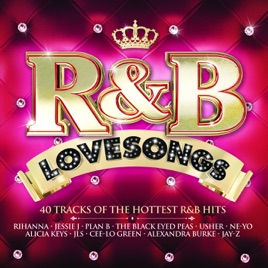 R&B Love Songs 2011
Various Artists
TITLE
TIME
PRICE

What's My Name? (feat. Drake)

Drake & Rihanna

4:04
£0.99

Plan B

3:49
£0.99

Nicki Minaj

3:19
£0.99

Usher

4:41
£0.99

Ne-Yo

3:43
£0.99

Cheryl Cole

3:55
£0.99

Alicia Keys

4:08
£0.99

Alesha Dixon

3:45
£0.99

Nelly

3:36
£0.99

Got Your Back (feat. Keri Hilson)

T.I.

4:24
£0.99

Deuces (feat. Kevin McCall Jr. & Tyga)

Kevin McCall Jr., Tyga & Chris Brown

4:36
£0.99

JLS

3:15
Album Only

Runaway (feat. Yasmin) [Radio Edit]

Devlin & Yasmin

3:27
£0.99

Donae'o

3:51
£0.99

Jennifer Hudson

3:35
£0.99

Excuse Me Miss (Radio Edit)

JAY Z

4:18
£0.99

My Angel (Never Leave You) [Clean Album Edit]

Bobby

3:50
£0.99

N.E.R.D

3:50
£0.99

Mr.D

4:08
£0.99

R. Kelly

5:12
£0.99

The Black Eyed Peas

5:08
£0.99

Do It Like a Dude (Edited Version)

Jessie J

3:13
£0.99

Poison (Guy Furious Monster Uptempo Remix)

Nicole Scherzinger

3:31
£0.99

CeeLo Green

3:45
£0.99

N-Dubz

2:51
£0.99

Start Without You (feat. Alexandra Burke)

Alexandra Burke & Laza Morgan

3:32
£0.99

Labrinth

2:58
£0.99

Airplanes (feat. Hayley Williams)

B.o.B & Hayley Williams

2:59
£0.99

Second Chance (feat. Taio Cruz)

Tinchy Stryder & Taio Cruz

3:27
£0.99

Now or Never (feat. Wiley)

Wiley & Jodie Connor

3:42
£0.99

Perfect Nightmare (UK Edit)

Shontelle

2:56
£0.99

Up Out My Face (feat. Nicki Minaj)

Mariah Carey & Nicki Minaj

4:23
£0.99

Jazmine Sullivan

4:23
£0.99

Soulja Boy Tell 'Em

3:19
£0.99

Cross My Heart (feat. Preeya Kalidas) [Radio Edit]

Preeya Kalidas & Skepta

2:53
£0.99

All I Want Is You (feat. J Cole)

Miguel & J. Cole

4:57
£0.99

Drake

3:25
£0.99

Wyen Solo

3:22
£0.99

I Invented Sex (feat. Drake)

Drake & Trey Songz

4:07
£0.99

Brian McKnight

4:05
£0.99
40 Songs

℗ 2011 Universal Music TV, a division of Universal Music Operations Ltd. / Sony Music Entertainment UK Limited / Rhino UK, a division of Warner Music UK Ltd.
Customer Reviews
R&B Love Songs 2011
Having previewed all 40 songs , its got to be top of the shopping list, so many different songs & artists to suit all tastes & listening moods to put you in the MOOD for LUV
Errrm...
Can I just point out most of these songs are not about love. For example Nicole shresinger poison that is not about love. It's kinda the opposite kk all are gr8 tunes but ya know...