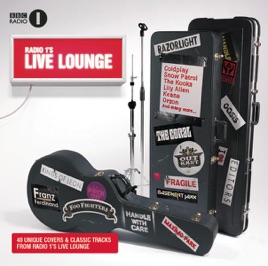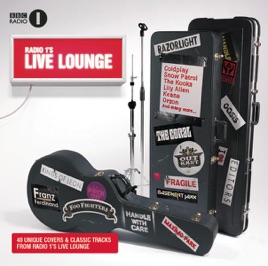 Radio 1's Live Lounge
Various Artists
TITLE
TIME
PRICE

Foo Fighters

4:00
Album Only

Arctic Monkeys

3:19
Album Only

Snow Patrol

3:51
Album Only

The Kooks

2:49
Album Only

Razorlight

3:57
Album Only

Corinne Bailey Rae

3:55
Album Only

The Automatic Automatic

3:14
Album Only

Editors

3:23
Album Only

Boy Kill Boy

3:40
Album Only

Queens of the Stone Age

4:27
Album Only

Embrace

3:05
Album Only

If There's Any Justice (Live)

James Blunt

3:13
Album Only

Natasha Bedingfield

4:28
Album Only

Kings of Leon

2:15
Album Only

Jamie Callum

5:35
Album Only

Living for the Weekend (Live)

Sugababes

3:24
Album Only

I Believe In a Thing Called Love (Live)

Lemar

3:31
Album Only

Will Young

4:46
Album Only

Hard-FI

3:26
Album Only

Oasis

2:07
Album Only

Coldplay

5:01
Album Only

Lily Allen

3:17
Album Only

With or Without You (Live)

Keane

3:18
Album Only

Other Side of the World (Live)

KT Tunstall

3:26
Album Only

What You Waiting For? (Live)

Franz Ferdinand

3:23
Album Only

P!nk

4:49
Album Only

Outkast

4:52
Album Only

The Futureheads

2:56
Album Only

Jamelia

3:13
Album Only

Dizzee Rascal

3:40
Album Only

Nice Weather for Ducks (Live)

Lemon Jelly

3:58
Album Only

Mylo

5:47
Album Only

My Chemical Romance

2:01
Album Only

The Coral

2:25
Album Only

Maxïmo Park

3:39
Album Only

The Bravery

3:09
Album Only

Let's Push Things Foward (Live)

The Streets

4:05
Album Only

Basement Jaxx

3:09
Album Only

Orson

2:29
Album Only

50 Cent

2:51
Album Only
40 Songs

℗ This compilation 2006 BBC Worldwide Limited under exclusive licence to SONY BMG MUSIC ENTERTAINMENT (UK) Limited.
Customer Reviews
A Good Set
I like the set of songs here,especially basement jaxx romeo, and lemars version of 'i believe in a thing called love.'
Damn
Well, I'm extremely annoyed because there's only one song I like and ironically its one of the few that you can't buy seperately. I really want My Chemical Romance's version of Song 2 but I really don't want to have to pay £7.99 for it.