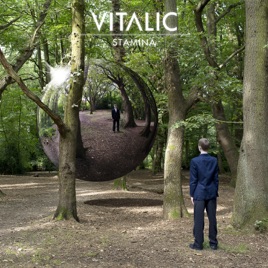 | | TITLE | | TIME |
| --- | --- | --- | --- |
| | | | |
| | Stamina (Club Cheval Remix) | | |
| | Stamina (Le Castle Vania Remix) | | |
3 Songs, 13 Minutes
Released:

29 Oct 2012

℗ 2012 Citizen Records. Released under exclusive license by Different Recordings. Different Recordings is a label of the [PIAS] Entertainment Group.
About Vitalic
Vitalic is the alter ego of Pascal Arbez, a French programmer/multi-instrumentalist who blends electro, techno, and house -- as well as elements of classical, rock, Italo-disco, and '70s electronic music -- into a sound that recalls the work of fellow countrymen Daft Punk and Air, but has its own hard-edged playfulness. Arbez played trombone as a child and young adult, but became fascinated with dance music when he heard Daft Punk in the mid-'90s. Inspired by them as well as Giorgio Moroder, Arbez switched to analog synths and began writing and recording as Dima. He released his first 12" in 1996 on Citizen Records, a label started by Arbez and like-minded friends. Arbez used the Dima moniker (as well as the alias Hustler Pornstar) until 2000, when he switched to the name Vitalic.

After sending a demo to International Deejay Gigolo, the label released Vitalic's Poney EP in 2001. The EP's expansive yet hard-hitting sound made its three tracks staples in sets by DJs as varied as Aphex Twin, Princess Superstar, and 2 Many DJ's. However, despite some collaborations and remixes, Arbez took a while to release any new Vitalic material. The Fanfares EP arrived late in 2004, signaling a heavier, less atmospheric bent to Arbez's work than the Poney EP; spring 2005 saw the release of the single My Friend Dario, by far the poppiest Vitalic track yet.

Most of Vitalic's key singles and tracks were collected on the long-awaited debut album OK Cowboy (the title of which alluded to Vitalic's maverick stance and Arbez's preference to live in the French countryside), which arrived in Europe later that spring and was released in the U.S. that summer. Early in 2007, the mix album The Sound of Citizen -- which included tracks by Arbez's inspirations as well as artists on the Citizen roster -- was released. Late that year, V Live arrived. Disco was a strong influence on 2009's Disco Terminateur EP and the single "Your Disco Song," both of which arrived before his second full-length, Flashmob, appeared that fall. For 2012's Rave Age, Arbez collaborated with members of Shitdisco, Sexy Sushi, and Stephane "Alf" Briat, whose mixing contributed to the album's more streamlined direction. Arbez returned with new music in 2016 with the Film Noir EP, a pair of '90s German techno-inspired tracks released on Correspondant Records. For 2017's full-length Voyager, Arbez drew on the classic sounds of Cerrone and Giorgio Moroder and collaborated with Mark Kerr and Miss Kittin. ~ Heather Phares
GENRE

BORN

1976
Millions of songs.
Zero ads.
New subscribers only. Plan automatically renews after trial.