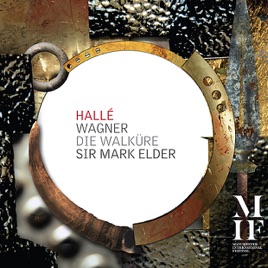 TITLE
TIME

Hallé Orchestra & Sir Mark Elder

Die Walküre, Act I Scene I: "Was Herd dies auch sei" (Siegmund)

Hallé Orchestra & Sir Mark Elder

Die Walküre, Act I Scene I: "Kühlende Labung gab mir der Quell!" (Siegmund)

Hallé Orchestra & Sir Mark Elder

Die Walküre, Act I Scene I: "Einen Unseligen labtest du" (Siegmund)

Hallé Orchestra, Sir Mark Elder & Yvonne Howard

Die Walküre, Act I Scene II: "Müd am Herd fand ich den Mann" (Sieglinde)

Hallé Orchestra, Sir Mark Elder, Yvonne Howard & Clive Bayley

Die Walküre, Act I Scene II: "Friedmund darf ich nicht heissen" (Siegmund)

Hallé Orchestra, Sir Mark Elder & Stig Andersen

Die Walküre, Act I Scene II: "Wunder und wilde Märe" (Hunding)

Hallé Orchestra, Sir Mark Elder, Clive Bayley, Stig Andersen & Yvonne Howard

Die Walküre, Act I Scene II: "Die so leidig Los dir beschied" (Hunding)

Hallé Orchestra, Sir Mark Elder, Clive Bayley, Stig Andersen & Yvonne Howard

Die Walküre, Act I Scene II: "Ich weiss ein wildes Geschlecht" (Hunding)

Hallé Orchestra, Sir Mark Elder & Clive Bayley

Die Walküre, Act I Scene III: "Ein Schwert verhiess mir der Vater" (Siegmund)

Hallé Orchestra, Sir Mark Elder & Stig Andersen

Die Walküre, Act I Scene III: "Schläfst du, Gast?" (Sieglinde)

Hallé Orchestra, Sir Mark Elder, Stig Andersen & Yvonne Howard

Die Walküre, Act I Scene III: "Dich selige Frau" (Siegmund)

Hallé Orchestra, Sir Mark Elder, Stig Andersen & Yvonne Howard

Die Walküre, Act I Scene III: "Winterstürme wichen dem Wonnemond" (Siegmund)

Hallé Orchestra, Sir Mark Elder & Stig Andersen

Die Walküre, Act I Scene III: "Du bist der Lenz" (Sieglinde)

Hallé Orchestra, Sir Mark Elder & Yvonne Howard

Die Walküre, Act I Scene III: "O süsseste Wonne!" (Siegmund)

Hallé Orchestra, Sir Mark Elder, Stig Andersen & Yvonne Howard

Die Walküre, Act I Scene III: "Wehwalt heisst du fürwahr?" (Sieglinde)

Hallé Orchestra, Sir Mark Elder, Stig Andersen & Yvonne Howard

Die Walküre, Act I Scene III: "Siegmund heiss' ich" (Siegmund)

Hallé Orchestra & Sir Mark Elder

Die Walküre, Act II: Prelude

Hallé Orchestra & Sir Mark Elder

Die Walküre, Act II Scene I: "Nun zäume dein Ross" (Wotan)

Hallé Orchestra, Sir Mark Elder & Egils Silins

Die Walküre, Act II Scene I: "Der alte Sturm, die alte Müh'!" (Wotan)

Hallé Orchestra, Sir Mark Elder, Egils Silins & Susan Bickley

Die Walküre, Act II Scene I: "Heut' hast du 's erlebt!" (Wotan)

Hallé Orchestra, Sir Mark Elder, Egils Silins & Susan Bickley

Die Walküre, Act II Scene I: "Nichts lerntest du" (Wotan)

Hallé Orchestra, Sir Mark Elder, Egils Silins & Susan Bickley

Die Walküre, Act II Scene I: "Was verlangst du?" (Wotan)

Hallé Orchestra, Sir Mark Elder, Egils Silins, Susan Bickley & Susan Bullock

Die Walküre, Act II Scene I: "Deiner ew'gen Gattin" (Fricka)

Hallé Orchestra, Sir Mark Elder, Egils Silins & Susan Bickley

Die Walküre, Act II Scene II: "Schlimm, fürcht' ich" (Brünnhilde)

Hallé Orchestra, Sir Mark Elder & Susan Bullock

Die Walküre, Act II Scene II: "Als junger Liebe Lust mir verblich" (Wotan)

Hallé Orchestra, Sir Mark Elder, Egils Silins & Susan Bullock

Die Walküre, Act II Scene II: "Ein andres ist's: achte es wohl" (Wotan)

Hallé Orchestra, Sir Mark Elder, Egils Silins & Susan Bullock

Die Walküre, Act II Scene II: "So nimmst du von Siegmund den Sieg?" (Brünnhilde)

Hallé Orchestra, Sir Mark Elder, Egils Silins & Susan Bullock

Die Walküre, Act II Scene II: "O sag', künde! was soll nun dein Kind?" (Brünnhilde)

Hallé Orchestra, Sir Mark Elder, Egils Silins & Susan Bullock

Die Walküre, Act II Scene II: "So sah ich Siegvater nie" (Brünnhilde)

Hallé Orchestra, Sir Mark Elder, Stig Andersen & Yvonne Howard

Die Walküre, Act II Scene III: "Raste nun hier, gönne die Ruh'!" (Siegmund)

Hallé Orchestra, Sir Mark Elder, Stig Andersen & Yvonne Howard

Die Walküre, Act II Scene III: "Hinweg! Hinweg! Flieh' die Entweihte!" (Sieglinde)

Hallé Orchestra, Sir Mark Elder, Stig Andersen & Yvonne Howard

Die Walküre, Act II Scene III: "Wo bist du, Siegmund?" (Sieglinde)

Hallé Orchestra, Sir Mark Elder, Stig Andersen & Yvonne Howard

Die Walküre, Act II Scene IV: "Siegmund! Sieh auf mich!" (Brünnhilde)

Hallé Orchestra, Sir Mark Elder, Susan Bullock & Stig Andersen

Die Walküre, Act II Scene IV: "Der dir nun folgt, wohin führst du den Helden?" (Siegmund)

Hallé Orchestra, Sir Mark Elder, Susan Bullock & Stig Andersen

Die Walküre, Act II Scene IV: "Du sahest der Walküre sehrenden Blick" (Brünnhilde)

Hallé Orchestra, Sir Mark Elder, Susan Bullock & Stig Andersen

Die Walküre, Act II Scene IV: "Weh! Weh! Süssestes Weib!" (Siegmund)

Hallé Orchestra, Sir Mark Elder, Susan Bullock & Stig Andersen

Die Walküre, Act II Scene IV: "So jung und schön erschimmerst du mir" (Siegmund)

Hallé Orchestra, Sir Mark Elder, Susan Bullock & Stig Andersen

Die Walküre, Act II Scene V: "Zauberfest bezähmt ein Schlaf" (Siegmund)

Hallé Orchestra, Sir Mark Elder & Stig Andersen

Die Walküre, Act II Scene V: "Der dort mich ruft" (Siegmund)

Hallé Orchestra, Sir Mark Elder, Stig Andersen & Yvonne Howard

Die Walküre, Act II Scene V: "Wehwalt! Wehwalt!" (Hunding)

Hallé Orchestra, Sir Mark Elder, Clive Bayley, Stig Andersen, Yvonne Howard, Susan Bullock & Egils Silins

Die Walküre, Act II Scene V: "Geh'hin, Knecht! Knie vor Fricka" (Wotan)

Hallé Orchestra, Sir Mark Elder & Egils Silins

Die Walküre, Act III Scene I, Prelude: "Hojotoho! Hojotoho!" (Gerhilde)

Hallé Orchestra, Sir Mark Elder, Katherine Broderick, Alison Kettlewell, Linda Finnie, Sarah Castle, Ceri Williams, Elaine McKrill & Leah-Marian Jones

Die Walküre, Act III Scene I: "Schützt mich und helft in höchster Not!" (Brünnhilde)

Hallé Orchestra, Sir Mark Elder, Susan Bullock, Katherine Broderick, Alison Kettlewell, Linda Finnie, Sarah Castle, Ceri Williams, Elaine McKrill & Leah-Marian Jones

Die Walküre, Act III Scene I: "Nicht sehre dich Sorge um mich" (Sieglinde)

Hallé Orchestra, Sir Mark Elder, Susan Bullock, Katherine Broderick, Alison Kettlewell, Linda Finnie, Sarah Castle, Elaine McKrill & Leah-Marian Jones

Die Walküre, Act III Scene I: "So fliehe denn eilig und fliehe allein!" (Brünnhilde)

Hallé Orchestra, Sir Mark Elder, Egils Silins, Susan Bullock, Katherine Broderick, Alison Kettlewell, Linda Finnie, Sarah Castle, Ceri Williams, Elaine McKrill & Leah-Marian Jones

Die Walküre, Act III Scene II: "Wo ist Brünnhild', wo die Verbrecherin?" (Wotan)

Hallé Orchestra, Sir Mark Elder, Egils Silins, Susan Bullock, Katherine Broderick, Alison Kettlewell, Linda Finnie, Sarah Castle, Ceri Williams, Elaine McKrill & Leah-Marian Jones

Die Walküre, Act III Scene II: "Hier bin ich, Vater: gebiete die Strafe!" (Brünnhilde)

Hallé Orchestra, Sir Mark Elder, Susan Bullock, Katherine Broderick, Alison Kettlewell, Linda Finnie, Sarah Castle, Ceri Williams, Elaine McKrill & Leah-Marian Jones

Die Walküre, Act III Scene II: "Halt' ein, o Vater!" (The Valkyries)

Hallé Orchestra, Sir Mark Elder, Egils Silins, Susan Bullock, Katherine Broderick, Alison Kettlewell, Linda Finnie, Sarah Castle, Ceri Williams, Elaine McKrill & Leah-Marian Jones

Die Walküre, Act III Scene III: Interlude

Hallé Orchestra & Sir Mark Elder

Die Walküre, Act III Scene III: "War es so schmählich, was ich verbrach (Brünnhilde)

Hallé Orchestra, Sir Mark Elder, Susan Bullock & Egils Silins

Die Walküre, Act III Scene III: "Nicht weise bin ich" (Brünnhilde)

Hallé Orchestra, Sir Mark Elder, Susan Bullock & Egils Silins

Die Walküre, Act III Scene III: "So tatest du, was so gern zu tun ich begehrt" (Wotan)

Hallé Orchestra, Sir Mark Elder & Egils Silins

Die Walküre, Act III Scene III: "Wohl taugte dir nicht die tör'ge Maid" (Brünnhilde)

Hallé Orchestra, Sir Mark Elder & Susan Bullock

Die Walküre, Act III Scene III: "Du folgtest selig der Liebe Macht" (Wotan)

Hallé Orchestra, Sir Mark Elder, Susan Bullock & Egils Silis

Die Walküre, Act III Scene III: "Du zeugest ein edles Geschlecht" (Brünnhilde)

Sir Mark Elder & Hallé Orchestra

Die Walküre, Act III Scene III: "In festen Schlaf verschliess' ich dich" (Wotan)

Hallé Orchestra, Sir Mark Elder, Susan Bullock & Egils Silins

Die Walküre, Act III Scene III: "Leb' wohl, du kühnes, herrliches Kind!" (Wotan)

Hallé Orchestra, Sir Mark Elder & Egils Silins

Die Walküre, Act III Scene III: "Der Augen leuchtendes Paar" (Wotan)

Hallé Orchestra, Sir Mark Elder & Egils Silins

Die Walküre, Act III Scene III: "Loge, hör'! Lausche hieher!" (Wotan)

Hallé Orchestra, Sir Mark Elder & Egils Silins

Die Walküre, Act III Scene III: "Wer meines Speeres Spitze fürchtet" (Wotan)

Hallé Orchestra, Sir Mark Elder & Egils Silins
61 Songs, 4 Hours 7 Minutes
Released:

14 May 2012

℗ 2012 Hallé Concerts Society
About Hallé Orchestra
One of the oldest of all of Britain's venerable orchestral ensembles, the Hallé Orchestra of Manchester was formed in 1857 by Charles Hallé, a German conductor and pianist. Hallé was hired to conduct a large orchestra in daily concerts for five months during an art exposition. Hallé found he could not bear to break up the fine orchestra thus created and, at his own financial risk, established the Hallé Concerts on January 30, 1858.

The orchestra played 30 concerts a year, becoming known for high standards and a wide repertory, but eventually it became enmeshed in the great clash between pro-German and anti-German sentiments that marked the British musical scene at the end of the 19th century. After Hallé's death in 1895, three Manchester businessmen put up a financial guarantee to sustain the orchestra. They engaged Hans Richter as conductor, but also hired Frederic Cowen as interim conductor. When Richter finally arrived in October 1899, this aroused the anger of Cowen's supporters, who opposed Richter and his heavily Germanic programming. They remained unhappy when another German, Michael Balling, took over on Richter's departure in 1911.

World War I left he orchestra without a permanent conductor until 1920, when British conductor Hamilton Harty was appointed.

Malcolm Sargent was appointed conductor in 1939, but the outbreak of World War II prevented him from actually taking over. Meanwhile, in 1934 a deal had been struck to supply musicians for a new BBC Northern Orchestra, a studio ensemble.

British conductor John Barbirolli, finding New York uncongenial, returned home as conductor. Somehow, despite wartime scarcity and his own long absence, Barbirolli found 30 fresh players and drilled the orchestra to its highest level yet. He remained at the helm for 25 years, semi-retiring as conductor laureate for life in 1968.

His successor, James Loughran, maintained the ensemble's standards, but did not have the international star appeal of Barbirolli. Loughran was succeeded by Stanislaw Skrowaczewski and, in 1991, by American conductor Kent Nagano.

At the end of the 20th century, the Hallé had once again had competition from its old rival. In 1973 the BBCNO started playing public concerts, and in 1980 it was renamed the BBC Philharmonic and enlarged to full orchestra size. Both orchestras share quarters in Manchester's new Bridgewater Hall. In 1998, the accounting firm KPMG reported to the Hallé board that chaotic management, huge debts, and an operating loss of 600,000 pounds in the prior financial year threatened the immediate demise of the orchestra. But its four biggest sponsors and another 11 corporations, called the Hallé Family, came to the Hallé's financial rescue.

Nagano improved the quality and international recognition of the orchestra, which received a Grammy award for its recording of John Adams' El Dorado. However, Nagano's contract was not renewed after its expiration in the summer of 2000. Mark Elder was selected as the next music director.
GENRE

FORMED

1858
Millions of songs.
Zero ads.
New subscribers only. Plan automatically renews after trial.