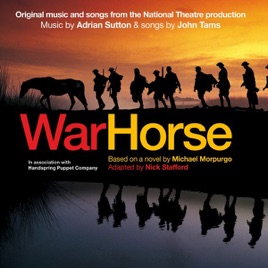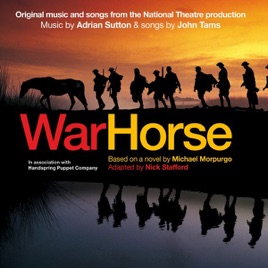 War Horse
Various Artists
TITLE
TIME

A. Sutton

2:13

Sankey Arr. J. Tams & H. Brough

1:51

A. Sutton

2:57

The Year Turns Round Again

J. Tams Arr. A. Sutton & T. Van Eyken

2:55

A. Sutton

1:19

J. Tams Arr. T. Van Eyken

4:25

J. Tams Arr. A. Sutton & H. Brough

1:40

J. Tams Arr. A. Sutton

2:09

A. Sutton

2:08

A. Sutton

2:09

J. Tams

0:35

A. Sutton

1:43

J. Tams Arr. A. Sutton

0:56

W. D. Cobb/P.Barnes Arr. A. Sutton

2:48

A. Sutton

1:54

A. Sutton

2:25

A. Sutton

0:26

J. Tams Arr. A. Sutton

1:08

The Year Turns Round Again (Reprise)

J. Tams Arr. T. Van Eyken

1:12

A. Sutton

1:24

A. Sutton

2:55

A. Sutton

2:05

Only Remembered (Reprise)

Sankey Arr. J. Tams & H. Brough

1:37
23 Songs, 44 Minutes

℗ 2008 Cordafonia Records
Quite good
I went to see the production in London in September of 2009 with my school, and it was AMAZING! The puppets were so lifelike and everything was so clever and well thought out. The musical element was a little bit weird, though it fits nicely and helps tell the story. The CD may not make sense to you if you haven't seen the production, though it depends on who you are obviously. A great buy, and I would encourage anyone to go see the production in London because it's a truly amazing experience!
war horse
The most amazing show and I've been to see them all. I loved the music and it's a must buy.
Moving and enjoyable!
I loved the show - i saw it twice and would see it again. The music is AMAZING, and so moving. It will make more sense if you've seen the show (obviously).

But fantastic album - I seriously recommend buying it!