Affinity Photo
By Serif Labs
This app is only available on the App Store for iOS devices.
Description
** Affinity Photo for iPad supports iPad Pro, iPad Air 2 and iPad (early 2017). Please note that older iPads are not supported. **

Affinity Photo is the first fully featured, truly professional photo editing tool for iPad - built from exactly the same back-end as our award-winning desktop version and fully optimised to harness the power of iPad's hardware and touch capabilities.

Photo for iPad offers an incredibly fast, powerful and immersive experience whether you are at home, in the studio, or on the move. With meticulous attention to detail each tool, panel and control has been completely reimagined for touch. All rendering, adjustments, brushes and filters have been fully hardware accelerated using Metal. The result is an all-new way to interact with your images, with performance you will find hard to believe.

Unsurpassed productivity
• Full support for unlimited layers, layer groups, adjustment layers, filter layers and masks
• Resize layers without any loss of quality. Lock, hide, duplicate and merge layers easily
• Edit live filters, adjustments, effects, blend modes and masks non-destructively
• Undo history can be saved with the document so you can always undo your changes
• Task-focused workspaces for developing, post-processing, tone mapping and liquify

Professional image processing
• Open RAW and other images in a dedicated pre-processing workspace
• Adjust exposure, blackpoint, clarity, vibrance, white balance, shadows, highlights and much more
• Recover detail thought to be lost by editing in an unbounded linear color space
• Advanced lens corrections including chromatic aberration, defringe, vignette and best-in-class noise reduction
• View histograms, blown highlights, shadows and tones as well as EXIF information
• Focus Merge, HDR Merge and Tone mapping for advanced image processing
• 360° image support including full projected image editing
• Panorama stitching including full perspective corrections and lighting adjustments
• Full support for image channels
• Massive collection of effects available, including blurs, distortions, tilt-shift, shadows, glows, lighting and many more

Quality retouching and correction tools
• Intuitive selection brush and refinement makes selections simple, even down to strands of hair
• Instantly remove unwanted objects with an incredibly advanced Inpainting brush
• Dodge, burn, clone, patch, blemish and red eye tools
• Smooth and retouch skin with built-in frequency separation
• Apply high quality single-plane and dual-plane perspective correction as well as fully customisable mesh warps - all in real time
• Dedicated Liquify persona gives freehand control over warps, twirls, pinch, punch and turbulence

Advanced brush engine
• Huge library of painting, drawing, textures and professional DAUB® Brushes included
• Create custom brushes and nozzles with full control over advanced dynamics
• Extensive collection of brush tools including Paint, Mixer, Pixel, Colour Replacement, Blur, Smudge, Sharpen and Undo brushes

Engineered for Professionals
• Open, edit and save Photoshop® PSD files
• RGB, CMYK, HDR, Greyscale and LAB colour spaces
• End-to-end CMYK workflow with ICC colour management and OCIO support
• Full 16 and 32-bit per channel editing
• Work with all standard formats like PNG, TIFF, JPG, GIF, SVG, EPS, EXR, HDR, PSD and PDF
• Cross-platform compatibility with iOS, macOS and Windows® with 100% file compatibility

Optimised for iPad
• Metal accelerated to achieve blazing-fast performance, even when editing large images
• Sensitive to pressure, tilt and angle, Affinity Photo harnesses the full power and precision of Apple Pencil
• Full iCloud drive integration allows for seamless file management, storage and sharing
What's New in Version 1.6.5
• New iOS 11 Drag and Drop support.
• New iOS 11 Files support.
• New Stack now supports RAW files.
• New HDR, Focus Merge, Stack, Panorama now support dropping of source images in iOS11.
• iOS 11 will now generate thumbnails and previews for Affinity documents.
• Popups can now be dismissed by interacting with the canvas (painting, for example). A single tap still dismisses.
• New "Rotate" menu items when developing RAW.
• New "Lock Children" switch in the Transform Studio (so you can move a layer but not the mask, etc.)
• Guides are now visible when using the crop tool.
• HSL adjustment now contributes per-channel adjustments to exported LUT.
• PDF import improvements.
• Localisation improvements.
• Numerous other small fixes and improvements.
iPad Screenshots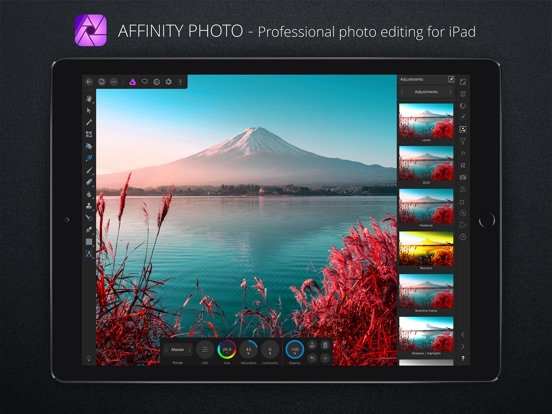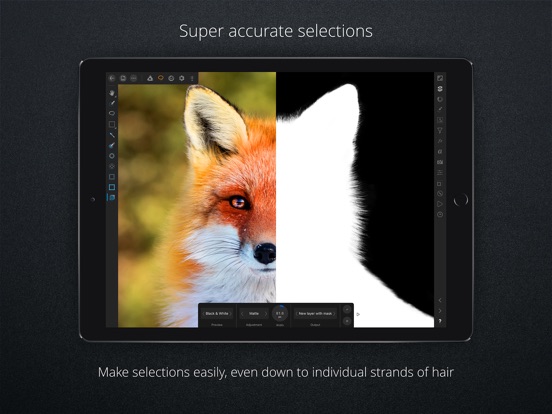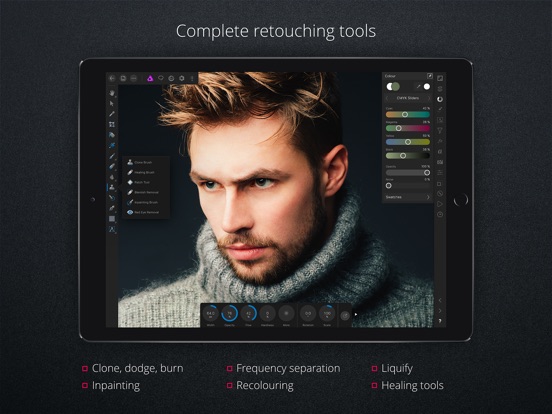 Customer Reviews
Powerful and Professional
This app is a great professional photo editing app, it contains a lot of features and is just like photoshop but has its own flare to it. The ability to use it on my iPad is great because I can edit my photos on the go and use it at school, also I can transfer my documents and use my PSD files from school on this. I love how the features are serious and no snapchat style features. I can easily select and manipulate different layers and combined with a stylus, (or finger) I can paint digital art. Also the fact I only have to pay £20 once is fantastic. This is a great app for students who are on a budget and don't want to pay monthly for photoshop, and is great for professional photographers who know how to use every complicated feature. It is great for graphic design however if you are into that field of work I would keep up to date with the news of Affinity Designer (photos sister app) for when that becomes available on iPad. Overall this is a great app and would recommend it to anybody who wants to work with photos. Thanks Serif!
Sustained effort needed to learn this software
This software is complicated - and perhaps trying to be too clever. If you're looking for 'fun' 'easy' photo editing, this is not it. If you're experienced, and prepared to put in the time learning how this app does things slightly differently, then it's for you.

The huge challenges involved in creating pro software for the touch screen have been addressed well, though there is refinement still needed imho as it's not as intuitive as some other standard setting software on iOS.

Don't even 'go there' trying to put text over images in this app. Otherwise seems to be performing quite well. Better than anything else available for the iPad Pro imho.

I have hankered after pro level apps for the iPad for what feels like a an age now, as well as an alternative to the "industry standard". It feels like we're on the threshold where this is about to happen and my wish will be granted. This may well be the first piece of the jigsaw. While much work is still needed on this app, if they continue to pursue improvement with the energy they have so far, then it will get there. I just hope they don't run out of steam before then.

Note: I've written this before attempting anything substantial. Therefore I cannot comment on stability of this app.
Very Ambitious App - but stability question marks
Edited my review from 1 star to 3 and then edited to 5.... My 1 star was down to a very unlucky first day with this app, which went very badly, due to serious stability issues.

After getting VERY cross with Photo , I calmed down and tried again. It was worth it as there is simply nothing else I have found that gives me the features I am looking for in a photo app on the iPad (e.g. Adobe Lightroom for IOS did not have HDR merge and Panoramic merge). Somewhere in the process of deleting the app, upgrading IOS, rebooting the iPad and reinstalling the app, things got a lot better.

I am still not as perficient in Photo as I am in Lightroom, and yet I am very impressed by Photo's capabilities. My Canon 5d MkIV Raw files import well from Dropbox and can be made to look stunning. The photo processing functionality is much more ambitious than Adobe iPad LR. The only things I miss are subtle tweaks to shadow/highlight (which i know are being addressed by developers in beta version) and LR's asset management.

This is Its a great app. Just a shame I had such a bad experience when I first installed it. However, I would recommend sticking with it.

Version 1.6.5. IOS 11.1.2, iPad Air 2
View in iTunes
£19.99

Category:

Photo & Video

Updated:

21 September 2017

Version:

1.6.5

Size:

994 MB

Languages:

English, French, German, Italian, Japanese, Portuguese, Russian, Simplified Chinese, Spanish

Developer:

Serif (Europe) Ltd.
Compatibility: Requires iOS 10.3 or later. Compatible with iPad Air, iPad Air Wi-Fi + Cellular, iPad mini 2, iPad mini 2 Wi-Fi + Cellular, iPad Air 2, iPad Air 2 Wi-Fi + Cellular, iPad mini 3, iPad mini 3 Wi-Fi + Cellular, iPad mini 4, iPad mini 4 Wi-Fi + Cellular, 12.9-inch iPad Pro, 12.9-inch iPad Pro Wi-Fi + Cellular, 9.7-inch iPad Pro, 9.7-inch iPad Pro Wi-Fi + Cellular, iPad Wi-Fi (5th generation), iPad Wi-Fi + Cellular (5th generation), 12.9-inch iPad Pro (2nd generation), 12.9-inch iPad Pro Wi‑Fi + Cellular (2nd generation), 10.5-inch iPad Pro, and 10.5-inch iPad Pro Wi‑Fi + Cellular.